by  Emily Cates
It's berry time, one of the best times of the year! Although the drought has begun to affect many plants, hopefully the berries in your yard and favorite foraging areas are going strong. If you find yourself with more berries than you can feast on right then and there in the berry patch, then by all means, bring your delectable harvest into the kitchen and preserve it for later enjoyment. The following article will look at a handful of common and abundant berries in our area, when they are most likely to be ripe, and suggested methods to preserve them.
Let's start with the berries that ripen earliest. Honeyberry, otherwise known as Haskap, Edible Honeysuckle, or Lonicera caerulea, ripens in the early part of June. It grows on a small bush and is a good producer of elongated blueberry-like tangy berries. They are said to make delightful jams and desserts, though I will confess the ones in my garden never even make it into my kitchen before being gobbled up by birds and I.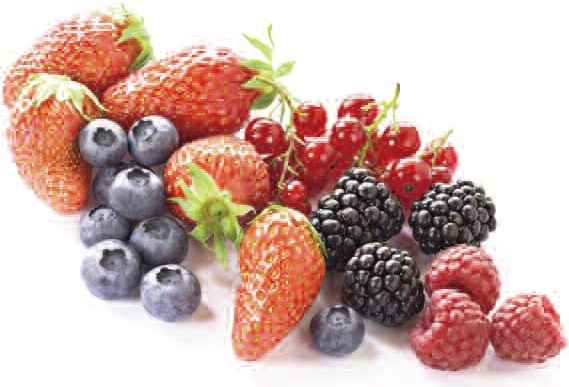 Next in line are the strawberries, which likely need no description. The tasty, dreamy, sweet ruby-hued treats meet a similar fate as the honeyberries in my garden – though I'll point out that many strawberries freeze well and are amazing in pastries, sauces, jam, and wine. They're also not bad dehydrated.
After strawberries will be Juneberries. Known also as Serviceberry. Shadbush, Saskatoon, or Amelanchier, this wonderful native plant of varying forms is not only a beauty in bloom, but a delight when fruiting. I literally have to fight the birds for each and every berry on my shrubs! Though blueberry-like in size and appearance, the juicy berries taste very sweet with an almond-like, small, unobjectionable seed. Though, again, this is another fruit that gets consumed exclusively in my impromptu garden pig-outs… they are said to be good in cakes, cobblers, pies, smoothies, jam, jelly, and used by Native folks in pemmican.
Next after Juneberries are pie cherries. All right, they're stone fruits, not berries- but I couldn't resist putting them here! Often called sour cherries, some cultivars (such as "Evans") aren't unpleasantly sour when fully ripe, and may even be relished on the spot from the tree. These fruits are legendary in pies, cobblers, tarts, cheesecake topping, syrup, sauce, fruit leathers, and cherry soup. Try dehydrating them or freezing them, too.
Somewhere among these fruits of summertime you'll find currants ripening. Red, white, or pink currants shimmer on their strigs like sparkling, translucent jewels ready to adorn a royal consort. These beauties are spirited and sprightly, refreshingly tart like lemonade. Currant "ice" is an easy treat relished in summertime: Run the gently cooked berries though a food mill, freeze the sauce, break up the crystals into a sorbet-like consistency, and voila! Currants have also been made in times past into ketchup, jams, jellies, and wines. Black currants have a much more intense, heady aroma to them, and are oftentimes used in jams, jellies, cordials, elixirs, tinctures, and wines. They dry well and the dehydrated berries can be encapsulated for herbal supplements, or ground into teas, smoothies, or other delicious drinks. Gooseberries, which are in a similar family, are sweet and oftentimes enjoyed fresh and in pies. (Please be aware, however, that members of the Ribes family are thought to be involved in the spread of White Pine Blister Rust, and are banned federally in much of our area. It is a reality, though, that currants do grow around here and it is possible you will stumble upon one sooner or later, whether grown by a rogue neighbor or a rogue plant in Nature. So use good judgment and common sense!)
I'd be remiss if I omitted raspberries and blackberries. Though I often find the seediness of these berries and thorns on the canes objectionable – the joy that results from having a berry picking party with friends who really love these berries – more than compensates. Raspberry or blackberry tarts, syrup, juice, wine, cheesecake toppings, crisps, cobblers, jams, and jellies are agreeable delights.
Around this time you might find some cloyingly sweet, ripe, blackberry-looking mulberries on a mulberry tree. Of course, the birds will have noticed this, too. And, of course, the best fruits that remain will be found out of reach. What to do? Simply lay down a sheet under the tree and give it a good shake! Then eat them fresh, in smoothies, cakes, fruit leathers, and wine. The sweetness in mulberries can be complimented well with something tart in a recipe, if desired.
At some point the blueberries will start ripening, depending on the earliness of the cultivar. Mmmmm…..blueberries! They're my dad's favorite fruit, and I can see why. Next to a carton of freshly picked berries still warmed by the sun, his favorite treat is a tub of plain yogurt sprinkled with handfuls of frozen blueberries. Simple, yet profoundly delicious and nutritious. Who of us hasn't enjoyed a yummy blueberry muffin, bread, pie, cobbler, jam, jelly, juice, smoothies, fruit leather, or wine? Highbush or lowbush, it doesn't matter, I love them all.
Elderberries will also make an appearance. If they're picked before the birds find them, they're good in pies, juice, cordials, tinctures, elixirs, and wine. I like to add them to applesauce to give the sauce a beautiful infusion of color.
The final berry we'll look at for now – Aronia, will ripen towards late summertime. Though relatively uncommon in our area, it's starting to catch on. Aronia berries are sweet but astringent when eaten off the shrub, but the juice and wine is delectable and said to be highest in antioxidants of any temperate fruit. I like to toss in a handful or two of the berries when I make other sauces. They are also good in pilafs.
Whatever berries you encounter this summer, may they and their creations be berry-great!
Responsible journalism is hard work!
It is also expensive!
If you enjoy reading The Town Line and the good news we bring you each week, would you consider a donation to help us continue the work we're doing?
The Town Line is a 501(c)(3) nonprofit private foundation, and all donations are tax deductible under the Internal Revenue Service code.
To help, please visit our online
donation page
or mail a check payable to
The Town Line, PO Box 89, South China, ME 04358
. Your contribution is appreciated!
http://townline.org/wp-content/uploads/2016/06/TownLineBanner.jpg
0
0
Website Editor
http://townline.org/wp-content/uploads/2016/06/TownLineBanner.jpg
Website Editor
2016-09-08 16:38:16
2016-09-08 16:38:16
Berry nice! 10 or so yummy berries to make into recipes of berry bliss