DENNIS L. GRUDDA
ALBION––On Thanksgiving evening, November 23, 2017, Dennis Grudda, 92, passed away at home. Dennis, one of three siblings, was born to August and Harriet Grudda on March 17, 1925, in Berkley, Michigan (now part of Detroit).
When he was 12 the family moved to Milwaukee, Wisconsin, where he spent many hours working with his dad fixing up old houses for resale during the years following the great depression. He also became very familiar with dairy farming, working at three farms in Pound, Wisconsin area and a variety of other jobs until he was drafted.
Dennis served as a Marine for two years during World War II. He was stationed on the USS Lake Champlain, the USS Oregon City and the USS Wisconsin BB, making several voyages to European ports and one tour around South America.
After his discharge, he enrolled in Nyack Missionary Institute, in Nyack, New York, where he studied to become a missionary. While there, "One of the girls from Maine got her eye on me, hit me over the head with a rolling pin and made me promise to marry her. So I did."
Shirley Fuller Grudda became his lifelong companion and moved to Portland, Oregon, where Dennis completed his studies at Western Seminary and then on to Cote d'Ivoire, West Africa, where they served as missionaries for over 35 years. Many of their early years were in a primitive village with no electricity. In their later years, Dennis taught in a school training young men to become pastors in the Jula language. He spent many hours devoted to developing a Jula dictionary.
Anyone who knew him, knew the love he had for plants and trees. In Africa he had beautiful bushes and plants that he faithfully watered during the dry season. During his retirement years in Maine, he loved driving his tractor out in the woods where he'd spend hours trimming trees and enjoying God's creation. He also loved books and enjoyed working with the Albion library.
Dennis was predeceased by his parents August and Harriet; his wife Shirley; sister, Alice Kostreva; and granddaughter, Julianne Grudda.
He is survived by his three children, Carol Corso, Daniel Grudda and wife Nancy, and William Grudda and wife Dianne; his brother August Grudda and wife "Thelma; nine grandchildren, Matthew and Charlie Corso, and Gina Corso Weiskopf; David and Steven Grudda; Brandon, Lucas, Austin and Tanner Grudda. Dennis was also blessed eight great-grandchildren: Hawthorne, Clint, Allyah, Kizzy, Karson, Olivia, Dawson and Caleb.
An online guestbook may be signed and memories shared at www.lawrybrothers.com.
Memorial donations may be given to the Bethel Bible Institute in Korhogo Cote d'Ivoire, West Africa, c/o Bill and Dianne Grudda, 118 China Road, Albion ME 04910
JOHN W. DINGUS
WHITEFIELD––John Wesley Dingus passed away unexpectedly on Friday, November 24, 2017. He was born on June 18, 1944.
John loved hunting, fishing, and all things concerning the outdoors.
He was predeceased by his wife of 49 years, Sally Elaine Dingus in 2011
He is survived by sons John Dingus, of St. Louis, Missouri/ West Gardiner, William Dingus, of Richmond, James Dingus, of Randolph, and Jesse Duke, of Gardiner; seven grandchildren, a brother William O'Connor, of Augusta, Rick O'Conner, of Gardiner, Patrick O'Connor, of New Hampshire, Roxanne O'Conner, of Portland and several other siblings; nieces, nephews and cousins.
DIONNE BARNETT
SOMERVILLE––Dionne "Dumpy" Barnett, 60, passed away on Saturday, November 25, 2017. Dionne was born on October 22, 1957, in Augusta, daughter of Arthur and Christine (Jones) Barnett.
She was a 1976 graduate of Erskine Academy.
Dionne was a very hard-working person. As a child she did everything from raking blueberries to working on the farm. As a single mother she felt it was important to give the best to Nick. Dumpy worked at Statler Tissue, where she was one of the few female paper makers; Crow Rope, and most recently at Lie-Nielsen.
Dionne was known for her sense of humor, loving heart and caring nature. She enjoyed spending time with family and friends, gardening, making Christmas wreaths and floral arrangements.
She was predeceased by her maternal grandparents, Robert and Flossie (Hallowell) Jones; her paternal grandparents, Clayton and Violia (Leavitt) Barnett; and her parents, Arthur and Christine (Jones) Barnett.
"Dumpy" is survived by her son Nickolas Barnett, of Windsor; her sister Darlene Landry and her husband Earl, of Somerville; her brothers, Daniel Barnett and wife Rose, of Somerville, and Dana "Farmer" Barnett and wife Deb, of Somerville; several nieces and nephews.
An online guestbook may be signed and memories shared at www.lawrybrothers.com.
LEOLA M. ROBERTS
WINSLOW––Leola M. Roberts, 104, a lifetime resident of Winslow, passed away on Monday, November 27, 2017, at the home of her daughter in Oakland. She was born in Winslow on Halloween, October 31, 1913, the daughter of Flora (Ellis) and William Mcclain.
She attended Winslow schools and graduated from Winslow High School, class of 1932.
Leola first worked at The Green Lantern Inn, on the Augusta Road, as a short order cook. She then graduated from the Thayer School for Nurse's Aide in 1942 and during World War II volunteered many hours with the American Red Cross. She then worked for Diamond International, in Oakland, for 14 years and retired in 1962.
Leola married Ralph W. Roberts on August 27, 1937, and together they had a daughter, Charlene. She was an active member of the First Baptist Church in Waterville, serving as a Life Deacon, past president for the Ida M. Whittemore Philathea Class and Sunday school teacher. She was also a member of the Winslow Sunshine Club for the Blind.
Through the years Leola had many interest with genealogy being especially important; she self-published two books entitled, "McCaslins of Maine" and "The Ellis Family from Massachusetts into Maine." She also wrote poetry and short stories and self-published five of these, most noteworthy being "Echoes of the Past" which can be found in the Winslow and Waterville public libraries. Other interests were oil painting, and extensive doll collection and making doll clothes for them, arts and crafts, as well as crocheting afghans.
Leola was predeceased by her beloved son-in-law Blaine Ellis in 2015.
She is survived by her daughter Charlene Ellis, of Oakland; her grandchildren, Michael Ellis and wife Jodi, of Oakland, Lisa Moulton and husband John, of Winslow; eight great-grandchildren, Tasha, Sara, Christopher, Ryan, Jessie, Michael, Matthew, Andrew and Lindsay; five great-great-grandchildren, Camdyn, Colin, Blaine, Colby and Reese; and several nieces and nephews.
Please visit www.redingtonfuneralhome.com to share condolences, memories and tributes with Leola's family.
Memorial donations may be made to First Baptist Church, 1 Park St., Waterville ME 04901.
THEODORE SENEY JR
VASSALBORO––Theodore "Ted" Seney Jr., 74, passed away on Wednesday, November 29, 2017. Ted was born in Waterville on December 11, 1942, the son of Marie Knauff-Seney and Theodore Paul Seney.
He was raised in Newport and was a graduate of Edward Little High School, in Auburn, and subsequently proudly served as a paratrooper in the U.S.Army.
Ted was a salesman, beginning his career at White house Appliance and then Nichols Pontiac, before a 34-year career at Central Maine Motors, in Waterville.
Ted was a lover of the outdoors. He was an avid hunter, fisherman, and snowmobiler. Ted loved spending time with his family and old friends, meeting new friends. In particular, Ted enjoyed spending time with his three young grandchildren.
Ted is survived by his wife, Carolyn Seney, originally of South Attleboro, Massachusetts, they married on September 27, 1969; his son and daughter-in-law Matthew and Jennifer Seney, of Sudbury, Massachusetts; his three grandchildren, Matthew, Molly, and Abigail; his sister-in-law and brother-in-law, Judy and Fred McCormick; and his nieces Joy Medina and Colleen Capelo and their families, all of Rhode Island.
An online guestbook may be signed and memories shared at www.lawrybrothers.com.
Memorial donations may be made to the Rett Syndrome Association of Massachusetts, 217 South Street, Waltham MA 02453.
Ted's granddaughter Abigail is afflicted with Rett Syndrome.
GEORGE E. OLIVER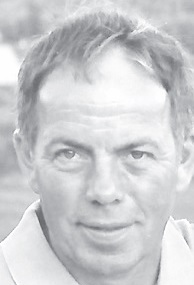 WEEKS MILLS – George E. Oliver, 70, passed away on Friday, December 8, 2017, at home, following a year long battle with brain cancer. George was born in Fitchburg, Massachusetts, on May 8, 1947, the oldest son of Ernest Page and Juliette (Fotel) Oliver Sr.
He grew up in Weeks Mills, and graduated from Erskine Academy in 1965. For nearly 20 years he drove school bus for China School. In 1972, he purchased the family dairy farm after having worked on the farm since the age of 5. Farming was the joy of his life.
He joined the Weeks Mills Fire Department when he was 16 and was an active member until his passing. George was Fire Chief for many years and was made Honorary Chief prior to his passing. He was a member of the Farm Bureau and served on theboard of directors; a member of the Soil and Water Conservation having received the Conservation Award in 1994. He was a member of the town budget committee and worked on the 911 Committee, helping to get the 911 system up and running in town. He received awards from Pine Tree State DHIA (Dairy Herd Improvement Association) for his cow production. George loved Maine Farm Days and years ago won a few trophies for the tractor pulls. He also pulled at the Windsor Fair many years ago. The Agricultural Trade Show at the Civic Center was always a favorite event.
He enjoyed going to the basketball games at Erskine Academy. He liked having breakfast at the local diners and visiting with friends. When his children were growing up, he enjoyed boating, swimming and skiing at the camp on China Lake. His granddaughter was the light of his life, he looked forward to the school bus dropping her off every day and playing connect four. He enjoyed lunch at Whipper's each Friday with daughter, Stacy, partner Eric and his two girls Alivia and Myla. He and Darlene enjoyed vacations together and spending time with his children and granddaughter and Darlene's children and 12 grandchildren.
He is survived by his companion of 7 years, Darlene Dow; a daughter, Kelly Cowing, and husband, Andy, of China; a daughter, Stacy, and her partner, Eric Gower, of Albion; a granddaughter, Lauren Cowing, of China; a sister, Jean Parlin and her husband, Cliff, of Jefferson; a brother, Alton, and his wife, Patti, of Weeks Mills; a brother, Ed, and his wife, Kerri, of Sidney; a brother-in-law, Hugh Riordan, of China; and many nieces, nephews and close friends.
Besides his parents, he was predeceased by his brothers, Ernest P. Oliver Jr. and John C. Oliver; and his sister, Sally O. Riordan.
The family wishes to thank family and friends for their support and prayers during this difficult time.
A Celebration of Life will be held at Erskine Academy on Saturday, December 16, 2017 at 10 a.m. The public is invited to the parking lot of Erskine Academy at 10 a.m., for the Fireman's Last Call and the Celebration of Life will immediately follow.
In lieu of flowers, donations can be made to the Weeks Mills Fire Department, Webb Shaw, 185 Weeks Mills Road, Weeks Mills, Me. 04358.
VIOLA E. PREO
WINDSOR––Viola Edith Preo, 85, passed away Tuesday, November 21, 2017. She was born in Caribou on March 3, 1932, the daughter of Shep and Stella Skidgel.
She enjoyed old country music records, cooking and gardening, and loved the outdoors and being around family.
She was predeceased by her husband, Joseph Bernard Rudy Preo; her mother, Stella Skidgel; two brothers, William and Lewis Skidgel; a sister, Betty Habib; and her daughter, Bonny May Preo.
She is survived by her two sons, Randy J. Preo and Craig Preo; a stepdaughter, Debbie Webber; three brothers, Kenneth, Sheldon, and Wendell Skidgel; 14 grandchildren; and nine great-grandchildren.
LISA C. SCOTT
WINSLOW––Lisa Charlene Scott, 52, died unexpectedly on Friday, December 1, 2017. Lisa was born on February 14, 1965, in Waterville, a daughter of Eunice (Courtney) and Walter Scott.
She attended Waterville schools, enjoyed figure skating, playing soccer and graduated from Winslow High School, class of 1983. That same year she married David McCaslin, Jr. and raised her daughters, Sara and Holly, with great enthusiasm; she was a soccer mom and coached her daughters soccer teams. She loved to tell stories about all the fun she had with them when they were young. As a stay-at-home mom she had a day care and cared for these children as she would her own. She would later marry James Webster, of Florida.
Lisa was not afraid of hard work. For a time, she worked at Ames Department Store, in Waterville. When her children were older she worked ten-hour shifts at Crowe Rope, in Winslow, and Searsmont. She then worked at County Fair Farm, in Jefferson, planting, picking and lifting huge bags of corn.
Her greatest love, however, was working as a CNA at Cove's Edge Nursing Home, in Damariscotta. She brought her sense of humor and her love of life which no doubt helped to restore a vitality to some who thought they had become too old for such things. She helped to make them feel special and loved.
In her spare time Lisa enjoyed working in her flower gardens, as well as designing and making floral wreaths for the various holidays. Her greatest joy was spending time with her family, especially her grandchildren when on weekends they would watch movies or play board games.
Lisa was predeceased by her parents, Walter and Eunice Scott; her brother Kevin Scott, her sister Kathy Comer; and her nephew Michael Klaiber.
Lisa is survived by her two daughters, Sara McCaslin, of Winslow, and her children Caleb, Raegin, and Camdin; Holly McCaslin, of Waterville, and her children Asiah, Tatiyanah, Teagan, Julian and Davin; her partner of 15 years, Alyson True, of Jefferson; her sister Rebecca Klaiber, of Otisfield, her sister Betsy Doyon, of Oakland; her brother David Grant and his wife Wanda, of Oakland; her special cousin Deborah Jensen, of Virginia, and lifelong friends Lori Fortier, of Oakland and Brenda Poulin, of Waterville; many cousins, nieces and nephews.
A celebration of Lisa's life will be held on Saturday, December 30, 2017, at 2 p.m. at Blessed Hope Church, 10 Pleasant St., Waterville. Please visit www.veillleuxfuneralhome.com to share condolences, memories and tributes with Lisa's family.
Donations in her memory may be made to Humane Society Waterville Area, 100 Webb Road, Waterville ME 04901.
DONALD R. STEVENS, SR.
SOMERVILLE––Donald R. Stevens, Sr., 60, died Monday, December 4, 2017, at Sussman Hospice House, following a 30-year gallant battle against Multiple Sclerosis.
To see a full obituary or share a memory with Don's family, please visit their online Book of Memories at www.bchfh.com.
Memorial donations made payable to National M/S Society may be mailed to: Memorials and Tributes, National Multiple Sclerosis Society, Greater New England Chapter, P.O. Box 845945, Boston MA 02284-5945.
OTHERS DEPARTED
JESSE M. QUIRION-DEMO, 30, of Skowhegan, passed away unexpectedly on Saturday, November 25, 2017, in Fairfield. Locally, he is survived by his mother Marie Harding and her husband William, of Winslow; brother Jimmy Quirion and wife Brittany, of Vassalboro; step-brother Jeff Chetkauskas and wife Linda, of Waterville.
SHIRLEY A. VIGUE, 66, of Athens, passed away on Tuesday, November 28, 2017, at Redington-Fairview General Hospital, in Skowhegan. Locally, she is survived by her children, Tammy Wellman, and Dana Wellman, both of Skowhegan; siblings, Debbie Rossignol and husband Arthur, of Skowhegan, Cathy Wilson and husband Ronald, of Madison, Sandra Farmer, of Fairfield, Paul Dawe and wife Amy, of Solon, Mike Dawe, of Fairfield, Gerard Dawe, of Oakland and Wendy Dawe, of Fairfield; and stepfather Paul Cloutier, of Fairfield.
MARIE A. RENY, 95, of Waterville, passed away on Thursday, December 7, 2017, at Oak Grove Center, in Waterville. Locally, she is survived by two sons, Daniel Reny and wife June, of East Vassalboro, and David Reny, of Fairfield.
Responsible journalism is hard work!
It is also expensive!
If you enjoy reading The Town Line and the good news we bring you each week, would you consider a donation to help us continue the work we're doing?
The Town Line is a 501(c)(3) nonprofit private foundation, and all donations are tax deductible under the Internal Revenue Service code.
To help, please visit our online
donation page
or mail a check payable to
The Town Line, PO Box 89, South China, ME 04358
. Your contribution is appreciated!
http://townline.org/wp-content/uploads/2016/06/TownLineBanner.jpg
0
0
Website Editor
http://townline.org/wp-content/uploads/2016/06/TownLineBanner.jpg
Website Editor
2017-12-13 19:33:24
2017-12-13 19:46:02
Obituaries, Week of December 14, 2017