ARLENE L. BOYDEN
FAIRFIELD––Arlene Louise Boyden passed away on Monday, July 17, 2017. She was born in Fairfield on November 3, 1934, the daughter of Walter and Mae (Higgins) Quimby.
She attended schools in Fairfield. In June of 1951, Louise married Irving O. Boyden, of Clinton; he passed away on February 5, 1986.
Louise lived a very full and active life. She held many different jobs over the years. She was a landlord for 45 years, she drove people to the Muskie Center, and she worked at Keyes Fibre.
Louise and Irving traveled extensively during their marriage. They enjoyed camping and fishing, and visited many places in the U.S. and Canada. Louise was never idle, she loved eating out, and taking her grandchildren to many Disney attractions and fun parks.
She loved to shop and finding a bargain just made the day. She was always visiting the shut-ins and enjoyed taking them meals. Louise will best be remembered for the beautiful flowers she and Gary grew and sold from her house on Main St. She will be sorely missed by us all.
She was predeceased by two sisters, Ada Winters and Annie Armour.
She is survived by her son Gary, of Fairfield, her son David and his wife Rebecca, of Hartland; two grandchildren, Ben Boyden and wife Shelby and Krissie Woodbury and husband Adam; three great-grandchildren, Garrett Woodbury, and Bridgette and Jameson Boyden; many nieces and nephews.
An online guestbook may be signed and memories shared at www.lawrybrothers.com.
ANTHONY R. POOLER
VASSALBORO––Anthony "Tony" Pooler, 62, of Vassalboro, died peacefully Monday, July 17, 2017, at MaineGeneral Medical Center, in Augusta, following a life-long struggle with a debilitating disease. He was born July 25, 1954, in Waterville, the first-born son of Clifford Sr. and Joan (Trahan) Pooler.
Tony attended Vassalboro elementary schools and Winslow High School. In his youth, he worked alongside his brothers and sisters at the family poultry farm in Winslow and Vassalboro. As a young man and into his adult life, Tony, worked at Hemphill's Horse Farm, in Vassalboro. In 1977, Tony enlisted in the U.S. Army and was stationed at Fort Jackson, South Carolina. After serving in the military, he worked at Massey Lumber and Morneau Lumber, both in Vassalboro. He also worked at the Cliff Pooler and Son's family sawmill and as a foreman at Duratherm Window Corp., in Vassalboro. He also worked statewide in asbestos removal and for Patriot Siding Co., in Vassalboro. A hard worker, never at odds to find work, Tony lived a carefree, colorful life.
He lived his life to the fullest. He loved working with wood, horses, boating and fishing. He enjoyed keeping informed of world, local news and around-town gossip.
A loyal customer to the end, his daily patronization will be sadly missed at Ferris Variety, Vassalboro.
He was predeceased by his parents; sister Christie Pooler and brother Timothy Pooler.
Tony is survived by his partner and best friend Patty Ferran; and his son, George Billing; six sisters and their spouses, Diane Roux and husband, Dwayne, of Winslow, Terry Schmidt and husband Fred, of Thorndike, Tina Lagasse and husband Robert, of Vassalboro, Patty Suga and husband Dana, of Vassalboro, Kim Pooler and Missy Pooler, of Vassalboro; two brothers, Kevin Pooler, of Albion, ad Clifford "Didin" Pooler Jr., and his life partner, Cohen Leathers, of Vassalboro; several aunts and uncles, nieces, nephews, and cousins.
A celebration of Tony's life will be held from 1–4 p.m., Sunday, August 6, at the "Ole-Mill" Community Hall, Oak Grove Rd., Vassalboro. Committal Services will be held at 10 a.m., Monday, August 7, at the Maine Veterans Memorial Cemetery, in Augusta.
Memorial donations may be made to Maine Chapter of Multiple Sclerosis Society, 170, US Route 1, Suite 200, Falmouth ME 04105 or Alcoholics Anonymous, Center Service Office, 47 Portland St., Portland ME 04101.
GERMAINE J. DAMBOISE
FAIRFIELD––Germaine J. Damboise, 73, passed away at her home on Friday, July 21, 2017. She was born in Caribou on May 24, 1944, the daughter of Albert O'Clair and Cecile (Theriault) O'Clair.
In 1961 Germaine married Lionel Damboise, also of Caribou, they had been married for 55 years. Together they had four children.
Germaine loved her garden and her flowers. She loved to sit on her porch and watch the birds. What she loved most of all was her family.
Germaine was predeceased by her sister Blanche St. Peter, and brothers, Henry and Gilbert O'Clair.
She is survived by her husband Lionel Damboise; her children, Dorothy (Damboise) Bailey and husband, Dennis R., of Knox, Connie Damboise, of Fairfield, Lee Damboise, of Fairfield, and Steven Damboise, of Fairfield; two grandchildren, Christopher Bailey, of Fairfield and Alicia (Bailey) Cook and husband Bruce, of Knox; two great-grandchildren, Naima Bailey, of Knox and Riley Cook, of Knox; and sisters, Anita Chambless, Gert Miner, and Mary Guerrett.
An online guestbook may be signed and memories shared at www.lawrybrothers.com.
JAMES W. EVERS
BENTON – James "Big Jim" W. Evers, 76 passed away on Friday, July 28, 2017, at the Hospice House of Androscoggin following a short illness. Jim was born August 30, 1940, in Dexter, and was the son of the late Stephen and Eleanor Evers.
Jim was raised in Fairfield, graduating from Lawrence High School in 1958. He was a standout athlete, loyal friend, loving family man who was humble, full of grace, and had a personality and sense of humor that filled a room.
Following graduation, Jim enlisted in the United States Army and honorably served with the military police in Korea from 1958 through 1961. Jim returned home to propose to his high school sweetheart Patty (Rowe) Evers and they were married for 55 years.
Jim retired from SD Warren's Hinckley plant as the director of safety and security and continued to work part time as a realtor. He devoted his personal time to his wife, children, grandchildren and community. Jim had a passion for coaching baseball and basketball, was involved in the PAL athletic programs for over 20 years, and was a huge Red Sox and Patriots fan. In addition to sports, Jim enjoyed the outdoors; he was an avid golfer, fisherman and hunter. Jim was a member of the American Legion, the planning board for the town of Benton and a devoted advocate for veterans.
Jim is survived by his wife, Patty (Rowe) Evers, of Benton, son James E. and his wife Cathy Evers, of Falmouth; daughters Jodi Evers, of Windham; Jill and her husband David Leblond, of Biddeford; son John W. and his wife Jill Evers, of Hamilton, Massachusetts; sister Carol and husband David Gilbert, of Winston-Salem, North Carolina; sister-in laws, Paula Rowe of Falmouth, Pamela Rowe, of Pittsburgh, Penssylvania, and Judy Evers, of Fairfield; eight grandchildren, Danielle Quimby, Tyler Evers, Laney Evers, Travis Leblond, Wyatt Leblond, Conor Evers, Ryan Evers and Jack Evers.
In addition to his parents, Jim was predeceased by his brother's Raymond Evers and Bobby Howlett.
Memorial donations can be made to the Arbor House through CMMC Development Office, 300 Main Street, Lewiston, ME 04240; www.cmmcgiving.org or call (207) 795-2950.
Arrangements under the direction and care of Dan & Scott's Cremation & Funeral Service, 445 Waterville Road, Skowhegan, ME 04976.
MARY ANNE BLAY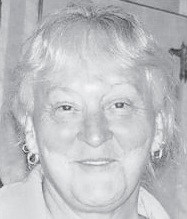 WINDSOR – Mary Anne Blay, daughter of Elbridge and Annie Doherty Blay, passed away Wednesday, August 2, 2017.
Born in Rumford Maine, Mary was predeceased by her parents and her daughter Aliza Blay Mason in 2007.
Mary retired from the State of Maine Division for the Blind and Visually Impaired and enjoyed spending time in her flower gardens and time with her cat Lulu. She was a long-time resident of Windsor.
She is survived by her life partner, Joseph Russell, son Robbie Blay and his partner Rae Ann York, grandson Colby Blay and Rae Ann's children Mark and Annie McKechnie; sisters, Elizabeth and husband Gary Coffin, Jane Blay, and Martha and her husband John Russell along with many nieces, nephews and extended family.
A private family service will be held at a later date.
CAPT. EDWARD E. WARD
CHINA – Captain Raymond E. Ward, 92, USN (Ret.) was born in North Vassalboro to Willis and Lizzie Ward on October 8, 1924. He had a brother Francis and sister Barbara who, like his parents, are deceased. After graduating from the Erskine Academy, in South China, he attended Northeastern University and then Tufts University, in Boston, Massachusetts, where he graduated with an electrical engineering degree.
He joined the U.S. Navy on July 1, 1943, via the V-12 Program. He served afloat on aircraft carriers, destroyers, and destroyer tenders and was stationed ashore in Norfolk, Virginia; Newport, Rhode Island; Londonderry Northern Ireland, Philadelphia, Pennsylvania; Pearl Harbor, Hawaii; Boston, Massachusetts; and Waukegan, Illinois. During his career as a Navy surface warfare officer, he commanded the USS Samuel B. Roberts (DD-823), the USS Charles H. Roan (DD-853), the USS Bryce Canyon (AD-36); was Commodore of Destroyer Squadron 10; and Commanding Officer of U.S. Naval Communications Station, Londonderry, Northern Ireland twice as a LCDR and later as a captain. He retired from the Navy as financial director for CNO (OP-94) staff in the Pentagon in 1976. Captain Ward received the Navy Commendation Medal and the Legion of Merit.
Subsequent to his Navy retirement, he formed a private consultancy REWARD Associates in Fairfax, Virginia. He then held senior management positions in MAR Corp., SAMA Corp., and served in a number of volunteer positions in The Church of the Good Shepherd and with the Goodwin House retirement community.
Mr. Ward spent his summers with his family in his home in China and returned there for longer periods as he moved into retirement. Surrounded by family and friends, China was a place he loved.
Mr. Ward is predeceased by his son Michael.
He leaves his wife of almost 68 years, Patricia, daughters, Susan Swift (Brian) and Anne Monrad ( Wayne), Grandchildren Nathaniel Monrad and his wife Amy, Ian Monrad and his wife Rachel, Gwenn Swift and her brothers, Robin and Erik, as well as his great grandchildren, Maddison, Sonya, Ella, soon to be born Shelby, and many cousins and friends who will miss him.
A celebration of his life will be held at China Baptist Church on Saturday, August 12th at 1 pm.
Memorial donations may be made to China Baptist Church.
JEANNE M. HALLEE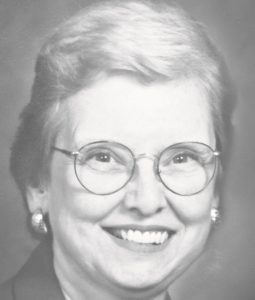 WATERVILLE – Jeanne Monique (Poulin) Hallée, 84, of Waterville, passed away Friday, August 4, 2017, at Oak Grove Center, in Waterville. Daughter of Edgar and Yvonne (Boulette) Poulin, Jeanne was born June 24, 1933, the feast day of St. John the Baptist. She spent her first few years on 17 Monument Street, in Winslow.
The family moved to 19 Gold Street, in Waterville, when Jeanne started first grade at Notre Dame school with the Ursulines. During her grammar school days, she was honored with a Certificate of Achievement in French. She was active in theater and music and was a good amateur pianist. Upon entering high school, the family moved to 50 Water St.
She attended Waterville Junior High School, on Pleasant Street, and graduated from Waterville High School, on Gilman Street, in 1951. During those years, she worked at the Main Theater (Bijou) as a concessionaire and at the ticket booth. Toward the end of her senior year, she worked as a filing clerk for Joseph Motors, on College Avenue, in Waterville. After high school, she worked at Levine's Men Clothing Store, on Main St., in Waterville, as a bookkeeper for nine years.
In the summer of 1955 she met her future husband, Eugene Roger Hallée. The two were married on June 4, 1957. She spent a two-year honeymoon in Paris, France, while Hallée completed his military obligation. She had the good fortune to visit the world's fair in Brussels, Belgium, in 1958. She attended a pilgrimage at Lourdes, France, during the 100th anniversary of the Apparitions of the Blessed Virgin. In January 1959, she and her husband traveled throughout Germany and Austria.
Back in Waterville, beginning in September 1959, she devoted herself as a mother, raising three children. She was an accomplished seamstress creating many of her own clothes and clothes for her children, as well as costumes for her father's plays at the Waterville Opera House.
Jeanne is survived by her husband, Eugene Roger Hallée; a son, Claude Hallée and his wife Sylvia, of Waterville, and their two children, Ryan and his wife Lauren, and Renee; daughter, Claire Breton and her husband Denis, of South China, and their daughter, Hallee; and daughter, Denise Levesque and her husband Richard, of Augusta, and their three children, Lauren, Michael and Madeline. She is also survived by two sisters, Claire Donley, of Massachusetts, and Francine Pepin, of Virginia; one brother, Arthur Poulin, of New York; and many nieces and nephews. She was predeceased by her parents and two sisters, Priscilla Hallée and Claudette Ouellette.
At Jeanne's request, there will be no visiting hours. A memorial Mass will be held on Monday, August 14, 11 a.m., at Notre Dame Church, 116 Silver Street, Waterville.
Burial will be at the old military cemetery off Civic Center Drive, in Augusta, on Tuesday, August 15, at 10 a.m.
An online guest book may be signed and condolences may be expressed at www.gallantfh.com.
Responsible journalism is hard work!
It is also expensive!
If you enjoy reading The Town Line and the good news we bring you each week, would you consider a donation to help us continue the work we're doing?
The Town Line is a 501(c)(3) nonprofit private foundation, and all donations are tax deductible under the Internal Revenue Service code.
To help, please visit our online
donation page
or mail a check payable to
The Town Line, PO Box 89, South China, ME 04358
. Your contribution is appreciated!
http://townline.org/wp-content/uploads/2016/06/TownLineBanner-1030x206.jpg
0
0
Website Editor
http://townline.org/wp-content/uploads/2016/06/TownLineBanner-1030x206.jpg
Website Editor
2017-08-09 17:32:27
2017-08-09 20:39:58
Obituaries, Week of August 10, 2017