VIRGINIA B. STARKEY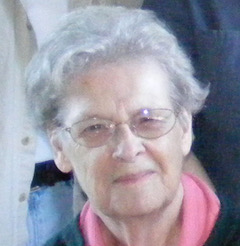 CHINA – Virginia B. Starkey died Saturday, August 4, 2018, from complications of Vascular Dementia. She was born February 17, 1934, in Beverly, Massachusetts, to Edward A. and Bertha M. (Frost) Hearn.
She lived in Beverly for 21 years before marrying her husband of 58 years, Richard B. Starkey.    They settled on the Starkey homestead in China and had six children.  The city girl took a fair amount of teasing over the years, but learned to live on the farm for many years before moving into a smaller home that Richard built right next door.  They had a good life together.
Virginia was educated in Beverly, graduating from Beverly High School. She was a member of the Dane St. Congregational Church.  She was employed by Bay State Lamp Company, in Danvers, before marrying, after which she was a homemaker and active with the children in scouts, sports, and church. After raising her own children, she provided child care in her home for many years.
She became a member of China Baptist Church, helping with Sunday School and VBS, and The Order of The Eastern Star where she held several offices.  Ginny dabbled in many interests over her lifetime including, baking, sewing, needlework, painting, and Continuing Education classes and her true love was reading. Before her health declined, the newspaper was read from cover to cover every morning and the stacks of books by her chair were impressive.
Virginia was a home body, but loved people and kept up with family and friends who moved away from town, following the lives of those who had crossed her path.  She will be missed by many of those people, but Mom, Gram, Grammy will be missed especially by her family.
Virginia was predeceased by her parents; her husband; her siblings, Frances (Atwood) Prest, Raymond Atwood, Edna Hearn Bachmann; and her children George and Lydia.
She is survived by her sister Priscilla (Hearn) Rowand, of Beverly, Massachusetts; her sons Edward and partner Mark Colonna, of Oakland Park, Florida, and Richard Starkey Jr. ,of Farmingdale; daughters Sandra and husband Paul Keller, of China, and Heide and husband Charles Hotham, of Palermo; daughter-in-law Dawn Starkey, of Benton; grandchildren Amy Starkey and wife Jaimie Routhier, Nicholas Starkey, Anna Keller, Aaron and wife Sara Keller, Abby Keller, Summer Hotham, Grady Hotham, Richard Starkey III, and Danny Starkey; two great-grandchildren, RaeLeigh Starkey and Cooper Starkey: and many nieces and nephews.
A memorial service will be held Saturday, September 1, at 11 a.m., at the China Baptist Church, with a reception to follow in the vestry.
In lieu of flowers, donations may be made to the Albert Church Brown Memorial Library, P. O. Box 6146, China Village, Maine 04926.
ALICE M. GOGAN
BENTON – Alice M. (Spencer) Gogan, 91, passed away at Oak Grove on Friday, July 13, 2018. She was born June 11, 1927, to Edna and George Spencer, of Benton.
She married Loring Gogan, Sr. and they had four children. Alice was a homemaker and had various jobs.
She is survived by her children, George Gogan and wife Kathryn, of Clinton, Donna Meyer, of Benton, Frances Begin and husband Thomas, of Plymouth, Lorin Gogan Jr. and wife Patricia, of Winslow; many grandchildren; great-grandchildren; and great-great-grandchildren; and many nieces and nephews.
A celebration of life will be at Benton Grange on July 29, 12 p.m.–4 p.m.
In lieu of flowers, friends can make donations to: Hospice Volunteers of Waterville, 304 Upper Main St., Waterville ME 04901.
LESLIE M. LANE
FAIRFIELD – Leslie M. Lane, 77, passed away Friday, July 13, 2018, at Lakewood Continuing Care Center, in Waterville. He was born June 26, 1941, in Waterville, the son of Melvin and Hazel (Otis) Lane.
He enjoyed lawn sales, attending all the local fairs, and stopping for ice cream along the way. He loved spending time with his "sidekick" grandson, Ryan, visiting with the coffee crowd and going to his family's homes for meals and homemade treats. He was an avid hunter and loved going with family and close friends to favorite spots. Many of these adventures included dearest life-long friend, Bruce Wadleigh and son Billy, Al Haliday, Clay Haliday and son Cory, Shelly and Lance, Sam and Brenda Otis and several more.
Leslie is survived by his children, Tammy Nixon and husband Brian; Sheldon Lane; Erwin Taylor, Jr. and fiancée Diane Morissette, Robert Taylor, Shelly Geidel and husband Lance, Kelly Jeremie and husband Daniel, Phillip Taylor and wife Martha; grandchildren, Lindsey Nixon, Ryan Lane, Cassandra McLaughlin, Bradley Norman, Seth, Jacob, Isaiah and Michael Taylor, Travis, Aaron and Carolynn Bagley, James and Madeline Geidel; and 10 great-grandchildren; brother, Leroy and wife Peggy; two sisters, Loretta and husband Ben, Louella and husband Jim; brother-in-law, John Zinkovitch.
He was predeceased by his wife, Carolyn; two sisters, Laura Jean and Linda Zinkovitch.
Arrangements under the direction and care of Dan & Scott's Cremation & Funeral Service, 445 Waterville Road, Skowhegan, Maine 04976.
EDWARD E. HOYT II
BENTON – Edward Eugene Hoyt II, 85, passed away on Wednesday, July 18, 2018. He was born in Dorchester, Massachusetts, on August 26, 1932. His parents were Edward and Bridget (Whalen) Hoyt, of Boston.
He attended Boston schools and later in life attended the University of Maine Augusta.
He was a heavy transport driver in Korea for the USMC and finished his military career as a medic in Vietnam for the USAF. In 1972, he worked as an inhalation therapist at Seton Hospital, in Waterville. A few years later he changed gears and was the manager of Fort Halifax Hatchery, in Winslow. The last part of his working life was spent as a salesman of police gear, first with FC Wise Uniforms, of Augusta, and lastly, Neptune Uniforms, of Massachusetts.
He was active in the VFW and American Legion, in Fairfield. Eddie served on the Benton town council and was proudly instrumental in the naming of the bridges in Fairfield/Benton for a fallen comrade; veterans were a passion of his later life.
The family that he leaves behind includes his wife of 60 years, Patrica Ann (Grard) Hoyt, of Benton; his son, Edward Hoyt III, of Benton; his daughters, Theresa Marie, of Oakland, and Patricia, of New Hampshire; his grandchildren, Matthew Hoyt and Natasha, of Oakland, Michael Doughty, of Virginia, Tommy Doughty, of New Hampshire, Annie Gregoire, of Augusta and Edward Richard Hoyt IV, of Fairfield; his brother, Raymond, of Boston, and his sisters, Mary Madden and Marion Katz, of Boston.
He was predeceased by his brother, David Hoyt, USAF ret., and his sisters, Ruth Hoyt, Barbara Comeau, Eileen Kaskeski, and Dorothy Palmer. In May, his youngest child, Verna Alta Gregoire lost her long fight with cancer.
An online guestbook may be signed, and memories shared at www.lawrybrothers.com.
CHRISTOPHER P. REED
BENTON – Christopher Paul Reed,31, passed away on Sunday, July 22, 2018. He was born in Waterville on August 24, 1986, the son of Holly Reed and Paul Poissonnier Sr.
He was employed by Ranger Contracting of Fairfield for many years.
He loved to travel, go camping, and share a campfire with family and friends. Chris loved to cook for his family. He was joyful and talkative with his children, but also could be serious when he needed to be.
Christopher was predeceased by his maternal grandmother, Glennys Reed; his maternal aunts, Shirley Small, Pearl Parent, and Amy Lynne Howard; his paternal grandmother, Rita Poissonnier, and his paternal grandfather, Arthur Poissonnier.
Christopher is survived by his parents; his children, Kylie Rae Reed, 13, Christopher Paul Reed, Jr., 12, and their mother, Ashley Pouliot, Madilyn Victoria Reed, 8, Ethyn Gregory Davis, 4, and their mother, Sadie Davis; his three brother, Brian Reed, of Livermore Falls, Andrew Reed and his fiancé, Nikki Trask, and their son, Brayden, of Winslow, and Paul E. Poissonnier, Jr., of Winslow; many aunts, uncles and cousins.
An online guestbook may be signed and memories shared at www.lawrybrothers.com.
Memorial donations to help defray funeral expenses may be mailed to: Elaine Grenier, 16 Frawley St., Winslow ME 04901. Please make checks payable to the same.
SYLVIA M. LABBE
FAIRFIELD – Sylvia Mary Labbe, 96, passed away on Tuesday, July 24, 2018. Born in Winooski, Vermont, on March 9, 1922, she was the eldest daughter of Odila Marie Pouliot and John Baptist Hebert.
After extensive wartime correspondence she marred Clement Joseph Labbe. They made a home only steps away from the family farm on Savage Street, in Fairfield.
Sylvia was a small woman with a big spirit, maintaining a comfortable home for Clem and children, Priscilla and Paul. She traveled by foot and bus to take care of family business around town, baked daily and crocheted. She took great joy in riding her bicycle and dancing to her heart's content. And she always savored a good box of chocolates.
She was predeceased by Clem; her parents; brothers, Rene and Donald; and sisters, Ann and Yvette.
Sylvia is survived by her daughter, Priscilla Giroux; son, Paul and his wife, Gretchen; sisters, Frances Plante and Rita Hebert.; grandchildren, David, Sarah and Julia; and great-grandchildren, Lily, Sophie, Amanda, Madden and Summer.
An online guestbook may be signed and memories shared at www.lawrybrothers.com.
Those who wish, could consider a donation to the Sisters of the Blessed Sacrament, Waterville, Maine.
OTHERS DEPARTED
SHAWN J. PORTER, 36, of Bangor, formally of Clinton, passed away on Saturday, March 10, 2018, in Waterville. Locally, he is survived by his father, Carlson Porter, of Clinton; son Raiden D. Porter, of Benton; and brothers Justin Porter, of Clinton, Luke Porter and Travis Belyea, both of Norridgewock.
DOROTHEA E. LADD, 87, of Skowhegan, passed away on Wednesday, June 13, 2018, at Eastern Maine Medical Center, in Bangor. Locally, she is survived by a nephew, Doug Breingan and wife Laura, of Fairfield.
LANCY C. BRADSHAW, 91, of Pittsfield, passed away on Thursday, June 21, 2018, in Skowhegan. Locally, she is survived by a daughter, Maryjane Stafford and husband Bruce, of Winslow.
RONALD C. STEVENS, 86, of Exeter, passed away on Saturday, July 14, 2018, following a brave fight with cancer. Locally, he is survived by a daughter, Cheryl Boucher and husband Paul, of Clinton.
THOMAS E. BEAULIEU, 72, of Chelsea, passed away on Friday, July 20, 2018, at Alfond Center for Health, in Augusta. Locally, he is survived by a daughter, Bonnie Marie Beaulieu, of Winslow.
E. ELSIE ROWE, 100, of Granby, Connecticut, passed away on Monday, June 25, 2018, at Meadowbrook of Granby Nursing Home. Locally, she is survived by stepdaughters Phyllis Hunter, of Benton, Theresa Monk, of Clinton, and Gladys Lee, of Skowhegan.
LAURIE J. BUSHEY, 64, of Waterville, passed away on Friday, July 27, 2018, at MaineGeneral Medical Center, in Augusta. Locally, she is survived by her husband of 23 years, Ralph Bushey, of Waterville, and sister Beth Taylor and husband Lawrence, of China Village.
WALTER H. WHITE, 94, of Madison, passed away on Sunday, July 22, 2018, at Cedar Ridge Nursing Home. Locally, he is survived by a daughter Bernadette Puiia, of Winslow; and grandchildren, Heidi Zetterman and husband Matt, of Waterville, Paul Puiia and wife Shannon, and Adam Puiia and wife Allison, all of Winslow.
Responsible journalism is hard work!
It is also expensive!
If you enjoy reading The Town Line and the good news we bring you each week, would you consider a donation to help us continue the work we're doing?
The Town Line is a 501(c)(3) nonprofit private foundation, and all donations are tax deductible under the Internal Revenue Service code.
To help, please visit our online
donation page
or mail a check payable to
The Town Line, PO Box 89, South China, ME 04358
. Your contribution is appreciated!
http://townline.org/wp-content/uploads/2019/07/Town-Line-Website-banner-v3-1030x206.jpg
0
0
Website Editor
http://townline.org/wp-content/uploads/2019/07/Town-Line-Website-banner-v3-1030x206.jpg
Website Editor
2018-08-08 12:48:09
2018-08-08 12:48:09
Obituaries, Week of August 9, 2018