PAUL CATES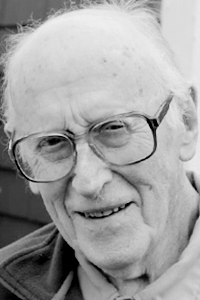 VASSALBORO – Paul Barker Cates. 93, of Vassalboro, passed away on Sunday, October 21, 2018, at the home in which he was born. The greatest hits of his life are as follows:
He was born August 23, 1925, the eighth child of Annabel and Harold Cates. In his childhood, on the family farm, he competed for space at the dinner table with his 11 brothers and sisters. He attended Coburn Classical Institute, in Waterville, and Haverford College, in Pennsylvania. He was a Quaker conscientious objector to the post World War II peacetime draft, and was sent to prison. When his sentence was commuted, he spent the next decade and a half traveling between the United States and Germany, doing relief work, then learning the language, then smuggling medication and documents across the Berlin Wall, and finally, falling in love with, and marrying his wife, Elisabeth, who escaped East Germany in 1969.
Paul worked for the Quarterly Meeting of Friends, in Maine, as a traveling pastor. He and Elisabeth built a business of raising flowers, and selling them to local florists, becoming known as the "Glad Man," and then later, selling gladiolus bulbs, as well. He taught languages at three private schools over the course of his life. Scattergood School, in Iowa, Oak Grove-Coburn, in Vassalboro, and finally, Erskine Academy, in South China. He was a playwright, a farmer, a politician, a great wit, and a lifelong pacifist.
Paul was predeceased by his parents; his siblings and all but two of their spouses, brother-in-law, Martin and sister-in-law, Christhild; and his eldest son, Martin.
He is survived by his extended Cates family including his beloved wife, Elisabeth; son, Christopher and his wife, Victoria and their sons, Nicholas and Ethan; daughter, Dorothee and her husband, David and their children, Julia and Oliver; son, Winfried; son, Douglas and his son, Maximilian, and Douglas' wife, Emily and their sons, Elijah and Isaac; daughter, Margaret, and daughter, Helen and her husband, Brad and their daughter, Klara. He also leaves behind brother-in-law, Charles; sister-in-law, Saundra; and many nieces and nephews in the United States, as well as family in Germany; brother-in-law, Horst, his wife Dagmar, and their family; Konrad, husband to Paul's late sister-in-law, Christhild, and their family; and Birgit, wife to Paul's late brother-in-law, Martin, and their family.
Naturally, as the "Glad Man," Paul loved flowers. However, donations may be made in his honor to the American Friends Service Committee (http://afsc.org), to Maine General Hospice (https://give.mainegeneral.org/hospice), or to the Vassalboro Friends Meeting.
In the Quaker tradition, a celebration of Paul's life will be held on Saturday, November 10 at 2 p.m. at the Vassalboro Friends Meeting, 48 South Stanley Hill Road, Vassalboro. A reception will follow at the Vassalboro Grange Hall.
For an unabridged obituary, filled with anecdotes and Paul-isms, please visit www.redingtonfuneralhome.com – condolences, memories and tributes may also be shared with the family on this site.
LORI A. WARE
WINSLOW – Lori A. Ware, 52, of Winslow, died unexpectedly on Saturday, October 13, 2018. She was born on July 23, 1966, a daughter of Gerald and Janice Ware.
She attended Winslow schools.
Lori enjoyed cooking, swimming, snowmobiling, watching movies with her children, and will be remembered for her big heart.
She was predeceased by her daughter, Kara Michaud; her companion, Marc Feix; and her mother, Janice Ware.
Lori is survived by her son, Nathan Feix; her father, Gerald Ware; her brother, David Ware; her sister, Robin Couture; nieces and nephews.
There will be no services. Burial was in Saint Francis Catholic Cemetery, 78 Grove Street, Waterville.
DR, WILLIAM J. MULHERIN, DC
WINDSOR––Dr. William (Bill) James Mulherin, DC, 83, died in his sleep on Wednesday, October 17, 2018, at the Maine Veterans Home, in Augusta. Bill was born in Boston, Massachusetts, on April 8, 1935, the son of Joseph Anthony and Grace (Brown) Mulherin.
Bill, whom his siblings called "Mel," graduated from local schools before enlisting in the Army in 1954, serving as a military policeman at Fort Dix, New Jersey, Company C.
In 1970, Bill married Juanita M. Upham in Wells. He brought five children into the marriage, Juanita had four, and together they had one daughter.
Bill was a life-long learner who earned multiple degrees and certificates in the medical field. Bill completed training as an occupational therapist with the Massachusetts Department of Mental Health, a BS in Professional Arts from St. Joseph's College in Standish, earning his RN doing clinical rounds at Central Maine Hospital in Lewiston. Bill later earned his Doctorate of Chiropractic from Palmer College in Davenport, Iowa.
Bill and Juanita owned and operated a nursing home for many years before Bill left that business to pursue a career as a chiropractor. Initially, Bill worked in Winslow for Dr. Lawler before opening his own chiropractic office in Augusta. After a few years, Bill and Juanita decided to move out of the city, but not too far, to Windsor, where he hung his shingle until he retired. Bill had a passion for whole body wellness, spirituality and meditation. His patients adored him as he offered "common sense medicine" and treatment without medication. Bill was known for not even allowing aspirin in the house, "medicine is not the cure, it is the problem," he would say.
A favorite saying of Bill's was, "if you see someone without a smile, give them yours."
He was very interesting and intelligent, having a way with words that allowed him to talk to anyone without sounding like he knew more than others. Those who knew Bill, found him to be a down-to-earth, common sense guy.
Bill enjoyed many hobbies and activities in addition to helping others and was a member of the American Legion, Masons and Knights of Columbus. He enjoyed building large scale, 3-4 mast schooner model ships, fishing with his best buddy, Ray, and gardening, which was his second passion.
In addition to his parents, Bill was predeceased by his wife of 37 years, Juanita; and a sister, Patricia Sullivan.
Bill is survived by his children, Paula Mulherin, Stephanie Mulherin, Kelly Mulherin, Christopher Mulherin, Maria Mulherin, and Theresa Mulherin; step-children, Pamela Moon Mulherin, of Windsor, Ginny Moon Scofield, of Vassalboro, Nancy Pettegrove, of Windsor, and Dwight E. Pettegrove, of Windsor; siblings, Joseph Mulherin, Jr., of Hatfield, Massachusetts, Mary Ann Creighton, of Wakefield, Ne Hampshire, Eileen Franklin, of Foxboro, Massachusetts, Elizabeth Rizzo, of Goldsboro, North Carolina, and Kathy Either, of Plainville, Massachusetts; as well as many nieces and nephews, grandchildren and great-grandchildren living all over New England.
A potluck Celebration of Life will be held on Sunday, November 11, 11 a.m. at the American Legion Post#205, 400 Eastern Avenue, Augusta.
Memories and condolences may be shared with the family online at www.directcremationofmaine.com.
Arrangements are under the care of Direct Cremation of Maine in Belfast.
In lieu of flowers, donations may be made in Bill's name to the Maine Veterans Home in Augusta, www.MaineVets.org or to the American Legion Post #205, www.legion.org.
KATHERINE G. WHITE
VASSALBORO – Katherine Grace Christina White, 19, of James Road passed away peacefully on Thursday, October 18, 2018, in the Barbara Bush Children's Hospital at Maine Medical Center, in Portland. She was born in Kirkland, Washington, on August 14, 1999.
Katherine was a student at Winslow High School. She was not your typical teenage girl. Instead of being obsessed with boys and social media, she was obsessed with Elmo and Sesame Street. At last count, she had acquired enough episodes to watch a different one every day of the year. Elmo has been her best best friend since she was tiny. He was basically her spirit animal. On any given day you could find her dressed Elmo red and mimicking his laugh to perfection.
Katiebug is survived by her parents Tyler and Sarah (Lemieux) Watson, of Vassalboro; a sister Julia White, of Vassalboro; an aunt Lindsay Mutegi, of Minneapolis, Minnesota; her uncles Adam Lemieux, of Winslow, James Lemieux, of Pittsfield and Adam White, of Gilbert, Arizona; her dozen (yes, dozen) grandparents Wayne and Ruth Lemieux, of Benton, Lawrence and Doreen Lee, of Winslow, John and Christina Cunningham, of Gilbert, Arizona, Ray and Jill White, of Arlington, Washington, Roy and Diane Watson, of Amery, Wisconsin, and Cliff and Sharon Hill, of Scandia, Minnesota.
Arrangements are in the care of Knowlton and Hewins Funeral Home, One Church Street, Augusta, where condolences, memories and photos may be shared with the family on the obituary page of the website at www.familyfirstfuneralhomes.com.
In lieu of flowers, please donate to the foundation that her family has established in her name. It is their goal to help fund equipment for other kids and young adults like Katie. You can find information about her foundation at: gofundme.com/thekatherine-g-white-memorial-fund.
Responsible journalism is hard work!
It is also expensive!
If you enjoy reading The Town Line and the good news we bring you each week, would you consider a donation to help us continue the work we're doing?
The Town Line is a 501(c)(3) nonprofit private foundation, and all donations are tax deductible under the Internal Revenue Service code.
To help, please visit our online
donation page
or mail a check payable to
The Town Line, PO Box 89, South China, ME 04358
. Your contribution is appreciated!
http://townline.org/wp-content/uploads/2019/07/Town-Line-Website-banner-v3-1030x206.jpg
0
0
Website Editor
http://townline.org/wp-content/uploads/2019/07/Town-Line-Website-banner-v3-1030x206.jpg
Website Editor
2018-10-31 13:39:37
2018-10-31 13:39:37
Obituaries, Week of November 1, 2018