HOLLY D. JOHNSON
SOUTH CHINA – Holly D. Johnson, 68, passed away Thursday, November 1. 2018, at the Lahey Clinic Medical Center in Burlington, Massachusetts, following a long illness. She was born in Montpellier, Vermont, on December 18, 1949, the daughter of the late Homer and Bernice Waterman.
Holly graduated from Sharon High School and was a member of the South China Community Church.
She had been employed by the US Postal Service for over 25 years and had also been an Ed Tech in the Belfast School system for many years.
Holly was a Girl Scout leader, a member of Bell Choir, Chorus and Sunday School teacher at the First Church in Belfast, a member of the Central Maine Art Society, Colby College Art Museum, Central Maine Garden Club and South China Community Choir.
Holly was a remarkable woman, a gifted artist, and lover of nature who will be missed by many.
She was predeceased by her second husband, Marc Johnson.
Holly is survived by a son, Curt R. Eynon and his wife Melanie, of Belfast; a daughter, Sherry Murphy and her husband Stanley, of Brooks; her companion David Wright, of Brighton Plantation; a brother, Charles Waterman, of Montpellier, Vermont; five sisters: Bernice Coulter, of Palermo, Leslie Glover, of Waldoboro, Sharon Waterman, of Marshfield, Massachusetts, Stacey Williams, of Lincoln and Lois Cross, of Belmont; three grandchildren: Kimberly Eynon, Nicholas Murphy and Jace Murphy; and many nieces, nephews and cousins.
Arrangements were under the care of Plummer Funeral Home, 16 Pleasant Street, Augusta.
Condolences, photos and memories may be shared at www.plummerfh.com.
The family requests that donations in Holly's memory be made to: Maine Children's Home for Little Wanderers, 93 Silver Street, Waterville ME 04901.
ROBERT E. STEELE
Robert Elwin Steele, 74, passed away at Togus Veterans Hospital, in the Togus Springs Hospice Care Unit, on Monday, November 12, 2018. Born December 16, 1943, in a Portland hospital, he was the youngest son of Ralph and Vera (Goding) Steele, and was brought up in Brooksville. He grew up singing hymns in the Methodist Church and graduating from Blue Hill High School, in 1961.
He joined the Air Force in 1962 and served until 1965. He then attended the University of Maine in Orono sporadically for the next three or four years.
In 1973 he had, along with Paul Zendzian, a Bangor lawyer, submitted a proposal to bring the WIC Program to Penobscot and Piscataquis counties. Much to their surprise they were awarded the funding from the USDA.
He started Robert Steele Productions in 1976. There he managed bluegrass entertainers such as The Kennebec Valley Boys. He had a lifelong appreciation of music of all kinds, but particularly bluegrass music.
He began Steele Publications in the late 1990s, and assisted several Maine authors in publishing their works, mostly Maine histories. He was a talented writer, and wrote several feature travel articles for local newspapers, including the Portland Press Herald and the Bangor Daily News, as well as for several weekly papers.
Robert loved to travel, not only to visit various countries but to live in them and to enjoy their people and experience their cultures. He traveled to Ireland, England, Scotland and throughout Europe, spending several months in each country. He spent time in the Balkans, and resided for many years in India. He was very proud of his Scottish ancestry, and spent much of his time studying his family roots and heritage.
He was an airplane pilot who loved the freedom in the sky.
Robert had a lifelong love of the railroad, and rode the last CP train from Brownville Junction to Montreal. He had an abiding interest in passenger rail, and had a dream of bringing trains back to Maine. In 2011 he formed The Golden Eagle Railroad, and spent his time talking with town officials from the coast of Maine to New Hampshire to bring interest in the railroad to municipalities.
He is survived by a brother, Ronald, and several nieces and nephews.
Robert was one of a kind. He lived his life on his terms. He had deep roots in Maine, and especially loved the coastal area around Blue Hill. He was opinionated, and never hesitated to share it with anyone. He had an absolutely beautiful singing voice, was well-read in many subjects, had a raucous and quirky sense of humor, and loved a good story, a good home-cooked meal and a good cup of tea.
There will be a private service at a later date.
Donations may be made in his memory to the charity of your choice.
CHRISTOPHER L. HALLEE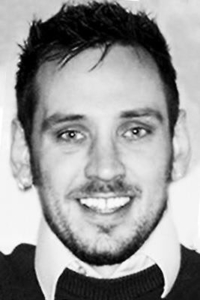 AUGUSTA – Christopher L. Hallee, 36, passed away on Wednesday, November 14, 2018. He was born to Lisa Arbour and Greg Hallee on February 27, 1982, in Waterville.
Despite the heroic efforts of the Maine Medical Cardiac Intensive Care team, Chris succumbed to the devastating effects of an overdose of an unknown mixture of opiates. Chris's death was sudden and tragic; it was also avoidable. At the time of his death, Chris was seeking treatment for his addiction, but was unable to find a rehab bed in Maine. He died as his family was trying to find one for him in another state.
Chris' drug addiction may have ended his life, but it did not define it. Chris was a kind and generous soul who loved people. He was happiest when he made others happy. He collected friends the way other people collect things. His smile lit up a room and his heart was as big as the world. He touched many lives on his journey through life.
Chris spent most of his childhood in Augusta where he attended St. Mary's School and Cony High School. More recently he was a student at Kennebec Valley Community College. He worked as a cook and waiter in many restaurants in central and southern Maine. He created "Maine Music Movement," an online resource with which he shared the music he loved with others. He dreamed of becoming a concert producer and recorder to bring more live music to Maine.
Chris was predeceased by his paternal grandparents, Richard and Constance Hallee; maternal grandfather, Donald Nelson; and aunt, Terri Starrett.
Chris is survived by his father, Greg Hallee, of Vassalboro; his mother, Lisa Arbour, stepfather, Denny Arbour; sisters, Chelsea and Julie Arbour, all of Augusta; maternal grandmother, Beverly Rideout, of Waterville; special aunt, Lisa Hallee, who was like a second mother to Chris, and her husband, Eric Sharpe, of Oakland; other aunts and uncles, Bridget and John Campbell, of Winslow, Tim and Lauren Hallee, of Fairfield, Steve Hallee, of Norridgewock, Rebecca and Peter Sherwood, of Oakland, Judi and Jim Moore, of Wyoming, Stephanie and Wes Swonger, of Arizona, Richard and Lori Nelson, of China, Dede and Paul Dickey, of Fairfield, Scott Bryant, of Augusta; and many cousins.
In lieu of flowers, Chris' family requests that donations be sent to: Operation Hope c/o Waterville Police Department, 10 Colby Street, Waterville, ME 04901.
If Chris' life or untimely death has touched your heart, please help his family honor his memory by making drug treatment in Maine a top priority with the facilities and resources needed to address what has become an epidemic in our state. We hope that other families will not suffer as ours has and the world doesn't lose another beautiful soul to this dreadful disease.
PETER F. BASTOW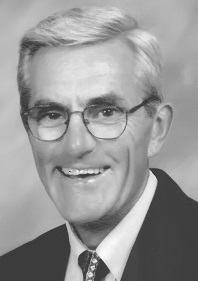 WINSLOW – Peter Frank Bastow, 82, passed away Saturday, November 17, 2018, at his home, in Winslow, following a brief illness. He was born in Oakland on August 26, 1936, the son of Frank Jr. and Susan (Strong) Bastow.
He attended Oakland schools and graduated from Williams High School in 1954. Following graduation, Peter attended Maine Central Institute, in Pittsfield, Bowdoin College, in Brunswick, and the University of Maine at Orono, where he graduated in 1959. He soon began his educational career in York as a teacher and coach.
On June 24, 1961, Peter married the former Janice Lancaster, of Brunswick, and moved to East Lyme, Connecticut, before returning to York where Peter and Jan's children, Judy and Peter, Jr. were born.
In 1968, Peter became guidance director at Gorham High School, and the family moved to Cumberland Center in 1969, where they resided for 34 years. After his teaching career, he held a few sales positions in the Portland area, retiring in 1999. Beginning in 2003, Peter and Jan spent their summers at the family camp on Salmon Lake, in Oakland, and their winters in Spring Hill, Florida. Then in 2013, they became year round residents in Winslow where they met and became good friends with many neighbors.
Peter was involved in many organizations and served for over six years in the United States Air Force and was honorably discharged as a first lieutenant in 1972.
He is survived by his wife of 57 years, Janice; daughter, Judith Lafond and husband Russell, of Bellingham, Massachusetts; son, Peter Bastow, Jr. and husband John Raymond-Bastow, of Skowhegan; brother, Richard Bastow and wife Nancy, of Auburn; sister-in-law, Joan Bouchard and husband Henry, of Brunswick; brother-in-law, Richard Lancaster, of Brunswick; grandsons Joshua, Troy, and Sean Lafond, of Bellingham, Massachusetts; and several cousins, nephews, and nieces.
In lieu of flowers, friends wishing may make donations to First Congregational Church 7 Eustis Parkway, Waterville, Maine 04901
Arrangements under the direction and care of Dan & Scott's Cremation & Funeral Service, 445 Waterville Road, Skowhegan, Maine 04976.
OTHERS DEPARTED
HELEN B. FURROW, 97, of Sidney, passed away on Monday, October 8, 2018. Locally, she is survived by grandchildren Dan Parsons and wife Bonnie of Unity Plantation, Ronnie Furrow and partner Lisa Keay, of South China, Wendy Furrow Cross and husband Peter, of Sidney, and Theresa Parsons, of Unity.
CECIL R. PORTER, 86, formerly of Brooks, passed away on Tuesday, October 16, 2018, at a Waterville hospital. Locally, he is survived by his children Vicki Rogers and husband Scott, of Unity, and Eric Pofrter and wife Jan, of Oakland.
AVERILL P. McDONALD, 95, of Randolph, passed away on Wednesday, October 24, 2018, at Avita, of Brunswick. Locally, she is survived by a niece, Marj Morisette, of Vassalboro.
MICHA P. TAYLOR, 41, formerly of China Village, passed away on Wednesday, October 24, 2018, in Auburn. A celebrationof life will be held on Sat., November 17, at 11 a.m., at the China Baptist Church, in China Village.
HARRY W. DIXON JR., 95, of Skowhegan, passed away on Sunday, October 28, 2018, at the Cedar Ridge Nursing Home, in Skowhegan. Locally, he is survived by a daughter-in-law, Gwyn Dixon, of Whitefield.
DOROTHY M. PRESTON, 87, of Damariscotta, passed away on Monday, October 29, 2018, in Damariscotta. Locally, she is survived by her son David and his wife Janet, of China.
CORRINE B. BREAULT, 90, of Madison, passed away on Wednesday, October 31, 2018, at Redington-Fairview General Hospital, in Skowhegan. Locally, she is survived by a nephew, Earl Blanchard and wife Kathy, of Windsor.
ANN G. WISWELL, 89, of Waterville, passed away on Sunday, November 4, 2018, at her residence. Locally, she is survived by
her daughter, Nancy Pfeiffer and her husband Alan, of China.
ELSIE L. DORITY, 94, of Waterville, passed away on Monday, November 5, 2018, at Lakewood Continuing Care Center, in Waterville. Locally, she is survived by her son, Elbridge H. Snow Jr., of Somerville, daughter Joyce Stevens and husband Eugene, and son-in-law Dr. David R. Wood, all of Oakland.
SHIRLEY M. DUDLEY, 72, of Waterville, passed away on Wednesday, November 7, 2018, following a long illness. Locally, she is survived by a daughters Carol Ann Manson and husband Kip, of Oakland, and Tammy Loder and husband Jay, of Clinton, and son Ronnie Dudley and partner Norma Allen, of Vassalboro.
SHERINE A. HUGHGILL, 55, of Madison, passed away on Monday, November 12, 2018, at Eastern Maine Medical Center, in Bangor. Locally, she is survived by a brother, Glenn C. Hughgill, of Albion.
DERENE A. POOLER, 81, of Waterville, passed away on Tuesday, November 13, 2018, at MaineGeneral Medical Center. Locally, she is survived by her children, Kim Marois and husband Ronald, of China, Scott Pooler and wife Laurie, of Vassalboro, and Todd Pooler, of Augusta.
STEPHEN C. TAYLOR, 44, of Eddington, passed away on Monday, November 19, 2018, at Eastern Maine Medidcal Center, in Bangor, following a life-long battle with uncontrollable Grand Mal seizures. Locally, he is survived by his mother, Pauline Bell and step-father Eugene Bell, of Oakland.
Responsible journalism is hard work!
It is also expensive!
If you enjoy reading The Town Line and the good news we bring you each week, would you consider a donation to help us continue the work we're doing?
The Town Line is a 501(c)(3) nonprofit private foundation, and all donations are tax deductible under the Internal Revenue Service code.
To help, please visit our online
donation page
or mail a check payable to
The Town Line, PO Box 89, South China, ME 04358
. Your contribution is appreciated!
http://townline.org/wp-content/uploads/2019/07/Town-Line-Website-banner-v3-1030x206.jpg
0
0
Website Editor
http://townline.org/wp-content/uploads/2019/07/Town-Line-Website-banner-v3-1030x206.jpg
Website Editor
2018-11-28 15:11:32
2018-11-28 15:11:32
Obituaries, Week of November 29, 2018