Her name? It's not important. She lives right here in China and could easily be your next-door neighbor or relative. You've probably passed her going into the post office or exchanged neighborly smiles down at Hannaford. Maybe she goes to your church.
In her early 60s, with long, graying hair pulled back in an untidy ponytail, she looks a bit like a country librarian. She orders only tea, and I can tell she's a little nervous by how tightly she holds her cup.
She has reason to be hesitant. It's the same reason she prefers to remain anonymous. There's a social stigma associated with drug addiction that means it's mostly discussed in dark corners, with hushed voices. But it's an issue that has touched many of the families in our community, and we can't solve a problem we don't discuss. That's why she's here with me now: hoping her story might bring greater awareness to a problem that is hammering our communities, destroying families, and taking lives.
Her son is addicted to heroin. Like many stories of addiction, this one began from a place of pain. For her son, that pain came in the form of social isolation and untreated depression. He was just a young kid, trying to fit in, and it began innocently enough, with teenage drinking. Under the influence, his anxiety and social awkwardness melted away and he felt, well, normal – like everybody else for once: finally able to shed his burden of perpetual anxiety and fear, and connect to those around him in a way that felt normal again. He began to hang around with other kids that also used drugs and alcohol as a way to ease their pain, social alienation, or to escape from a difficult world.
Inevitably, in the midst of this opioid epidemic, a friend eventually suggested he try heroin. From there, it didn't take long for addiction to take hold of his life. The insidious nature of opiates makes them addictive on both a psychological and physical level after only a short time.
Working directly on the pleasure centers of the brain, opiates replace the brain's ability to regulate pain and fear. For those already burdened with conditions such as depression or social anxiety, opiates can seem like a wonder drug – at first. But repeated use actually makes those conditions worse by replacing the brain's own 'capacity-to-cope' with a pharmacological alternative. Like muscles that atrophy if unused, an addict can find his condition even worse after drug use stops.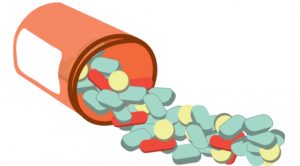 Opiates have a similar effect on physical pain. While they may reduce pain temporarily, opiates also lower the user's pain threshold, so when the drug wears off the pain is often more acute than before. That is one reason opiates can so quickly become addicting and are so difficult to give up.
This mother, fighting for the life of her son, gazes at me with a pain of her own shining in her eyes. "It's a mental health issue as much as an addiction issue," she says.
I nod. I've talked to a lot of people about addiction over the last few months. The problem of dealing with pain seems to be at the heart of all their stories. Whether of mental anguish or physical discomfort, it all comes down to our attempts to manage pain. Addiction often seems to be the result of our efforts to treat the symptoms rather than the root cause.
The current opioid crisis is actually a direct result of our society's attempts to deal with the problem of pain. In the 1990s there was a movement in the medical community to be more aware of the treatment of pain in patients. In 2001, the Joint Commission, a medical standards and accreditation group, issued a new standard requiring that pain be "assessed in all patients." Pain became the "fifth vital sign," and a greater emphasis was placed on its assessment and treatment.
This had a ripple effect across our society in multiple ways. The greater emphasis on the treatment of pain put pressure on doctors to do more to relieve it.
After a hospital stay, patients receive a survey from the Joint Commission inquiring about their pain level. Those answers help determine a hospital's rating with the commission. This subtle pressure encouraged doctors to prescribe more pain medication and keep patients on it for longer (or at least until after they'd returned the pain assessment survey).
The change did not go unnoticed by pharmaceutical companies, who ramped up their marketing efforts and found new ways to incentivize doctors into prescribing opiates and consumers into asking for them. It didn't help that the marketing was often deceptive and underplayed the addictive potential of those drugs.
The increased focus on pain resulted in more opiates being prescribed, which created a larger market of opiate users; and keeping patients on them for longer increased the chances of addiction. As the addictive danger of opiates gained greater awareness and doctors became more circumspect about prescribing them, patients cut off from their prescriptions turned to black-market heroin instead. In turn, this demand stimulated the black-market supply of heroin. As the market for heroin grew, suppliers stepped up their game with better quality and supply. This resulted in users of other drugs, like cocaine, turning to heroin instead.
All of this created a snowball effect which has led to our current addiction crisis and laid fertile ground for troubled kids to get caught up in it. And yet we've done little about the real issue at the heart of the problem: pain.
I look up at the lady sitting across from me. Neighbor, mother, and now addiction advocate. "I'm one of the lucky ones," she tells me. "My son is still alive."
Eric Austin lives in China and writes about community issues and technology. He can be reached by email at ericwaustin@gmail.com.

See also Opiates in Central Maine: Not just a National Issue
Responsible journalism is hard work!
It is also expensive!
If you enjoy reading The Town Line and the good news we bring you each week, would you consider a donation to help us continue the work we're doing?
The Town Line is a 501(c)(3) nonprofit private foundation, and all donations are tax deductible under the Internal Revenue Service code.
To help, please visit our online
donation page
or mail a check payable to
The Town Line, PO Box 89, South China, ME 04358
. Your contribution is appreciated!
http://townline.org/wp-content/uploads/2016/06/TownLineBanner-1030x206.jpg
0
0
Eric W. Austin
http://townline.org/wp-content/uploads/2016/06/TownLineBanner-1030x206.jpg
Eric W. Austin
2018-03-14 17:44:06
2018-03-18 01:10:53
Opiates in Central Maine: The Problem of Pain