TECH TALK: "13 Reasons Why" you should talk to your kids
ERIC'S TECH TALK
by Eric Austin
Technical Advisor
So, there's this thing called Netflix. It used to be you rented DVDs from them. They came in these little red envelopes. Now it's out with the DVDs and in with the streaming video.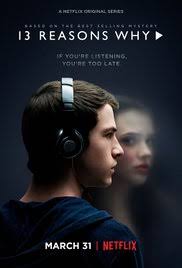 One of the new ways kids have found to stay inside during beautiful summer days in Maine, is with a new activity called "binge-watching." Essen­tially, binge-watching is the practice of watching multiple episodes of a single TV show in one sitting.
The convenience of video streaming options like Netflix have made it easy to watch episode after episode until you've watched a show's entire season over a single weekend. It's like the Frito Lays of TV.
In the past, to binge-watch a television show, you had to wait for the season to be available on DVD so you could buy or rent it.
But in recent years, Netflix has cut out the middleman by producing original content themselves, starting with the critically acclaimed "House of Cards" starring Kevin Spacey in 2013. As of 2016, they had over 120 original series or films available.
Netflix must be keenly aware of the addictive attraction of binge-watching as they have, since their first original series, released all episodes of a show simultaneously.
Their latest offering is the 13 episode series, "13 Reasons Why," based on a bestselling young adult novel by Jay Asher. The series has earned positive reviews from critics and been insanely popular on Netflix, especially with younger, teenage viewers.
It's an interesting show that deals with some weighty subjects like rape and suicide. The young cast does a stellar job and the acting never feels artificial or contrived.
Perhaps the most contrived aspect of the production is the central plot device. We learn in the first episode that a young teenage girl has committed suicide. The girl's best friend is delivered a box, which turns out to contain 13 cassette tapes dictated by her before her death — the eponymous 13 reasons why.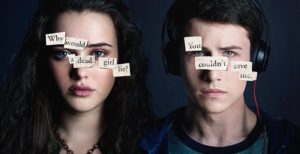 Each episode deals with a single cassette tape, which involves a revelation about how one of her fellow classmates has wronged her, leading to her ultimate decision to kill herself.
Much of the time is also spent on the various relationships between the characters and how they each handle their classmate's death. (I give it a seven on the teen-angst meter.)
Netflix rates the series TV-MA (mature) for some heavy petting, a few shots of naked male derriere, and a fair amount of crude language. More concerning are the emotionally graphic scenes of two rapes (one explicit, one implied), and the depiction of the central suicide in the last episode of the show.
Everything portrayed in this series — bullying, underage drinking, fitting in, and yes even rape and suicide — are issues that a lot of teens encounter in real life or are exposed to on the web. Some reviewers have criticized the central plot device for sending the wrong message to teens — that is, a teenage girl who puts enormous effort into recording messages blaming her classmates for what was ultimately her decision: to end her own life.
While I agree with this sentiment, it's not a central theme in the story and serves primarily as the literary structure from which the events unfold.
The series does bring up some interesting questions such as, what does it mean to give sexual consent? Are people responsible for their actions when they're drunk? Is suicide ever the answer?
These are important questions and ones that teens are bound to ask. Parents should create a safe and fertile environment for such discussion.
"13 Reasons Why" is not a perfect TV show, but I enjoyed my time with it and appreciate the opportunity to understand a bit of the many social issues modern teens deal with.
The show has seen such success that Netflix has already announced it will return with season two next year.
Have a comment or an idea for a column? Visit townline.org or email me directly at ericwaustin@gmail.com!
Responsible journalism is hard work!
It is also expensive!
If you enjoy reading The Town Line and the good news we bring you each week, would you consider a donation to help us continue the work we're doing?
The Town Line is a 501(c)(3) nonprofit private foundation, and all donations are tax deductible under the Internal Revenue Service code.
To help, please visit our online
donation page
or mail a check payable to
The Town Line, PO Box 89, South China, ME 04358
. Your contribution is appreciated!
https://townline.org/wp-content/uploads/2016/06/TownLineBanner.jpg
0
0
Eric W. Austin
https://townline.org/wp-content/uploads/2016/06/TownLineBanner.jpg
Eric W. Austin
2017-05-17 19:20:35
2017-12-07 03:18:52
TECH TALK: "13 Reasons Why" you should talk to your kids