Up and down the Kennebec Valley: Wars – Part 14
Mexican & Spanish-American
The wars on which this series has provided information so far began with fighting against the European power that once claimed the United States and continued with the 1861-1865 war between two parts of the United States.
Ongoing were a third category, wars the United States' founders fought to establish and expand its land area. From their first arrival in the 1600s, Europeans pushed aside the Native Americans, from the eastern seaboard first and the rest of the continent later.
(Consequences of those years persist as Natives reclaim parts of their historic home. See, for example, here in Maine the restoration to the Passamaquoddy tribe of 140 acres of the 150-acre Kuwesuwi Monihq, Pine Island [or White's Island], in Big Lake.)
Starting with 13 states facing the Atlantic Ocean, the country reached to the Pacific with the 1850 admission of California. Adding Utah in 1896 brought the number of states in the continental United States to 45 by the end of the 19th century. Oklahoma was added in 1907, Arizona and New Mexico in 1912.
Alaska went from a territory to state in January 1959. Hawaii became the 50th state in August of the same year.
Two formally declared wars were part of 19th century growth, one with Mexico (April 25, 1846 – February 2, 1848) that added land in the southwest and one with Spain (April 21 – December 10, 1898) that gave the United States its first overseas territories.
(Liberia, in west Africa, was settled beginning in 1820 by former slaves from the United States, under the auspices of the American Colonization Society [ACS]. The historical consensus is that it was never a United States colony or possession; in fact, Wikipedia says, "The United States government declined to act upon requests from the ACS to make Liberia an American colony or to establish a formal protectorate over Liberia, but it did exercise a 'moral protectorate' over Liberia, intervening when threats manifested towards Liberian territorial expansion or sovereignty." Liberia became an independent country on July 26, 1847.)
* * * * * *
Wikipedia explains that the prelude to the war between the United States and Mexico was the declaration of independence by residents of part of northern Mexico in 1836. The Battle of the Alamo in late February and early March 1836 was part of that struggle.
Mexico did not recognize Texas as an independent republic. The United States (and Britain and France) did. Most Texans, Wikipedia says, were willing to join the United States, and after political maneuvering, Texas became a state on Dec. 29, 1845.
In the spring of 1846, President James Polk sent United States military forces into the new state. Mexican forces resisted, leading to battles in April and May followed by a May 13 United States declaration of war.
A series of battles stretching as far west as present-day California led to United States occupation of major Mexican cities, including in September 1847 Mexico City. The war was officially ended by the Feb. 2, 1848, Treaty of Guadalupe Hidalgo. Mexico gave up the area that, Wikipedia says, became "the present-day states of California, Nevada, and Utah, most of New Mexico, Arizona and Colorado, and parts of Texas, Oklahoma, Kansas, and Wyoming."
* * * * * *
The proximate case of the Spanish-American War was the sinking of the battleship Maine in Havana Harbor on Feb. 15, 1898. Built at the navy yard in Brooklyn, at a cost of almost $4.7 million, and commissioned Sept. 17, 1895, she was the first ship named in honor of the State of Maine.
Wikipedia says the Maine had been sent to protect United States interests as Cubans fought for independence from Spain. Later in 1898, a naval inquiry concluded a bomb had been the cause; but, Wikipedia says, some naval officers suggested instead an internal explosion in a coal bunker. A 1974 re-investigation supported their theory. Wikipedia says the cause of the sinking "remains a subject of debate."
Meanwhile, however, United States opinion had settled immediately on Spain as the villain. With "Remember the Maine!" as its battle cry, Congress approved a declaration of war on April 21, 1898. Fighting in Cuba and in the Spanish possessions of Puerto Rico, Guam and the Philippines was over by August. On Dec. 10, 1898, the Treaty of Paris ended the war and gave the United States the former Spanish territories.
* * * * * *
The effects of the Mexican War and the Spanish-American War in Maine were slight. Exceptions would be the few families with members who served, who had connections with the affected areas or were otherwise involved on a personal level.
In his history of the State of Maine, Louis Hatch didn't mention the Mexican War. About the Spanish-American War, he wrote that in response to President William McKinley's call for volunteers, Maine sent "one regiment of infantry, four batteries of heavy artillery and a signal corps, amounting in all to 1,717 non-commissioned officers and men."
Other Maine men volunteered, and Portland's and Bath's "volunteer naval reserve associations" were "mustered into United States service," Hatch wrote. The troops assembled in Augusta. He said nothing about casualties.
The 1898 Maine Adjutant General's report, found on line, has long lists of Kennebec Valley volunteers.
Most local historians omit any mention of either war. Two exceptions are Alma Pierce Robbins, in her Vassalboro history, and General Isaac Bangs, in the military history chapter of Edwin Whittemore's Waterville history.
Robbins wrote that when the "off and on" Mexican border dispute led to the United States declaration of war in 1846, not many people in Vassalboro cared. "Those who had gone west and those who were 'tired of farming' did go," she wrote.
In the 1890s, as tension with Spain mounted preceding the Spanish-American War, Vassalboro was involved in national military exercises.
"Encampments and 'war games' were encouraged everywhere," Robbins wrote. Massachusetts troops came "to compete with Maine men to demonstrate proficiencies in military techniques, with official sanction."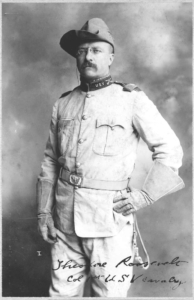 Some of the encampments were on Horace Sturgis' River Road farm. Robbins' history includes a photograph of then-Colonel Theodore Roosevelt's mounted Rough Riders in front of Sam Mitchell's house on the River Road at Riverside in 1897, as they recruited area volunteers.
About the actual war Robbins was silent. But, she said, names of Vassal­boro residents who died in the Spanish-American War and World War I share a bronze plaque on the bridge at North Vassalboro.
The plaque has been moved since Robbins' history was published in 1971 and is now on the larger of the two stones in the memorial on Main Street, in North Vassalboro. The memorial sits in front of the large building that used to be the North Vassalboro schoolhouse, then the town office and later a health clinic.
The names from 1898 are Prince Bessey, John O. Brown, Alton M. Lord, Andrew Peterson, Agra Pooler (state military re­cords list his name as Ogra), Fred Pooler, Bert J. Priest, Charles H. Priest, Charles H. Simpson, David Simpson and William J. Surman.
Robbins erred when she wrote that all these men died in the Spanish-American war; your writer has found post-war information about several of them.
On-line sources say Prince M. Bessey was born Sept. 14, 1879, in China, Maine. On May 17, 1898, he enlisted from Augusta as a private in Battery A, Maine Volunteer Artillery Battalion; he was discharged May 31, 1899, in Savannah, Georgia.
After the war Bessey lived in North Vassalboro from 1907 to 1911. He worked as a salesman in several places, including Pittsburgh, Pennsylvania, where he met and married Nora Smith in 1920. After he retired from Gimbel's Depart­ment Store in 1948, the couple moved to Nora's home town, Ceredo, West Virginia, where he died.
Charles Henry Priest was born July 12, 1881, in East Vassalboro, and died June 27, 1960. He is buried in Priest Hill Cemetery.
Peterson and Fred Pooler were privates in Battery A; each was 19 when he enlisted. Both Poolers were reportedly born in Waterville. Ogra or Agra Pooler, who enlisted at 21, was a North Vassalboro resident.
David Simpson, a Waterville native, was 24 when he enlisted. Surman was 27; his birthplace is listed as Dover, England.
Most Battery A men were from Lewiston or Auburn. In addition to those from Vassalboro, an on-line list includes First Lieutenant and Assistant Surgeon Robert J. Martin and Privates Harvey J. Libby, Nathan T. Shaw, of Augusta. Bangs' chapter in Whittemore's history gives names of a dozen privates from Waterville in Battery A, including Joseph Butler, who enlisted May 17, 1898, and deserted at Fort Popham July 16, and another deserter named Edward Lessor.
Battery C included 21 more Waterville men and smaller numbers from Augusta and Fairfield.
Bangs added a list of a dozen Waterville men who served in the First Maine Infantry in the Spanish-American War. William J. Surman is one of them. In the Maine Adjutant-General's Report for the year 1901, Ogra Pooler, Charles H. Priest and William J. Surman are listed among Company D men who received $22 each in "Extra Pay of Maine Volunteers."
The war with Spain continued until 1902 in what some historians call the Philippine-American War, as the United States consolidated its power over those islands. It was an appropriate introduction to the 20th – and 21st – centuries, as one country or ideology after another used – and uses – force against others.
Update from Brown Memorial Library in Clinton

The Dec. 2, 2021, article in this series talked about the Brown Memorial Library in Clinton, named in honor of William Wentworth Brown (April 19, 1821 – Oct. 22, 1911). The article said that Brown gave the library a portrait of himself by Frederic (or Frederick) Porter Vinton (Jan. 29, 1846 – May 19, 1911); in November 2021, the portrait had been sent away for cleaning.

It is now back on the wall, and assistant library director Cindy Lowell says she and Director Cheryl Dickey-Whitish are very pleased. Mr. Brown is "holding a pair of red gloves you couldn't even see before," she said. The head of his cane is visible and his hair and beard have turned from salt-and-pepper to almost pure white.

The following information is copied from the March-April 2022 issue of the Clinton Community Newsletter.

"The Trustees of the Brown Memorial Library recently had Mr. Brown's very large 100-year-old portrait sent to a professional art restoration company for cleaning. Last week the portrait was returned to its place of honor displaying new details that were previously hidden by layers of coal dust!"

The newsletter has a color picture of the portrait and invites area residents to stop in to see it, an invitation Lowell seconds.

Brown Memorial Library is at 53 Railroad Street, in Clinton, on the east side of the street a block north of Main Street (Route 100).
Main sources
Hatch, Louis Clinton, ed., Maine: A History 1919 ((facsimile, 1974)
Robbins, Alma Pierce, History of Vassalborough Maine 1771 1971 n.d. (1971)
Whittemore, Rev. Edwin Carey, Centennial History of Waterville 1802-1902 (1902)
Websites, miscellaneous
Responsible journalism is hard work!
It is also expensive!
If you enjoy reading The Town Line and the good news we bring you each week, would you consider a donation to help us continue the work we're doing?
The Town Line is a 501(c)(3) nonprofit private foundation, and all donations are tax deductible under the Internal Revenue Service code.
To help, please visit our online
donation page
or mail a check payable to
The Town Line, PO Box 89, South China, ME 04358
. Your contribution is appreciated!
https://townline.org/wp-content/uploads/2016/06/TownLineBanner.jpg
0
0
Mary Grow
https://townline.org/wp-content/uploads/2016/06/TownLineBanner.jpg
Mary Grow
2022-04-06 16:03:10
2022-04-06 16:03:10
Up and down the Kennebec Valley: Wars – Part 14