SCORES & OUTDOORS: Farm raised salmon: Real or Imposters?
SCORES & OUTDOORS
by Roland D. Hallee
Last week we discussed the plight of the Atlantic salmon and the efforts underway to restore this majestic fish, in its natural form, which had seen declining numbers. One of the reasons cited was the new threat from competitive farmed fish.
Such an operation exists in East Machias at the Peter Gray Hatchery. The hatchery has reported the highest smolt production in the East Machias River since the start of the Peter Gray Parr Project in 2012. This summer has seen similar weather conditions as last year, except that the days and evenings are cooler than normal for July. Despite the dry spell, the "little athletes" in the hatchery are doing well, according to the hatchery's monthly newsletter.
So, that brings us to an article written by Kathleen McKeog­hain, of AlterNet. She claims, "Atlantic salmon, the native salmon that used to inhabit the northern Atlantic Ocean, rivers and seas, is a species now represented by an imposter: farmed salmon."
She goes on to say that farmed salmon come from hatchery genetic stock and unlike its native ancesotrs, lacks wild genetic variation. The wild fish our ancestors ate is gone. What appears on our dinner plates is a substitute copy, a genetic dilution of a once mighty fish, the adaptive king of the sea, and a significant food for coastal humans since prehistoric times.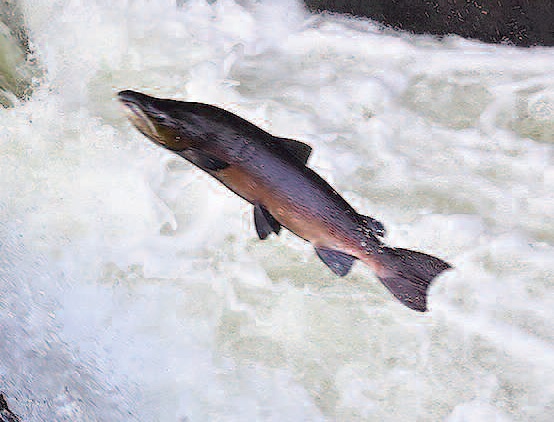 According to McKeoghain, the change in genetic stock has been happening for decades, as farmed salmon are released into native waters via restocking progrms (in an attempt to reduce the negative impacts of overfishing of wild salmon) and also unintentionally as a consequence of faulty containment in sea net-cages. The resulting "swamping out" effect — farmed in, wild out – along with several other insidious factors, has driven native salmon to effective extinction.
"When I began to research the scientific literature on native Atlantic salmon, I was stunned to discover that this species, Salmo salar, is essentially extinct," continues McKeoghain. How can this be?
"The verified statistic is that 99.5 percent of all Atlantic salmon living today, whether farmed or fished from open ocean or rivers, is not what biologists call "wild type" and does not faithfully represent, in a genetic sense, the native fish that once broadly populated waters of our planet's Holarctic zone, the ecological region that encompasses the majority of habitats found across the Earth's northern continents."
The fish we eat today is not the fish that fed our ancestors, or even the fish that fed our forbears of a century ago. Today's salmon, because of the effects of a force called genetic erosion, is the diluted copy of a fish that once thrived on a wild genome, that tried and true set of original genes which, in the case of salmon, generated a fish capable of magnetic field navigation, survival in fresh and salt water and geochemical detection of spawning micro-habitats.
The earliest salmon came from a diverse group of ocean vertebrates known as the ray-finned fishes and was part of a broad divergence of ocean fishes that adapted over eons to the cold, northern waters of the upper northern hemisphere, around the Arctic Circle. Early Atlantic and Pacific salmonid ancestors branched into separate ocean groups of early species types about 600,000 years ago.
Salmon are anadromous, a migrant from fresh water to salty sea, a fish who returns to its birth river to spawn in the family niche for the next generation, for the continuation of each clan, the many clans for each population, and the many populations for each species.
According to Slow Food, an affiliation of the Lighthouse Foundation, "the stocks of wild Atlantic salmon have been reduced to dangerously low levels. Reasons are overfishing, pollution, environmental changes, aquaculture, habitat deterioration and disturbances of migration routes. In many regions, the species has disappeared completely. Even though wild Atlantic salmon stocks have been drastically depleted, farming represents a poor alternative, given the environmental havoc it causes. Farmed salmon should not be eaten frequently. Farmed salmon flesh contains significant amounts of pollutants."
McKeoghain concludes by saying, "the salmon has taken a fatal series of genetic blows. Its 'old growth forest' was set on fire by a human feeding frenzy that began with overfishing and was fed by industrial aquaculture. The genetic erosion is shocking and steep. Today, 99.5 percent of all native Atlantic salmon has disappeared from the wild, forever."
Responsible journalism is hard work!
It is also expensive!
If you enjoy reading The Town Line and the good news we bring you each week, would you consider a donation to help us continue the work we're doing?
The Town Line is a 501(c)(3) nonprofit private foundation, and all donations are tax deductible under the Internal Revenue Service code.
To help, please visit our online
donation page
or mail a check payable to
The Town Line, PO Box 89, South China, ME 04358
. Your contribution is appreciated!
https://townline.org/wp-content/uploads/2016/06/TownLineBanner.jpg
0
0
Roland D. Hallee
https://townline.org/wp-content/uploads/2016/06/TownLineBanner.jpg
Roland D. Hallee
2017-08-09 18:43:24
2017-12-07 03:24:43
SCORES & OUTDOORS: Farm raised salmon: Real or Imposters?