FOR YOUR HEALTH: Top 5 nutrients you need in your diet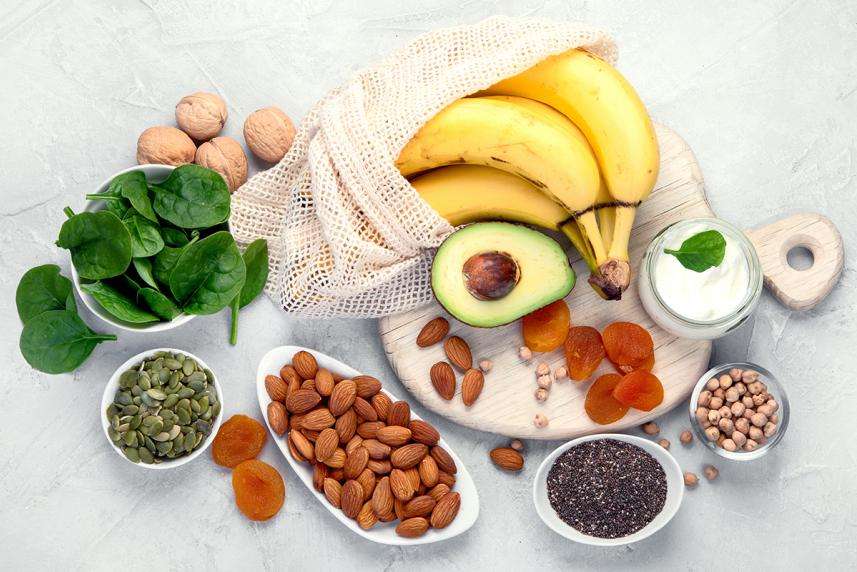 You're probably not getting enough of these vitamins and minerals. Here's how to fill your plate with power foods for your body and mind.
You try your hardest to eat a healthy diet (you really do!). That's a smart habit, since food is the best source of most of the key nutrients your body needs. But you're likely still missing out on some important vitamins and minerals.
"Americans don't always eat the right foods," says registered dietitian Bonnie Taub-Dix. She's the author of Read It Before You Eat It: Taking You from Label to Table. "We aren't getting enough fruits and vegetables, which are a great source of many nutrients."
The good news: It's not hard to make every meal a nutritional powerhouse. And it takes only a few small tweaks to your meal plan. Read on for a top-5 list of essential nutrients your body needs and the foods that will deliver them.
Nutrient you need: Potassium
Your body needs potassium for almost everything it does. Potassium supports normal blood pressure and helps your kidneys function smoothly. It also supports nerve function, helps your muscles contract and more.
Fill your grocery cart with: Potatoes, broccoli, cantaloupe, apricots, bananas, prunes, raisins and oranges.
Broccoli Cantaloupe Apricots Bananas Prunes Raisins Oranges
Nutrient you need: Calcium
This mineral is crucial for bone health, but there's a good chance you aren't getting enough of it, says Taub-Dix. Men need around 1,000 mg of calcium per day, and women need 1,000 to 1,200 mg. Calcium is found in dairy products such as: Cheese, yogurt, milk and calcium-fortified orange juice.
Nutrient you need: Vitamin D
Vitamin D helps your body absorb calcium, so it plays a crucial role in boosting bone health. You need 15 micrograms of vitamin D per day. If you're a milk drinker, you don't have to think too hard about it: Cow's milk is fortified with vitamin D. Many plant-based milk alternatives, such as almond milk and oat milk, are also fortified with D. Other good sources include: Fatty fish, such as trout, salmon, tuna and mackerel (these are the best natural sources of vitamin D), Fortified yogurt and eggs. Eggs
Nutrient you need: Magnesium
There are a lot of important reasons to get enough magnesium in your diet," says Taub-Dix. Magnesium helps your muscles and nerves function properly, regulates blood sugar levels and blood pressure, and builds bone health. Some of the best are: Nuts, legumes, whole grains, leafy green vegetables, fortified breakfast cereal.
Nutrient you need: Iron
This mineral helps support muscle metabolism and healthy connective tissue. Your body also uses iron to produce hemoglobin. That's a vital protein in red blood cells that carries oxygen from your lungs to the rest of your body.
Red meat is an excellent source of iron. Your body absorbs two to times times more iron from animal sources than it does from plant sources, according to the Academy of Nutrition and Dietetics. But don't stress if you're not a meat eater: You can also get this nutrient from a variety of legumes, vegetables and fortified foods.
Good animal sources of iron are: Red meat, turkey, chicken, oysters. Some top nonanimal sources of iron include: Fortified cereal, enriched bread and pasta, beans and peas, spinach, tofu, dried fruits such as raisins, and broccoli.
Responsible journalism is hard work!
It is also expensive!
If you enjoy reading The Town Line and the good news we bring you each week, would you consider a donation to help us continue the work we're doing?
The Town Line is a 501(c)(3) nonprofit private foundation, and all donations are tax deductible under the Internal Revenue Service code.
To help, please visit our online
donation page
or mail a check payable to
The Town Line, PO Box 89, South China, ME 04358
. Your contribution is appreciated!
https://townline.org/wp-content/uploads/2016/06/TownLineBanner.jpg
0
0
Website Editor
https://townline.org/wp-content/uploads/2016/06/TownLineBanner.jpg
Website Editor
2023-02-01 17:26:13
2023-02-01 17:27:04
FOR YOUR HEALTH: Top 5 nutrients you need in your diet