PHILIP E. STARBIRD SR.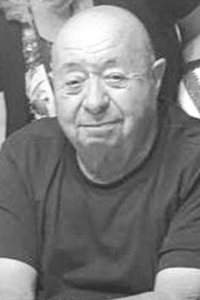 DADE CITY, Fla. — Philip E. Starbird Sr. (formerly of Clinton), 87, passed away peacefully on Tuesday, September 10, 2019, at the James A. Haley Veterans' Hospital, in Tampa, Florida, following a courageous battle with cancer. He was born on July 27, 1932, in Burnham, the son of Earl and Florence (Chamberlain) Starbird Griffeth.
He enlisted and proudly served four years in the United States Air Force during the Korean Conflict. He was a 50-year plus member of Sebasticook Lodge #146 A.F. & A.M., in Clinton. He was a member and past treasurer of the Local #320 Millwrights-Carpenters Union.
He was quick witted, a jokester, and always enjoyed a good game of cards or Dominoes with his family and friends. He will be remembered for his positive attitude and great big smile.
He is survived by his wife of 29 years, Anna (Degan) Starbird, of Dade City, Florida; his children, Veronica Fuller, of Skowhegan, Philip Starbird Jr. and wife, Dena, of Frankfort, Candy Strout and husband Danny, of Clinton, Earl Starbird and wife Nina, of Forked River, New Jersey, April Starbird, of The Dalles, Oregon, Cindy McGinnis and partner Jason Harris, of Newburgh, Alan Starbird and wife Melissa, of Benton, Bryon Starbird, of Skowhegan, and Lynn Starbird and partner Michael Provost, of Skowhegan; his stepchildren Donna Wiggin and husband, Pete ,of Spring, Texas, Lorie Speaker and husband Kevin, of Bluffton, South Carolina, Tom Buotte and partner Kathy, of Delta Junction, Alaska, and Michele Clark and husband John, of Clinton; several grandchildren and great-grandchildren; several nieces and nephews; his brother Leroy Starbird, of Clinton, and his sister Rosemary Springer and husband Dean, of Pittsfield.
He was predeceased by his parents; his first wife Verna (Ketch) Starbird; and his sister,Phyllis Bickford.
A graveside service with full military honors and a masonic service will be held at the Maine Veterans Memorial Cemetery, Civic Center Drive, 143 Blue Star Avenue, Augusta, Maine, in Section K, at 2 p.m. on Friday, October 18, with the Rev. Scott Jones officiating.
In lieu of flowers, memorial contributions may be made in his memory to the Gulfside Hospice, 2061 Collier Parkway, Land O' Lakes, Florida 34639; James A. Haley, VA Hospital, 13000 Bruce B. Downs Blvd., Tampa, Florida, 33612; or Code GPF9138 Hospice, VA Maine Hospice, 1 VA Center (135), Augusta, ME 04330.
MICHAEL C. SHAW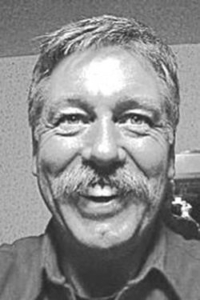 WHITEFIELD — Michael Charles Shaw passed away on Wednesday, September 11, 2019, following a lengthy battle with cancer. He was born in Writtle, England, son of Charles W. Shaw, of Waltham, Massachusetts, and Sylvia E. (Childs) Shaw, of Writtle, England.
He grew up in Waltham, Massachusetts, and graduated Waltham High School, class of 1964, then received an associate degree in computers from University of Maine Augusta. Retiring as a computer programmer from the State of Maine, Dept. of Environmental Protection. He served in the U.S. Army from 1966 through 1971. He married the love of his life, Jeanne (D'Italia) Shaw on August 25, 1979.
He and Jeanne spent their vacations and their honeymoon here and fell in love with Maine. They found the community of Whitefield and settled.
Following the move to Whitefield he became a member of the Kings Mills Volunteer Fire Department and was involved in the Whitefield historical society, the local Boy Scout troop, the church's Knights of Columbus and the Disabled American Veterans. His favorite group that he had been involved with is the Whitefield Men, as great a group of men as you could meet.
He leaves his son Christopher, his wife Stacy; grandsons Michael, Christopher, and Robert, of Readfield; son Eric and his wife Bethany, of Augusta, and son Daniel and his wife Jessica; granddaughter Emily, of Lincoln Nebraska, and son Ian, of Whitefield; sister Margaret Doheny, of Jefferson; a brother Robert Shaw, of Whitefield, and a brother Steven Shaw, of Lakeland Florida, Uncle James Childs, of Writtle, England, and many nieces, nephews and cousins; and mother-in-law Anna D'Italia (102 years old).
A remembrance service will be held at the Kings Mills Union Hall, Townhouse Road, Whitefield, on Sunday, Sunday, October 13, 2 – 5 p.m.
Arrangements are in the care of Staples Funeral Home and Cremation Care, 53 Brunswick Ave., Gardiner, Maine. Condolences, memories and photos may be shared with the family on the obituary page of the Staples Funeral Home website: familyfirstfuneralhomes.com
In lieu of flowers please make a donation in Michael's memory to the Salvation Army, 440 Nyack Rd., West Nyack, New York 10994.
JOSEPH A. FUSCO III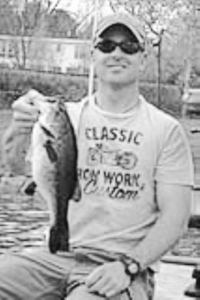 CLINTON — Joseph Anthony Fusco III, 55, passed away on Tuesday, September 10, 2019, following a courageous battle against cancer. He was born January 25, 1964, in Leominster, Massachusetts, to Joseph and Marion Fusco.
That is where he attended school until he joined the U.S. Army in 1982. Joe served six and a half years until he left and followed other paths. Joe was a man of many talents; but he truly found his way after 9/11 and decided to return to the army. He had his heart set on volunteering for deployment and did just that by going to Afghanistan in 2013 with the 133rd Engineer Battalion. He fulfilled his 22-year commitment to the U.S. Army in 2016 and retired after serving many years with the 11th CST, in Waterville, where he recalls some of his best memories.
On April 22, 2016, he married the absolute love of his life, Jessica, after having her by his side for nine years prior to that. He would often joke third time was the charm. Throughout this fight she never left his side.
Anyone who had the opportunity to know Joe knew him for a couple things, one of those being his obsession with fishing. The man saw any body of water and his immediate thought was what he could catch out of it. If he could be on the water he was in his happy place. From catching Stripers on the Kennebec to fishing for Halibut in Alaska, he always found the fish. If you couldn't find him fishing, you'd most likely find him perfecting his golf swing.
Secondly, that sense of humor! Joe had this unbelievable ability to make anyone laugh. He made the best of every situation and knew laughter cured all. Don't take life so seriously, it's too short.
He had an unquestionable love for his family and friends. Joe had an acceptance of everyone and absolute refusal to judge or dismiss anyone. His smile could light up a room. He will be greatly missed by many.
Joe was preceded in death by his parents, Joseph and Marion Fusco; as well as his brother, Anthony Fusco.
Joey will always be remembered and is survived by his wife, Jessica; his sister Tina Gonsalves and husband Phil; his two sons, Jamie Miner and Travis Fusco, daughter Charity Fusco; along with many others including several grandchildren; many, many family and friends.
An online guestbook may be signed, and memories shared at www.familyfirstfuneralhomes.com.
Arrangements are by Lawry Brothers Funeral Home & Cremation Care, 107 Main St., Fairfield.
In lieu in flowers donations can be made to the Travis Mills Foundationm 747 WesternAve., Manchester, ME 04351, (207)480-3490, www.travismillsfoundation.org.
BETTY F. PAUL
BENTON — Betty F. Paul, 78, passed away at home, on Thursday, September 12, 2019. She was born in Waterville, on September 2, 1941, the daughter of John and Lucienne (Grenier) Frappier.
She enjoyed crafting and making jigsaw puzzles.
She was predeceased by her parents; a sister, Nancy McLellan; and son-in-law, Barry Crabbe.
She is survived by her husband of 58 years, Wayne; four children, Wendy Crabbe, Jeff Paul and wife Barb, Kathy Paul, all of Benton, and Penny Ferrigan and husband Dave, of Waterville; three grandchildren, Melissa Bonnell and husband Adam, Joseph Heisley and Elizabeth Ladabour and husband Alex; two sisters, Kay Rancourt and husband Roland, Barbara Ketchen and husband Robert; three great-grandsons; many nieces and nephews.
An online guestbook may be signed, and memories shared at www.familyfirstfuneralhomes.com.
Arrangements are by Lawry Brothers Funeral & Cremation Care, 107 Main St., Fairfield.
CAROLYN J. TRASK
WATERVILLE — Carolyn J. (Ware) Trask, 75, of Waterville, passed away on Friday, September 13, 2019. She was born to the late Charles "Vic" and Lillian (Libby) Ware on January 14, 1944.
Carol attended Portsmouth, New Hampshire, area schools, before attending nursing school, where she became a licensed practical nurse (LPN). She worked at Waterville area nursing homes and the Waterville Osteopathic Hospital (now known as Inland Hospital) from the late '60s to early '80s while helping her husband at the time, Michael Tulley, raise their four children.
She loved to craft, almost as much as nursing. So, after retirement she and her husband, Lionel Trask, joined the crafting circuit. She was known as the "soap lady" of Mrs. T's Soaps. She loved attending area craft fairs selling her soaps, wash cloths, and scrubbies. She also loved hosting the monthly knitting club at Seton Village. Her latest favorite pastime was creating beautiful pictures from her adult coloring books and would love to share them with friends, family, and her Mount St. Joseph family. Family and friends were Carol's passion and delight.
Carol was predeceased by her husband of 31 years, Lionel Trask. She was also predeceased by her grandson, Zachary Tulley.
Carol is survived by her four children, Joni Smith and husband, Alan, of Lincoln, Mark Tulley and partner Midge Ouellette, of Madison, Kelley Frazee, of Fairfield, and Matthew Tulley and partner Sara Goodridge, of Waterville; eight grandchildren; and 10 great-grandchildren; two nieces, two nephews; four great-nieces, and three great-nephews; and her sister Beverly (Ware) Smedberg and partner Randy Spain, of Brewer.
Carol requested for an intimate burial not far from her home.
In lieu of flowers, contributions may be sent to the Waterville Humane Society.
JOSEPH A. BISHOP JR.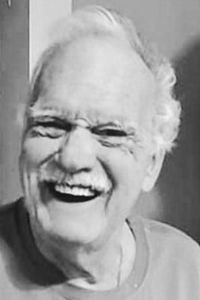 WATERVILLE — Joseph Arthur Bishop Jr., 81, passed away Sunday, September 15, 2019, at Glenridge Rehabilitation and Long Term Care, in Augusta. He was born October 18, 1937, in Fairfield, the son of Joseph Arthur Sr. and Marion (Glacier) Bishop.
He attended the schools of Fairfield and was employed his entire adult life as a mill worker. He was a member of the Elks Club.
Joseph is survived by his companion of 40 years, Joyce L. Ricker, of Waterville; his children, Karen Woodard, Kelly Cote, Karla Willey, all from Dexter, Donna King and her husband Edward, from Nantucket, Massachusetts, Keith Bishop, from Harmony; his grandchildren, Jessica Jacobs and her husband Marshall, from Sangerville, Mandy Perkins and her husband Ryan, from Madison; Samantha Metcalf and her husband Kyle, from Waite, Carrie Campbell and her partner Laurie Brophy, of Waterville, Nathan Ricker, from Portland, Oregon, and Dustin Trottier and his wife Raven, from Brewer; great-grandchildren Hunter and Lucas Jacobs, of Sangerville, Raegan Cowan, Keaghan Perkins and Ty Cowan, all of Madison; other grandchildren, great-grandchildren, nieces and nephews, and great-nieces and nephews.
Joseph was predeceased by his parents; and two sons, Kenny Bishop and Michael Ricker.
A celebration of life will be held at a later date at the convenience of the family.
Arrangements under the direction and care of Dan & Scott's Cremation & Funeral Service, 445 Waterville Road, Skowhegan, ME 04976.
In lieu of flowers, friends wishing may make donations in Joseph's memory to Wounded Warrior Project, P.O. Box 758516, Topeka, Kansas 66675-8516.
ALBERT I. STONE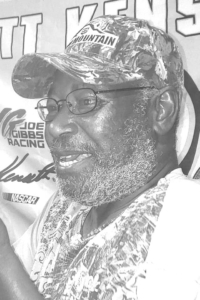 WATERVILLE – Albert Irvin Stone, Sr., 67, passed away unexpectedly on Monday, September 16, 2019, at his home in Waterville. He was born September 19, 1951, in Chatham, Virginia, the son of Amos and Rosa bell (Irven) Stone.
After the birth of his first son, Albert Jr., he moved to Maine to raise his family. After working until the age of 55, he was forced to stop due to health problems. Albert loved spending time with his grandchildren. He was an avid fisherman and you could always find him watching NASCAR and football on the weekends. He was a very generous man and would do anything he could to help someone out.
Albert is survived by his son Joshua Stone and wife Rachel, of Oakland; daughters Amanda Varney and fiance Sonny Arsenault, of Waterville, Tonia Saunders, of Capitol Heights, Maryland; grandchildren Jeziah Stone, Tyleisha Vankeuren, Hayley Jade Stone, Sayvon Hall, Lisette Luce, Adam Luce, Isaac Luce, Shelby Arsenault, Savannah Arsenault, Carter Arsenault, Dylan Arsenault; great grandson KyShawn Saunders; his sisters and brothers, Rosa Stone, Mary Stone, Betty Stone, of Chatham, Virginia, Isabel Carter, Niles Stone, Henrietta Stone, Marilyn Stone, Linda Jennings and husband Donald, Mable Reynolds and husband Carlton, of Danville, Virginia, and Gilmer Stone and wife Niecy, of Winston-Salem, North Carolina.
He was predeceased by his parents, Amos and Rosa bell (Irven) Stone; sisters, Maddie Stone, Katie Stone and Shirley Stone; brothers, Thomas Stone, Robert Stone, Joe Lewis Stone, Amos Stone Jr. and Willie Stone; son, Albert I Stone Jr.
At the request of family there will be funeral or visitation hours.
Arrangements under the direction and care of Dan & Scott's Cremation & Funeral Service, 445 Waterville Road, Skowhegan, ME 04976.
ODBER R. ANDREWS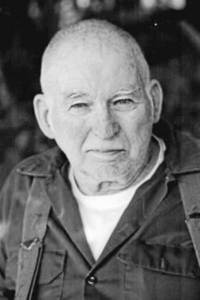 SOLON — Odber R. Andrews, 88, of Solon passed away peacefully Monday, September 16, 2019, at his home. He was born July 22, 1931, in Norridgewock, the son of Roy C. Andrews and Edith (Hunnewell) Andrews.
Odber graduated from Solon High School in the class of 1949, and from Western National School of Heavy Equipment, in Weiser, Idaho, in 1958.
He worked for Scott Paper Company, in Bingham, as a heavy equipment mechanic for over 30 years.
Since the age of 14, he has been a member of the East Madison Grange and was a member of the Keystone Lodge #80, in Solon, as a mason for over 50 years.
A farmer at heart, Odber could repair anything, was very kind, and a man of few words. He always did what he felt was right, no matter the cost to himself. He was a loving husband, father, grandfather and great-grandfather.
Children were very dear to his heart. Odber spent much time volunteering as the church bus driver at United Baptist Church of Madison, as well as helping with various projects at Canaan Christian School, where his children attended.
Besides his wife, Mary, of 55 years, Odber leaves three daughters: Carol Drumm and her husband Brian, of Wilton, Tara Berube, of Mercer, Dulci Corvin and her husband Dwayne, of Pikeville, Tennessee; two sisters, Audrey Hewett, of Sidney, and Dawn Groen and her husband Gerrit, of Minnesota; 15 grandchildren, Ethan, Leah, Courtney, Mackenzie, Cindy, Kristie, Matthew, Benjamin, Robbie, Dalton, Kaytlyn, Marian, Andrew, Ellie, and Reagan; six great-grandchildren, Angelina, Joshua, Henry, Calvin, Jedidiah and Elaina; many nieces, nephews and cousins.
Odber was predeceased by his parents; his son, Evander E. Andrews, his sister, Dassie Jackson, and his brother-in-law, Jerome Hewett.
Arrangements are entrusted to Smart & Edwards Funeral Home, 183 Madison Ave., Skowhegan, Maine.
Donations may be made in Odber's memory to the New Hope Women's Shelter, P.O. Box 209, Solon, Maine 04979.
SR. ELIZABETH MADDEN, SSS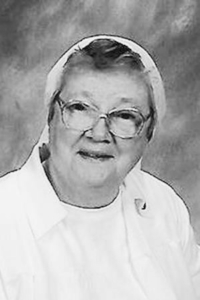 BANGOR — Sr. Elizabeth Madden SSS died at Eastern Maine Medical, in Bangor, on Monday September 16, 2019, following a cardiac arrest. She was born on September 21, 1932, in Morgantown, West Virginia, the eleventh of twelve children, the daughter of Martin and Mary Love Madden.
Her family moved to Cleveland, Ohio, when she was a child and graduated from The Ursuline Academy of the Sacred Heart, in Cleveland.
Sister Elizabeth entered the Servants of the Blessed Sacrament, in Waterville, and made her first vows on November 21, 1954. She served the Congregation in Waterville; Hammond, Indiana; Pueblo, Colorado; and Colombo, Sri Lanka. She filled various positions as superior, treasurer, councilor and director of adoration programs, however, Sister specialized in Liturgy and spiritual direction. Returning to Waterville in 1997, she spearheaded adoration programs in Saco and Lewiston.
She will be dearly missed by her family, especially Mr. Michael Madden, of St. Louis, Missouri, and William Madden, of Chapel Hill, North Carolina; numerous nieces and nephews; and by her community and friends.
Funeral arrangements were under the care and direction of Veilleux Funeral Home, www.veilleuxfuneralhome.com.
Responsible journalism is hard work!
It is also expensive!
If you enjoy reading The Town Line and the good news we bring you each week, would you consider a donation to help us continue the work we're doing?
The Town Line is a 501(c)(3) nonprofit private foundation, and all donations are tax deductible under the Internal Revenue Service code.
To help, please visit our online
donation page
or mail a check payable to
The Town Line, PO Box 89, South China, ME 04358
. Your contribution is appreciated!
https://townline.org/wp-content/uploads/2019/07/Town-Line-Website-banner-v3-1030x206.jpg
0
0
Website Editor
https://townline.org/wp-content/uploads/2019/07/Town-Line-Website-banner-v3-1030x206.jpg
Website Editor
2019-09-25 15:30:20
2019-09-25 15:30:20
Obituaries for Thursday, September 26, 2019