THERESA M. LEMIEUX
FAIRFIELD CENTER – Theresa Mary Lemieux, 89, wife of Joseph Lemieux, died Saturday, October 21, 2017, at Mount St. Joseph Nursing Home, in Waterville She was born in Benton on November 15, 1927, the daughter of Wilfred and Yvonne (Ouellette) Pouliot.
Theresa was a teacher in the Northwest territories of Canada for 25 years, starting in a one-room schoolhouse. She later taught for five years at Lawrence High School, in Fairfield. She then went on to work for the Lawrence Library, in Fairfield, and continued as a volunteer there after her retirement.
Theresa enjoyed painting, camping, canoeing, hiking, cooking and sewing and was a loving and devoted wife.
She was predeceased by her parents; and her two sisters, Lucille Roy and Jeanne Patrie.
Theresa is survived by her husband Joseph L. Lemieux, of Fairfield Center, her brother Henry Pouliot, of Fairfield Center, and a large extended family.
An on-line guestbook may be signed and condolences expressed at www.gallantfh.com.
JUDITH M. BUSHEY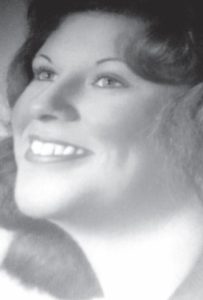 FAIRFIELD – Judith M. (Gilcott) Bushey, 72, passed away Friday, November 3, 2017, at her home in Fairfield. She was born April 16, 1945 in Madison, the daughter of Perley R. and Stella S. (Lessard) Gilcott.
She was educated in the schools of Skowhegan and graduated from Skowhegan High School. In 1965, she married Franklin D. Bushey, in Skowhegan. Judith worked as a waitress all of her life; she began at Gene's, then worked at 3G's and worked many years at Ken's Family Restaurant, all in Skowhegan. She enjoyed many Saturday nights at Unity Raceway where she cheered on David Folsom and her nephews Mitch and Mark. She had a huge love for animals.
Judith is survived by her husband of 52 years, Franklin D. Bushey, of Fairifeld; son, Frank E. Bushey and wife Roxanne, of Skowhegan; granddaughter, Laurel Bushey, of Madison; sister, Patricia Hayden and husband Robert, of Cornville; brother, Robert Gilcott and wife Cindy, of Norridgewock; several nieces and nephews.
She was predeceased by a brother, Ralph Gilcott.
Memorial donations may be made to the Somerset Human Society, PO Box 253, Skowhegan, ME 04976.
Arrangements under the direction and care of Dan & Scott's Cremation & Funeral Service, 445 Waterville Road, Skowhegan, ME 04976.
SANDRA E. ROBINSON

FAIRFIELD – Sandra Eva Robinson, 78, passed away at home Monday, October 30, 2017, following a hard-fought battle against Lewy body disease. Sandra was born April 14, 1939, in Fairfield, the daughter of Harold and Pearl Boucher.
She attended Fairfield schools and graduated from Lawrence High School in 1958, following which she studied and became a successful beautician. Sandra worked for Evaneline's Beauty Salon, in Waterville, then opened a salon which she operated for 20 years at the family home. She subsequently worked in the food service department of the Fairfield school system for another 30 years. A tireless worker, Sandra also operated Sandy's Goodies from the family home, a licensed kitchen in which she prepared wonderful breads, whoopee pies, baked beans and many other delicious treats for her loyal customers.
On September 9, 1961, Sandra married Ernest J. Robinson and together they raised a strong, close-knit family at their home, on the Ohio Hill Road, in Fairfield. A devoted mother, Sandra dedicated much time to the activities of her five children, and later to those of her grandchildren, including teaching Sunday school and volunteering her time with Brownies, Girl Scouts, 4-H, sporting events and countless school field trips. She and Ernest instilled their love of the outdoors in their family, creating many special memories with them fishing, hunting, traveling and particularly spending time together at the family camp on Morrill Pond in Hartland. Sandra also enjoyed talking on the phone with her three sisters, baking, gardening, sewing, knitting and finding the next great bargain with Ernest at either Marden's or at yard sales throughout Central Maine.
Sandra is survived by her husband of 56 years, Ernest; daughter Tina and her husband Jack Stanley Jr., of Fairfield; daughter Janet and her husband David Bellefleur, of Fairfield; daughter Nadine and her husband Ray Everlith, of Palmyra; daughter Terry Robinson, of Fairfield; son Ernie Robinson Jr., of Fairfield; son-in-law Shawn Simpson, of Sidney; grandchildren Jack Christopher Stanley, Matthew Stanley, Joshua Stanley, Sarah Stanley, David Bellefleur and his companion Katie Murray, Devin Bellefleur and his companion Lindsey Macfarland, Dillon Bellefleur and his companion Jordyn Smith, Jessica and her husband Reed Pepper, Amanda Simpson, Jarrod Simpson and Mary Robinson; great-grandchildren Cassidy and Brianna Bellefleur, Kayleigh and Isaac Turner and Brayden Pepper; siblings Linda Dickinson, of Fairfield, Elaine Gifford, of Thorndike, June Boucher, of Fairfield, Charles Boucher and his wife Diane, of Fairfield; special cousin Nolly Dostie; many cousins, nieces, nephews and in-laws.
Sandra was predeceased by her parents, Harold and Pearl Boucher; brothers Robert, John and Harold "Skip" Boucher; grandson Zachary Robinson; and granddaughter Erica Simpson.
Arrangements by Dan & Scott's Cremation & Funeral Service, Skowhegan.
NOAH R. BLYE
ALBION––Noah Ralph Blye passed away shortly after his birth on Sunday, October 29, 2017. He was the son of Richard and Hattie Blye, of Albion.
He was predeceased by his great-grandparents: Elaine Bushee, William Kimball, Richard P. Blye and David Kelley.
Noah is survived by his parents; one year old brother, Bowen Bruce Blye; his maternal grandmother Barbara Gushee, of Fryeburg; paternal grandparents Bruce and Lynne Blye, of Epsom, New Hampshire; his great-grandparents Ralph Gushee, Muriel Kimball, Beverly Kelley and Lydie Blye; numerous aunts, uncles and cousins.
Memorial donations may be made to Maine Medical Center's NICU in Portland.
EUGENE E. BROUGHTON
WHITEFIELD––Eugene E. Broughton, 86, of Whitefield, passed away Monday, October 30, 2017, at MaineGeneral Medical Center, in Augusta. He was born on August 24, 1931, in Ashtabula, Ohio. He was the son of George and Ethel Broughton.
Eugene, known as "Gene," was in the Navy for four years, and then worked at Union Carbide/Elkem metals where he retired after 40 years.
After retiring, he and his wife chose to manage the Village Green Park and Campground in North Kingsville, Ohio. He enjoyed 28 years at the campground, where he loved riding the golf cart around chatting with campers.
After retiring from the campground, he and his wife moved to Maine to live with his family. Eugene loved building houses and doing carpentry on the side. He traveled in the winter time to warmer places. He loved camping, fishing, and, of course, Fox News. He will always be remembered in his bib overalls and suspenders, even on the hottest of days.
Eugene was predeceased by his parents, George and Ethel Broughton; sister, Margaret Leehan; brother, Carl Broughton; and son-in-law, Gary Pellone.
Eugene is survived by his wife of almost 50 years, Carol (Monday)Broughton, of Whitefield; daughters, Georgene Rideout and husband Jerry, of Whitefield, and Paula Johnson, of North Kingsville, Ohio; step-daughter, Cathy (Pellone) Bowen and husband Mike, of Boerne, Texas; step-son, Jeff Pellone and wife Susan, of San Antonio, Texas; grandchildren, Heidi Winslow, Steven Wight, James Bowen, Tyler Bowen, Jordan Bowen, Jessica Pellone, Cassie Pellone, Brittany Pellone, and Wesley Pellone; as well as many great-grandchildren.
Please make monetary donations to the American Heart Association.
MARY L. PERRY
FAIRFIELD­­––Mary L. Perry, died unexpectedly Saturday, November 4, 2017, at her home in Fairfield.
She was predeceased by her lifelong partner David Pillsbury; her parents Harold (Tex) Perry Sr. and Jeanette (Campbell) Perry; and her sister Joan Dodge.
Survivors include her two daughters Michelle Perry, of Fairfield, and Kari Perry and her partner Rick Loisel, of Fairfield; her only grandson, Dustin; brothers Harold Perry Jr. and wife Ann, of Augusta, Richard Perry and wife Lori, of Florida, Robert Perry and Partner Rose, of Benton; sisters Alice Laforte and husband Carl, of Clinton, Kianna Page and her husband Nobert, of Clinton; several nieces, nephews, aunts, uncles and cousins.
CAROLYN L. TRASK
OAKLAND––­­Carolyn L. Trask, 90, passed away on Sunday, November 5, 2017, at home. Carolyn was born on April 25, 1927, to the late Pearl (Moody) and William Treat.
Her mother died in childbirth leaving Carolyn and her brother Bill to be raised by their aunt and uncle, Caroline and Halton Grant. They lived in Brewer for a short time and then moved to Belgrade Lakes and then Oakland. Carolyn attended the "Old" Belgrade High School.
In 1944 Carolyn married the late Anthony Cocco, Sr. and moved to Everett, Massachusetts. In 1955 she moved back to Oakland and she married Stacy Trask in 1957. They celebrated their 40th anniversary before his death in 1998.
Carolyn worked at the Diamond Match, in Oakland and then Hathaway Shirt Company, in Waterville, for five years. She and Stacy ran Carolyn's Lobster Spa, in Augusta, She then worked at the Cascade Woolen Mill, in Oakland, for 19 years until she retired in 1992. While there she participated in many committees and was the secretary of Local #122 for many years.
As anyone who knew Carolyn would know she was an avid Red Sox and Patriots. We learned early on not to call or visit when her teams were playing.
Carolyn was predeceased by her brother; both husbands; and her son-in-law, Marshall Roy.
She is survived by her six children, Anthony Cocco, Jr., of Waterville, Linda (Cocco) roy, of Winslow, Cheryl (Cocco) Michaud and husband Jerry, of Cincinnati, Ohio, Valerie (Trask) Paul and husband John, of Oakland, Tim Trask, of Oakland, and Tina (Trask) Boag and husband Dave, of Oakland; eight grandchildren, Matthew Roy and wife Denise, Jessica Cassese and husband Sabato, Marlo Lawrence and husband Kevin, Kari Parson and husband Jeff, Kristie Harris, Amanda Boag-Breton and husband Patrick, Andrew Cloutier, and Bill Trask and wife Malin; and 13 great-grandchildren.
An online guestbook may be signed and memories shared at www.lawrybrothers.com.
In lieu of flowers, please donate to the Oakland Fire Department.
PAULA M. NORTON
PALERMO––Paula Mae (Bickford) Norton, 57, died Sunday, November 5, 2017, at home in her sleep following an illness. She was born in Gardiner and grew up in Pittston.
Paula graduated from Gardiner High School and went on to earn an online degree in Nursing. She worked as a nurse for over 35 years and loved taking care of others . She was an avid crafter and enjoyed creating things.
Paula was predeceased by her mother, Winnifred (Bickford) Foster and sister, Eva Foster.
She is survived by her husband of 23 years, Richard Norton, of Palermo; her two children, Christean Norton and Christopher Norton; two grandchildren; her father John Foster, Sr.; her siblings, Tara Foster, John Foster Jr., Darrell Foster and wife Dawn. Paula had 11 nieces and nephews and many great-nieces and nephews.
ROBERT SULLIVAN
PALERMO––Robert "Bob," 81, of Palermo, formerly of Malden, Massachusetts, died Tuesday, November 7, 2017.
An active Mason and Shriner, he was Past Master of Mount Vernon Lodge, of Malden, Massachusetts and was a member of the Aleppo Shrine, of Wilmington.
Bob worked for many years in electrical engineering and had several interesting jobs in his career. One retired, he moved to Maine and spent his days making new friends and enjoying his "little slice of heaven". He enjoyed bowling, playing horseshoes and volunteering at the Owls Head Museum and Common Ground Fair.
He was predeceased by his parents Mary V. (Studley) Sullivan and William E. Sullivan, and two grandchildren.
He survived by his wife of 60 years, Nancy (Norman) Sullivan, of Palermo; children, Robert F. Sullivan and wife Kathleen (Wright) Sullivan, of Malden, Massachusetts, Robin (Sullivan) Watson and husband Glenn Jr., of Malden, Lori A. Sullivan and partner Jorge M. Leite, of Malden, Lisa (Sullivan Thibert, of Everett, Massachusetts, Lynne (Sullivan) Bardaro and husband Frank, of Revere, Massachusetts; 7 grandchildren; one great-grandson; brother, William Sullivan, of Malden, Massachusetts.
Remembrances in his memory can be made to The Shriners Hospitals for Children, 51 Blossom St., Boston MA 02114.
OTHERS DEPARTED
MARY ELLEN OLIVER, 73, of Augusta, passed away on Thursday, October 12, 2017. Locally, she is survived by a son, Lee J. Poulin and wife Holly, of Fairfield, grandchildren Meghann Ellen Bolduc and husband Frank, of Albion, and Jacob Lee, of Fairfield; and great-grandchildren Lyla Hope and Gage Bolduc, of Albion.
HERBERT J. MULLEN, 76, of Boothbay, passed away on Saturday, October 14, 2017, at his home. Locally, he is survived by brothers Edwin Mullen and wife Angela, of Oakland; sister Lisa Levine and Matt, of Oakland; sisters-in-law Roberta Jones and husband Ed, of Fairfield, and Kathy Stevens and husband John, of Albion.
Responsible journalism is hard work!
It is also expensive!
If you enjoy reading The Town Line and the good news we bring you each week, would you consider a donation to help us continue the work we're doing?
The Town Line is a 501(c)(3) nonprofit private foundation, and all donations are tax deductible under the Internal Revenue Service code.
To help, please visit our online
donation page
or mail a check payable to
The Town Line, PO Box 89, South China, ME 04358
. Your contribution is appreciated!
https://townline.org/wp-content/uploads/2019/07/Town-Line-Website-banner-v3-1030x206.jpg
0
0
Website Editor
https://townline.org/wp-content/uploads/2019/07/Town-Line-Website-banner-v3-1030x206.jpg
Website Editor
2017-11-15 18:30:46
2017-11-15 18:33:55
Obituaries, Week of November 16, 2017