Obituaries, Week of November 1, 2018
PAUL CATES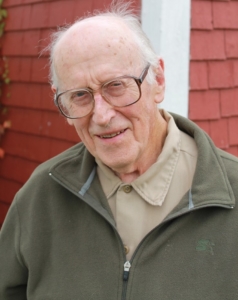 VASSALBORO – Paul Barker Cates, 93, of Vassalboro, packed three lifetimes into his very impressive life. When he passed away on Sunday, October 21st, he was surrounded by his family at the home in which he was born. He lived a life of service and altruism, and never wanted to burden others. In the last days, he required constant, round the clock care from his family. It was only fitting that he passed away and snuck out in the brief moment when everyone in the house had fallen asleep.
He was born August 23rd, 1925 in East Vassalboro, the eighth child of Benjamin Harold Cates, Sr. and Annabel (Ingraham) Cates, and liked to call himself "Paul the Eighth." Paul was a child of the Great Depression, and grew up learning the value of hard work and community on his family's farm on the shore of China Lake. His farm-life escapades punctuated a childhood he and his six sisters and five brothers were lucky to survive. A rogue spirit, Paul was constantly running away from home. At two years-old, he was found by his uncle a mile from home wearing a red sweater with a chocolate pudding-covered face. At age three, he was sent underneath the barn by his mother to catch wayward chickens. He dodged a bees' nest that was tossed his way from the top of a hay wagon. He was an avid rider of the dairy cows on the farm, until his father caught him riding the prized milk cow, and he was severely admonished. His dairy cow rodeo days were over. Heroic from a young age, he saved his nephew Gerry from drowning on China Lake after falling through thin ice.
As a child, his family attended Quaker Meeting at the Vassalboro Friends Meetinghouse just up the road from the Cates farm, and Quaker values would influence much of his life. In his formative years, Paul was instructed by his mother, a schoolteacher at East Vassalboro Elementary School. Held back in kindergarten (by his own mother!) because the view of his family farm from the classroom window was distracting him from her lessons, Paul spent the rest of his life making up for this by dazzling people with his brilliant mind and sharp wit. Beyond elementary school, Paul attended Quaker schools such as Coburn Classical Institute in Waterville, and then Haverford College, a private Quaker college in Pennsylvania. Ever enterprising, he earned his tuition money for college by raising several hundred chickens in his parents' attic. His mentors while at Haverford were Rufus Jones and Douglas Steere, greats among Quakers.
While matriculated at Haverford, he was called up for the country's postwar peacetime draft. Due to his strongly-held Quaker religious beliefs that place peace and diplomacy first, he chose to conscientiously object to the draft and was summarily sentenced to prison. Conditions in the prison were not healthy or favorable at the time, and the president of Haverford College made it his goal to have Paul's sentence commuted. While in prison, Paul contracted tuberculosis, and his lingering cough which persisted his entire life was a souvenir of that time. Paul settled into prison life, and as a pacifist and docile prisoner, he was given the coveted job of taking care of the prison dairy cows, due to his childhood experience on a farm. This daily exposure to fresh air and exercise out in the pasture saved him from the ravages of tuberculosis. On one occasion, while tending the cows, he and another inmate were in the pasture near the road. A car pulled up, and two young women began flirtatiously interacting with them. They were very friendly until Paul and his peer turned and the women saw Danbury Federal Prison stamped on their backs. "OH! They are felons!" the women shrieked, as they sped away, terrified of this dangerous incarcerated pacifist. Eventually, after several months of debate between the president of the college and the courts, it was decided that Paul would complete his sentence by doing civilian service work with a Quaker relief organization.
Paul's work with the American Friends Service Committee (AFSC) meant travel overseas. He was particularly interested in providing aid in India; however, no volunteer positions were available there at the time. His options were Poland or Germany, countries which had both been ravaged by two World Wars. He chose Germany — a decision which would shape much of the rest of his life. He headed off to Germany, his German language limited to "Kiss me, quickly!" and "Help! Police!" Ironically, despite his initial language impediments, almost two decades later he returned to the United States with a German bride and their young son, Martin. (Apparently his "kiss me, quickly" phrase had worked out in his favor). His AFSC work took him first to Darmstadt, where rebuilding efforts were taking place in the Medieval city which had been largely destroyed by American and British firebombing. Once his initial civilian service period came to an end, he returned to East Vassalboro, and then took up a post in Iowa, as a teacher at Scattergood Friends (Quaker) School.
After teaching at Scattergood for four years, in 1958 Paul decided to return to Germany to actually learn how to speak German well (!) ironic, considering he was tasked with teaching German at the school. He ended up in Marburg, and eventually moved to Berlin and began work on his doctorate in German literature, with a focus on the writings of Bertolt Brecht. While studying for his doctorate, and after the Berlin Wall was erected in 1961, he received an urgent contact from the bishop of the West Berlin Protestant church. The people of East Berlin were starving and in need of vital medicines and paperwork that they couldn't get through the oppressive Soviet government. Therefore, the West Berlin Protestant church was in need of an smuggler with a foreign passport. As an American, the wall was porous for him, and he was able to go back and forth, unlike West or East German citizens could.
His "courier work," as he always referred to this period of his life, led to a drop-off point in East Berlin at the headquarters of Action Reconciliation Service for Peace. Here, he met a young woman named Elisabeth Gürtler who would later become his wife. Because he was an American citizen living in Berlin, his presence had already alerted the attention of the East German secret police. Concerned about phone taps in Berlin, when medication and documents needed to be smuggled across the border, the elderly church secretary with a limp in West Berlin would call young Paul using the coded language, "Herr Cates, I have such a longing for you!" Paul would know he needed to pick up a parcel in West Berlin. Every time he would cross over into East Berlin, his overcoat was stuffed full of medications and important documents, to the point where he almost looked pregnant. His stress at smuggling what was considered illegal contraband was palpable, as he would collapse into a chair in the Action Reconciliation office, in East Berlin, exhausted. Elisabeth was his contact point in East Berlin, though he admitted on several occasions that the other secretary was much more vivacious. However, Paul would bring chocolate from West Berlin and then purchase baked goods, and Elisabeth would make coffee which Paul would bring each time he came. Many coffees later, the less vivacious but more loving of the two secretaries won his heart.
At one point, Paul dropped Elisabeth near a train station in East Germany, and they said their goodbyes. As Elisabeth headed towards the S-Bahn station entrance, she was approached by two men in dark suits, obviously members of the East German secret police. She was questioned about her interactions with Paul, as interactions with anyone outside of the Eastern Bloc were not allowed. Paul witnessed this, and also heard of the subsequent interrogation and search of her home in Stahnsdorf. In this moment he realized as an East German citizen, their relationship posed grave danger for her. He knew he had to make significant connections to help protect her. Paul connected with the Russian Consulate in Berlin, and became fast friends with consul Julij Kwizinskij. This friendship helped to protect his future bride. Ever a peace-maker and bridge-builder, he also set up youth trips through the Russian consulate, chaperoning West Berlin youth to the Soviet Union to help rebuild the fractured relationship between the countries through youth exchanges. Through these adventures, he also developed a friendship with Princess Kira of Prussia, who later attended their wedding.
Paul and Elisabeth tried for years to get married, and had a son, Martin, in 1967. Two years later, a Soviet spy was captured by the West German government. Fortuitously, Elisabeth (along with 99 other East German brides) and Martin were part of an exchange which the Soviets negotiated for the spy's release from custody. Elisabeth and Martin escaped the Eastern Bloc on February 26th, 1969.
Paul and Elisabeth were married in a state ceremony in West Berlin on March 20th, 1969, which was followed by a church ceremony on June 14th, 1969 at which little Martin was, as Paul frequently described, the guest of honor. The only of Elisabeth's family allowed to be present at the wedding was her mother, a severe diabetic, who was viewed as an invalid so the East German government wasn't concerned about her flight risk. They gave her a two day visa to cross into West Berlin for the wedding. On August 9th, 1969, the little Cates family arrived in East Vassalboro, Maine, after a long ocean voyage via freighter from Bremerhaven, Germany to Montreal, Canada, young Christopher already in utero, making a long ship's journey far less comfortable for his mother. Their passage was free — the captain wanted passengers who could entertain him with stories, and Paul and Elisabeth had plenty.
Paul got a job with the Quarterly Meeting of the Maine Quakers which required a lot of travel for both him and Elisabeth. As a pastor, he would draw on his own prison experience and go to local jails and the state prison to counsel inmates on their life's choices. He provided his services as a Quaker pastor to the few programmed Meetings in the state. Beginning in the summer of 1970, Paul sold cut-flowers grown on the Cates family farm to florists throughout central and southern Maine. He was soon known as the "Glad Man," and his florist customers anticipated the weekly arrival of the Cates van loaded with beautiful blooms. He was proud that his growing business was a "family operation." More children followed: Dorothee, then Winfried.
In 1975, while pregnant with the couple's fifth child, Elisabeth became gravely ill with a brain tumor, and Paul left his job with the Quarterly Meeting to care for the children while she recovered from induced labor and immediate transport to Boston for surgery. Little Douglas spent his first six months in the care of an aunt and uncle in southern Maine, as Paul had his hands full with four small children at home.
Paul began work as a part-time Russian and German teacher at Oak Grove-Coburn School, a Quaker school in Vassalboro. Daughters Margaret and Helen were born during this time. When Oak Grove-Coburn was closed in 1989, Paul was hired on at Erskine Academy in a German teaching role. He retired from Erskine in 2001, and again in 2002 (this time, it stuck). He retired from delivering flowers in 2004, but often went on the delivery trips to visit his favorite customers in the years that followed.
In 2004, at the age of 79 and at the behest of a good friend, he ran and lost a hard fought campaign for the Maine House of Representatives. He was committed to shaking hands and meeting his constituents. He was relentless in seeking support during his campaign. After visiting an ambivalent farmer in Windsor for the third time, the man relented, "All RIGHT! I will vote for you, okay?!"
At the age of 88, ever in search of a good story to add to his legendary life, Paul managed to run over his own leg with the family farm truck. We still aren't quite certain how that happened, but it marked the end of his farm-work.
Paul was an avid playwright and produced and starred in several of his own musical plays, most set in his hometown of East Vassalboro. Though he never enjoyed a Broadway run, these include classic box office smashes (by East Vassalboro standards) such as "Lily's Apple Pie," "The Great East Vassalboro Swindle," "Nothing Ever Happens in Palermo," and "Poor People," which he wrote as a fundraiser for Head Start. All of his plays filled the Grange Hall to overcapacity, at one point alerting the fire department to breach of fire code.
He had a natural wit, and was and an eloquent speaker (and his conversations were peppered with colorful phrases such as "Good NIGHT!" and "Heavenly days!"). He also had a profound faith in God and in the tenets of Quakerism. He was a lifetime member of the local Grange, a regular attendant at Vassalboro Friends Meeting, and he served on the Board of Corporators of both Oak Grove-Coburn, and at Haverford College as well. He also served as the president of the Maine Gladiolus Society for the past decade.
He had a song for every occasion, some of which he wrote himself, and others which he sang in full, glorious tenor voice at 3 AM, as his days and nights became increasingly confused. He loved his family, and although his final years included significant health problems and a diagnosis of dementia, his grandchildren brought immense light into his life until the very end. He had a love of sweets, squirreling chocolate all over the house. We will be finding his chocolate caches for years. Ever a lover of old show tunes, the old Nelson Eddy and Jeanette MacDonald song "Sweetheart, Will You Remember" was a favorite which he frequently sang to his beloved wife, and his youngest granddaughter. Dad, we WILL remember.
Paul was predeceased by his parents, by eleven brothers and sisters and all but two of their spouses, by brother-in-law Martin and sister-in-law Christhild, and by his eldest son, Martin. He is survived by a myriad of friends and acquaintances, and by his very large extended nuclear Cates family including his beloved wife Elisabeth; son Christopher and his wife, Victoria and their two sons, Nicholas and Ethan; daughter Dorothee and her husband, David and their two children, Julia and Oliver; son Winfried; son Douglas and his son, Maximilian, and Douglas' wife, Emily and their two sons, Elijah and Isaac; daughter Margaret; and daughter Helen and her husband, Brad and their baby daughter, Klara, who was a source of great joy for Paul in his final months. He also leaves behind brother-in-law Charles, sister-in-law Saundra, and several dozen nieces and nephews in the United States, as well as family in Germany: brother-in-law, Horst, his wife Dagmar, and their family; Konrad, husband to Paul's late sister-in-law Christhild, and their family; and Birgit, wife to Paul's late brother-in-law Martin, and their family. Finally, there was always a special place in Paul's heart for his "granddogs" and "grandcats," whom he greatly enjoyed petting and praising in the twilight years of his life.
Naturally, as the Glad Man, Paul loved flowers. However, donations may be made in his honor to the American Friends Service Committee (http://afsc.org), to MaineGeneral Hospice (https://give.mainegeneral.org/hospice), or to the Vassalboro Friends Meeting.
In the Quaker tradition, a celebration of Paul's life will be held on Saturday, November 10th at 2 PM at the Vassalboro Friends Meeting, 48 S Stanley Hill Rd, Vassalboro, ME; a reception will follow at the Vassalboro Grange Hall. Bring your sweet tooth. There will be chocolate.
LORI A. WARE
WINSLOW – Lori A. Ware, 52, of Winslow, died unexpectedly on Saturday, October 13, 2018. She was born on July 23, 1966, a daughter of Gerald and Janice Ware.
She attended Winslow schools.
Lori enjoyed cooking, swimming, snowmobiling, watching movies with her children, and will be remembered for her big heart.
She was predeceased by her daughter, Kara Michaud; her companion, Marc Feix; and her mother, Janice Ware.
Lori is survived by her son, Nathan Feix; her father, Gerald Ware; her brother, David Ware; her sister, Robin Couture; nieces and nephews.
There will be no services. Burial was in Saint Francis Catholic Cemetery, 78 Grove Street, Waterville.
DR, WILLIAM J. MULHERIN, DC
WINDSOR––Dr. William (Bill) James Mulherin, DC, 83, died in his sleep on Wednesday, October 17, 2018, at the Maine Veterans Home, in Augusta. Bill was born in Boston, Massachusetts, on April 8, 1935, the son of Joseph Anthony and Grace (Brown) Mulherin.
Bill, whom his siblings called "Mel," graduated from local schools before enlisting in the Army in 1954, serving as a military policeman at Fort Dix, New Jersey, Company C.
In 1970, Bill married Juanita M. Upham in Wells. He brought five children into the marriage, Juanita had four, and together they had one daughter.
Bill was a life-long learner who earned multiple degrees and certificates in the medical field. Bill completed training as an occupational therapist with the Massachusetts Department of Mental Health, a BS in Professional Arts from St. Joseph's College in Standish, earning his RN doing clinical rounds at Central Maine Hospital in Lewiston. Bill later earned his Doctorate of Chiropractic from Palmer College in Davenport, Iowa.
Bill and Juanita owned and operated a nursing home for many years before Bill left that business to pursue a career as a chiropractor. Initially, Bill worked in Winslow for Dr. Lawler before opening his own chiropractic office in Augusta. After a few years, Bill and Juanita decided to move out of the city, but not too far, to Windsor, where he hung his shingle until he retired. Bill had a passion for whole body wellness, spirituality and meditation. His patients adored him as he offered "common sense medicine" and treatment without medication. Bill was known for not even allowing aspirin in the house, "medicine is not the cure, it is the problem," he would say.
A favorite saying of Bill's was, "if you see someone without a smile, give them yours."
He was very interesting and intelligent, having a way with words that allowed him to talk to anyone without sounding like he knew more than others. Those who knew Bill, found him to be a down-to-earth, common sense guy.
Bill enjoyed many hobbies and activities in addition to helping others and was a member of the American Legion, Masons and Knights of Columbus. He enjoyed building large scale, 3-4 mast schooner model ships, fishing with his best buddy, Ray, and gardening, which was his second passion.
In addition to his parents, Bill was predeceased by his wife of 37 years, Juanita; and a sister, Patricia Sullivan.
Bill is survived by his children, Paula Mulherin, Stephanie Mulherin, Kelly Mulherin, Christopher Mulherin, Maria Mulherin, and Theresa Mulherin; step-children, Pamela Moon Mulherin, of Windsor, Ginny Moon Scofield, of Vassalboro, Nancy Pettegrove, of Windsor, and Dwight E. Pettegrove, of Windsor; siblings, Joseph Mulherin, Jr., of Hatfield, Massachusetts, Mary Ann Creighton, of Wakefield, Ne Hampshire, Eileen Franklin, of Foxboro, Massachusetts, Elizabeth Rizzo, of Goldsboro, North Carolina, and Kathy Either, of Plainville, Massachusetts; as well as many nieces and nephews, grandchildren and great-grandchildren living all over New England.
A potluck Celebration of Life will be held on Sunday, November 11, 11 a.m. at the American Legion Post#205, 400 Eastern Avenue, Augusta.
Memories and condolences may be shared with the family online at www.directcremationofmaine.com.
Arrangements are under the care of Direct Cremation of Maine in Belfast.
In lieu of flowers, donations may be made in Bill's name to the Maine Veterans Home in Augusta, www.MaineVets.org or to the American Legion Post #205, www.legion.org.
KATHERINE G. WHITE
VASSALBORO – Katherine Grace Christina White, 19, of James Road passed away peacefully on Thursday, October 18, 2018, in the Barbara Bush Children's Hospital at Maine Medical Center, in Portland. She was born in Kirkland, Washington, on August 14, 1999.
Katherine was a student at Winslow High School. She was not your typical teenage girl. Instead of being obsessed with boys and social media, she was obsessed with Elmo and Sesame Street. At last count, she had acquired enough episodes to watch a different one every day of the year. Elmo has been her best best friend since she was tiny. He was basically her spirit animal. On any given day you could find her dressed Elmo red and mimicking his laugh to perfection.
Katiebug is survived by her parents Tyler and Sarah (Lemieux) Watson, of Vassalboro; a sister Julia White, of Vassalboro; an aunt Lindsay Mutegi, of Minneapolis, Minnesota; her uncles Adam Lemieux, of Winslow, James Lemieux, of Pittsfield and Adam White, of Gilbert, Arizona; her dozen (yes, dozen) grandparents Wayne and Ruth Lemieux, of Benton, Lawrence and Doreen Lee, of Winslow, John and Christina Cunningham, of Gilbert, Arizona, Ray and Jill White, of Arlington, Washington, Roy and Diane Watson, of Amery, Wisconsin, and Cliff and Sharon Hill, of Scandia, Minnesota.
Arrangements are in the care of Knowlton and Hewins Funeral Home, One Church Street, Augusta, where condolences, memories and photos may be shared with the family on the obituary page of the website at www.familyfirstfuneralhomes.com.
In lieu of flowers, please donate to the foundation that her family has established in her name. It is their goal to help fund equipment for other kids and young adults like Katie. You can find information about her foundation at: gofundme.com/thekatherine-g-white-memorial-fund.
Responsible journalism is hard work!
It is also expensive!
If you enjoy reading The Town Line and the good news we bring you each week, would you consider a donation to help us continue the work we're doing?
The Town Line is a 501(c)(3) nonprofit private foundation, and all donations are tax deductible under the Internal Revenue Service code.
To help, please visit our online
donation page
or mail a check payable to
The Town Line, PO Box 89, South China, ME 04358
. Your contribution is appreciated!
https://townline.org/wp-content/uploads/2016/06/TownLineBanner.jpg
0
0
Website Editor
https://townline.org/wp-content/uploads/2016/06/TownLineBanner.jpg
Website Editor
2018-10-31 13:39:37
2020-04-18 14:33:43
Obituaries, Week of November 1, 2018