Obituaries, Week of September 21, 2017
ROBERT T. GREENLAW
AUGUSTA––Robert Theodore Greenlaw, 86, of Fairfield, passed away on Wednesday, August 9, 2017, at the Togus Springs Unit, at the Veterans Administration Medical Center, in Togus. Bob was born on August 29, 1931, in Belfast, the fourth of eight children to Byron and Edith (Philbrook) Greenlaw.
He was a Korean War veteran, having enlisted in the Air Force at 17 and serving his country from 1948-1952.
Bob received his GED in the service, attended the Boston School of Art for a short time, and then worked in farm equipment sales in the family business at J. E. McCormick & Sons, in Waterville, where he honed his knowledge of backroads and farms in Central Maine until his retirement.
Bob was involved with the Masonic Order and Indian Guides, and served on the school board at the time that S.A.D.#49 was created. He had a love of learning that he passed on to his children, and he supported his first wife Ruth in building West Street School in their backyard. He loved to travel, whether by cruise ship or RV, and visited England, Nicaragua, Russia and most of the U.S. until his health declined.
Bob was predeceased by his parents, Byron and Edith; his Gram Philbrook; his brother Byron Jr; his sisters Elmore and baby Joyce; and his first wife, Ruth Wood Greenlaw.
He is survived by his daughter Evelyn Greenlaw and husband Paul Gauvreau, and sons Dana and wife Cindy, Robert T., and Steve and wife Sherrie; by his four grandchildren, Sarah (and Jesse) Bolduc, Adam (and Ariel) Greenlaw, and Jessica and Johanna Gauvreau; as well as by his three great-grandsons, Zephyr and Keelan Bolduc and Robert A. Greenlaw; his sisters Ada Curtis, Shirley Johndro, and Helen Burns; his brother Donny Greenlaw; his former second wife, Edna Boivin Greenlaw, and her extended family.
Memorial donations may be made to the VA Center at Togus to support the services that they provide to those in need who served their country.
GRACE E. BRONN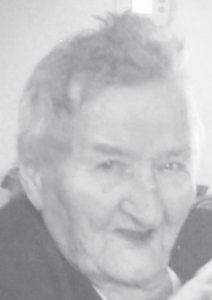 SULTAN, WASHINGTON –Grace Etta Bronn, 93, formerly of Palermo, passed away on We d n e s d a y, August 23, in Allensburg, Washington, one day after her 93rd birth-day. She was born on August 23, 1924, and was the widow of the late Raymond Bronn I.
When Grace lived in Palermo she was an active supporter of Erskine Academy when her chil-dren were active in sports. She was also active in the Palermo Christian Church where she was the organist for Sunday morning services. She loved watching tel-evision, knitting, crocheting, and camping trips. Everything she made, such as mittens, hats, scarves, slippers, wool socks, quilts, afghans and many baby outfits she gave to family or to anyone she thought might like them.
She is survived by her daughters, Doris Dill, of Liberty, Christie Merrick, of Sultan, Washington, Flora Mae (Allan) Richardson, of Bridgton, sons Everett Bronn and wife Suzanne, of Renton, Washington, and Bertrand Bronn and wife Ruthie, of Scarborough; daughters-in-law Marie Bronn, of Chelsea, Helen Bronn, of East Vassalboro, and Miralla Bronn, of Spring, Texas; over 80 grandchildren; six great-grandchildren.
She was predeceased by daughter Erdine Fletcher, and sons Raymond Bronn II and Samuel Bronn.
Messages may be sent to Christie online at cmerrick4@yahoo.com.
Memorial donations may be made to the Palermo Christian Church, 322 Branch Mills Rd., Palermo, Maine 04354.
LLOYD J. BEAULIEU
FAIRFIELD––Lloyd Beaulieu, 69, formerly of Chicopee, Massachusetts, passed away at home Wednesday, August 23, 2017, following a long battle with cancer. Lloyd was born on May 1, 1948, in Fort Kent, to Romeo Beaulieu and Albina (Bea) Myers.
He attended Chicopee Vocational School where he practiced his chosen trade in machine shop. After graduation he made aircraft parts for the U.S. Military and Space Program, working for companies including: IBM, Universal and Lucent Technologies. He went on to own his own machine shop, Lloyds Precision Inc. (LPI), in Westfield, Massachusetts, which he started with one surface grinder that he ran from his basement.
Lloyd sold his business and moved to Fairfield, in 2005 with Edith Enman. Together they built and ran Skyriders Disc Golf Course.
Lloyd enjoyed music and landscaping, continuously planting and tending to his gardens. He was in awe of the beauty and majesty of eagles. His greatest joy was his family which included his dogs. Upon entering Lloyd's home you will see a plaque saying "Love One Another." It could be said this was Lloyd's creed. He treated all people with respect and kindness.
He was predeceased by his father, Romeo Beaulieu and his brother Gary Beaulieu.
He is survived by his wife, Edith Enman; his mother Albina (Bea) Myers; brothers Dell Beaulieu, Ivan Beaulieu and their families; and his extended step family.
DENNIS L. CASTONGUAY
WINSLOW––Dennis L. Castonguay, 80, of Winslow, passed away on Monday, September 4, 2017, at Lakewood Continuing Care Center, in Waterville. Dennis was born April 30, 1937, in Howland, the only child of Hillarie and Corinne (McLaughlin) Castonguay.
In 1953 the family moved to Winslow where Dennis met the former Geraldine Theriault, from Fort Kent; they celebrated 55 years of marriage and raised five children.
Dennis operated heavy equipment for many years; his employment career included, W.T. Gardner & Sons Logging Co., in Millinocket, Precision Paving, in Hamden, also for Richard Clourier. Dennis was known as Puff Wheat on the CB radio.
In his earlier years, Dennis's biggest enjoyment was spending time and making memories with family and friends; from camping to ice fishing, and snowmobiling with his best friends, Bruce and Linda Waldron, as well as his loving family, he also had great pride in watching his children at the snowmobile races and truck pulls.
Dennis was predeceased by his wife, Geraldine Castonguay; and his parents, Hiliare and Corinne Castonguay.
He is survived by his daughters, Tina and her husband, Dave Quirion, Donna and her husband, Jimmy Michaud; sons Kevin and wife Stacy Castonguay, Darren and wife Kim Castonguay, and Darrell and wife Joyce Castonguay; nine grandchildren, Nichole, Chelsea, Miranda, Riley, Thomas, Danielle, Justin, Dan and Jonathan; and ll great-grandchildren, Sierra, Aaron, Eliot, Liam, Jonathan, Eli, Natalie, Noelle, Gunner, Bostyn, as well as a special little baby girl.
A Celebration on Life will be held on October 14, 2017, at the VFW in Waterville, from 11 a..m.–4 p.m.
Memorial donations may be made to Humane Society Waterville Area, 100 Webb Rd., Waterville ME 04901, in honor of his forever friend Baily.
JONATHAN E. W. SPAULDING
ALBION––Jonathan Edward William Spaulding, 39, passed away unexpectedly following a long battle with health issues on Tuesday, September 5, 2017. He was born on July 23, 1978, in Waterville, the son of Laura Strohman (Rood), of Albion, and Edward Spaulding, of Winslow.
He attended Lawrence High School.
Jonathan enjoyed many years as a foreman and drywall installer. He loved fishing, hunting, racing, boating, motorcycling, four wheeling and snowmobiling, but most of all he loved spending time with his two children, Karleigh, 7, and Jase, 4. Family was most important to Jon. He was the type of man who was there for anyone in need, and wouldn't hesitate to give you the shirt off his back. He will be sadly missed by many.
He was predeceased by baby Jon Spaulding Jr., of Albion; his brother Russell Gonzales, of Texas; grandfather, Earnest Rood, of Albion; grandmother, Mary F. Strohman, of Ossipee, New Hampshire; uncle Donny Bolduc, of Albion; grandmother, Jane Spaulding, of Waterville; and uncles Roy Spaulding and Timmy Spaulding, both of Waterville.
Jonathan is survived by his mother and stepfather Laura and Joe Strohman, of Albion; his father and stepmother Edward and Jody Spaulding, of Wachepregue, Virginia and Winslow; his children, Karleigh and Jase; their mother Denielle and her children, Brooke, Audri, Alexsander, Grant, Madyson; their grandchildren Harper and Jaxton; his grandmother Rosalie Rood, of Albion; his grandfather Edward Spaulding, of Waterville; his brother Eric Spaulding and companion Kelly Croom, of Waterville; his sister Virginia Spaulding, of Windham; his brother Chris Spaulding and wife Lorrie, of South Portland; and many aunts, uncles, nieces, nephews, and cousins.
An online guestbook may be signed and memories shared at www.lawrybrothers.com.
Memorial donations may be made to a trust in his children's names, c/o Laura Strohman, P.O. Box 52, Albion ME 04910.
DONALD J. POMERLEAU
WINSLOW––Donald J. Pomerleau, 64, of Winslow, died Wednesday, September 6, 2017, at the Alfond Center for Health at MaineGeneral Medical Center, Augusta, following a prolonged illness. He was born in Waterville on April 6, 1953, the son of Harold J. and Adeline M. (Vigue) Pomerleau.
He was educated in local schools.
Don enjoyed camping and motorcycle rides with his partner, Pam Beane; and he was much loved by Pam's children and grandchildren.
He was predeceased by his parents; his brother David and twin brother, Ronald.
Don is survived by his partner of 20 years, Pam Beane; his brother Joseph; sister Ann; five nephews; and several cousins.
An online guestbook may be signed and condolences expressed at www.gallantfh.com.
WILLIAM J. ANNIS
WINSLOW––William J. Annis, 76, of Winslow, passed away Sunday, September 10, 2017, following an eight month long battle with lung cancer. Bill was born on December 14, 1940, in Boston, Massachusetts.
He was married in 1960, then in the early 1970s they moved to Maine to raise their family and worked in the woolen mills. After the children were all grown they moved back to Massachusetts where Bill worked in the paper factory until his retirement. Bill worked very hard to provide for his family. After retirement they moved back to Maine to be closer to their children and grandchildren.
Bill was an avid New England Patriots fan. Everyone knew not to bother him during a game, especially when they were losing.
Bill was predeceased by his parents Robert W. Annis and Gladys Perkins Annis; a brother Robert Annis; and a son-in-law, Daniel Hood; Jane Cormier, who was like a daughter-in-law to him.
He leaves behind his wife of 57 years, Jane M. Raffaelle Annis; a soon William D. Annis and a daughter Lisa Annis Hood, all of Winslow; grandchildren Jennifer Hood and her three sons, Daniel R. Hood and his wife Cori and their two sons, all of Waterville, Dylan Hood and his son and daughter, of Madison, Derek Hood, of Richmond, David Annis and his wife Lori and their son and daughter, of Worcester, Massachusetts, Jason Annis, of Waterville, and Matthew Annis, of Shawmut; brother John Annis and his wife Linda, from Orlando Florida., Donald Annis and his wife Robin, of Waltham. Massachusetts; a sister-in-law Marie (Tita) Annis, of Corpus Christi, Texas; sisters Joyce Hawkins and her husband Bill, of Billerica, massachusetts, and Mary Jasset and her husband Richard, of Newton, Massachusetts; brother-in-law Edward Raffaelle and his wife Judy, of Bellingham, Massachusetts; and many nieces and nephews.
A celebration of life will be held at the VFW in Fairfield, Saturday, September 30, at 2 p.m.
AARON R. WHITE-SEVIGNY
WINDSOR––Aaron R. White-Sevigny, 25, died unexpectedly on Sunday, September 10, 2017, the result of a motorcycle accident. He was born in Augusta on August 12, 1992, a son of Roy C. T. and Jennifer Y. (White) Sevigny. Aaron attended Cony High School, in Augusta, and had been employed at White's Auto for several years.
Aaron was a help to the community, from being a volunteer firefighter for Somerville to bringing food for the homelesss. He died doing one of those good deeds; he was riding his motorcycle with a bag of toys on his back for the less fortunate children.
Aaron was an avid sports fanatic and outdoorsman. He not only spent time playing football and disc golf with his friends, but watching the Bruins, the Red Sox, and having his own fantasy football team. As well as hunting, fishing, and dirtbiking, he also really enjoyed lots of time with his dad. They built and raced cars together.
Aaron had many friends that were like family, he was very loyal towards them. Anyone could give him a call and he would be right there to help.
He was predeceased by his paternal grandmother, Naomi R. (Welch) Sevigny and his maternal grandmother, Jean E. (McGlashing) White.
Aaron is survived by his fiancée, Heather L.(Sutter) Sevigny, of Windsor; his son, Lucas B. White-Sevigny, of Winsor; his parents, Roy C. T. and Jennifer Y. (White) Sevigny, of Windsor; his brother Ryan A. Sevigny, of Windsor; his sister Santasia B. Sevigny, of Windsor; paternal grandfather Carl W. Sevigny, of Windsor, maternal grandfather Lewis E. White, of Augusta; as well as many aunts, uncles and cousins.
Condolences, stories and photos may be shared through the funeral home website at www.plummerfh.com.
Those who desire may donate to help defray funeral expenses at https://www.gofundme.com/aaron-sevignys-funeral-expenses.
PAULA R. LEATHERS
VASSALBORO––Paula Rosemary (Dolley) Leathers, 68, a lifelong Vassalboro resident, passed away on Tuesday, September 12, 2017, just shy of her 69th birthday. Paula was born in Waterville September 17, 1948, the second child of Mildred Gray and Frank Dolley Sr.
She graduated from Winslow High School in 1966, then continued onto nursing school and worked as a registered nurse at MaineGeneral Medical Center, at Thayer Hospital, in Waterville, for 33 years.
Paula raised two children, Bonnie and Joey, with her husband of 50 years, David. Paula loved her family, both biological and surrogate family. She loved hosting the annual family and friends' barbecue every July for over 25 years. She had a love of books puzzles and crafting. She had endless love and generosity to give to everyone.
She was predeceased by her parents; her brothers Frank (Butch) Dolley Jr., Floyd Dolley, and Douglass Dolley.
Paula is survived by her husband David; daughter Bonnie and Fred Boucher, son Joey and Amanda Leathers; sisters Dorothy Gilley, Virginia Sandon, Franca Biforked, brother Jerry Dolley; eight grandchildren; six great-grandchildren; and many nieces and nephews.
Memorial donations may be made to Humane Society Waterville Area, 100 Webb Rd., Waterville ME 04901.
OTHERS DEPARTED
NONA N. BURK, 86, of Winthrop, passed away on Wednesday, August 30, 2017, at MaineGeneral Medical Center, in Augusta. Locally, she is survived by a daughter Tedda Henry and husband Rick, and grandson Mitch Henry, all of Augusta.
GLORIA GAYNE, 87, of Waterville, passed away on Sunday, September 3, 2017. Locally, she is survived by sons Doug Gayne, of Augusta, and Scott Gayne and wife Terri, of Winslow; and a cousin, Faylene Holt, of Fairfield.
RICHARD J. DUPLESSIS, 93, of Augusta, passed away on Wednesday, September 6, 2017, at the Veterans Administration Medical and Regional Offices, at Togus, following a courageous battle with cancer. Locally, he is survived by sisters Rita Valliere, of Augusta, and Christine Gay and husband Harvard, of Vassalboro; grandsons, Michael Bumford, of Windsor, Scott Bumford and wife Kim, of Oakland, and Jonathan Bumfored and fiancée Jen, of Augusta.
SHIRLEY J. HILTON, 88, of Norridgewock, passed away on Friday, September 8, 2017, at her home. Locally, she is survived by her children, Tom Hilton and partner Carol Axtell, of Oakland, JHim Hilton and wife Liz, of Norridgewock, and Judy Tuttle and husband George, of Benton.
FORMER RESIDENTS
MICHAEL W. HARRINGTON, 68, of Augusta, passed away on Thursday, August 31, 2017, following a long illness. He was born on September 5, 1948, in Waterville, the son of William and Marjorie Lashus Harrington. He graduated from Waterville High School, class of 1966. Locally, he is survived by his mother, Marjorie Harrington, and a sister Kathy Cote, both of Waterville.
Responsible journalism is hard work!
It is also expensive!
If you enjoy reading The Town Line and the good news we bring you each week, would you consider a donation to help us continue the work we're doing?
The Town Line is a 501(c)(3) nonprofit private foundation, and all donations are tax deductible under the Internal Revenue Service code.
To help, please visit our online
donation page
or mail a check payable to
The Town Line, PO Box 89, South China, ME 04358
. Your contribution is appreciated!
https://townline.org/wp-content/uploads/2019/07/Town-Line-Website-banner-v3-1030x206.jpg
0
0
Website Editor
https://townline.org/wp-content/uploads/2019/07/Town-Line-Website-banner-v3-1030x206.jpg
Website Editor
2017-09-20 17:12:02
2017-09-20 17:30:17
Obituaries, Week of September 21, 2017