It was prompted by a telephone call, on December 20, from a reader in Freedom who alerted me that birds had returned to her feeders. So, I went home, told my wife about the conversation I had with the caller, and proceeded to refill our feeders.
It took a couple of days, but by the the time of the nor'easter of Christmas day, it was business as usual at the stations. The birds were back with a fury and it was standing room only on the feeders with a waiting line perched in nearby trees. They were hanging out on the wind chimes, waiting their turns, and one actually set himself, sideways, on an icicle.
There were chickadees, house finches, gold finches, nuthatches, cardinals, blue jays and juncos, even an occasional downy woodpecker. There was also a bird I couldn't identify (it didn't hang around long enough). It was like the good old days.
It has been well over a week now, and the activity hasn't let up. In fact, I think it has escalated.
As a whole, bird populations fluctuate seasonally and from one year to the next for a range of reasons. According to the Audubon Society, often when someone reports that birds have gone missing from their yard, they are just seeing normal variation. However, what we all witnessed this past summer and fall was unusual in that there was a complete void of birds.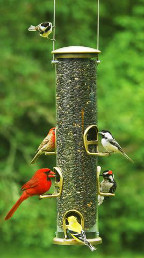 Causes for these regular changes include:
Fluctuating food supplies/ requirements. Cones, berries, seeds, and insects change from year to year, causing birds to move about to take advantage of food surpluses and to escape from areas with food shortages. Also, birds have different dietary needs during different times of the year, so they may move to or away from your feeders seasonally. You may notice fewer birds at your feeders during the late summer and early fall as there is usually lots of natural food available.
Weather patterns. Birds may temporarily move out of areas to avoid droughts, floods, storms, exceptional heat and cold waves, and other unusual weather conditions. However, with the recent extreme cold snap, the feeders are busier than ever.
Predator populations. Foxes, birds of prey, cats, and other predators have fluctuating populations too. When their populations are high, bird populations may fall. This can also happen on a very local scale, such when a hawk takes up residence in your yard. When the predators move on, your birds will come back.
Disease. On rare occasions, outbreaks of diseases can sharply reduce numbers of certain birds.
Habitat change. Tree removal, housing developments, land clearing, fires, and other changes can change the number or types of birds you see.
But none of the above reasons made any sense of the fact that the absence of the birds was not a normal occurence. It seemed to be isolated to this year.
Bird numbers fluctuate for natural reasons, but many populations of bird species are declining consistently from year to year.
The North American Breeding Bird Survey estimates how species' populations have changed since the mid-1960s. In 2010, Partners In Flight compiled a list of Common Birds in Steep Decline – 42 species that have lost 50 percent or more of their population since the 1960s.
The 2016 State of North America's Birds report examined 1,154 native bird species that are found in Canada, the continental United States, and Mexico, and determined that over 37 percent are of high conservation concern and at risk of extinction without significant efforts at conservation.
Projects such as NestWatch and FeederWatch focus on gathering data on birds during breeding and winter feeding times, respectively. Habitat Network, seeks to add another layer of data to bird watching by allowing people to follow the patterns in their yards.
And one of the biggest citizen science efforts ever undertaken, eBird, allows people anywhere in the world to enter bird observations anywhere, anytime, into a worldwide database. eBird also allows you to record and organize your bird sightings, use maps to view real-time sightings of particular species, create charts detailing which birds are seen in your area, and when, and make graphs to compare species occurrence for an area over a period of up to five years.
Programs like Birdcast use data from sources like eBird to compile bird migration forecasts, pinpointing where species are at certain times during migration.
eBird and Birdcast are great resources to find out more about where species of birds might be after they disappear from your backyard.
Through these efforts, they are learning more than ever before about many basic questions: Where does a given species live? How abundant is it? How are these patterns changing with time? With a clearer understanding of these baselines, they are in a better position to analyze the underlying factors that are acting on bird populations, and chart courses of action for their benefit.
In the end, the birds seem to be back in the central Maine area. Let's just hope they continue, and whatever happened to cause their temporary exodus from our backyards doesn't occur for a while. We'll be vigilant.
Roland's trivia question of the week:
In what year was the first Super Bowl played?
Responsible journalism is hard work!
It is also expensive!
If you enjoy reading The Town Line and the good news we bring you each week, would you consider a donation to help us continue the work we're doing?
The Town Line is a 501(c)(3) nonprofit private foundation, and all donations are tax deductible under the Internal Revenue Service code.
To help, please visit our online
donation page
or mail a check payable to
The Town Line, PO Box 89, South China, ME 04358
. Your contribution is appreciated!
https://townline.org/wp-content/uploads/2019/07/Town-Line-Website-banner-v3-1030x206.jpg
0
0
Roland D. Hallee
https://townline.org/wp-content/uploads/2019/07/Town-Line-Website-banner-v3-1030x206.jpg
Roland D. Hallee
2018-01-03 21:21:02
2018-01-06 02:36:52
SCORES & OUTDOORS: News flash - the birds are back in town