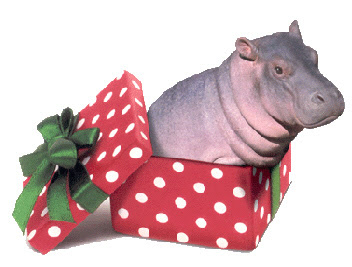 Roland has taken an early vacation. This is reprinted from the December 24, 2015, issue.
When 10-year-old Gayla Peevey sang her 1953 Christmas song, I Want a Hippopotamus for Christmas, did she really know what she was wishing for?
When the song was released nationally, it shot to the top of the charts and the Oklahoma City zoo acquired a baby hippo named Matilda. Legend has it the song was recorded as a fundraiser to bring the zoo a hippo. But, in a 2007 radio interview in Detroit, Peevey clarified that the song was not originally recorded as a fundraiser. Instead, a local promoter picked up on the popularity of the song and Peevey's local roots, and launched a campaign to present her with an actual hippopotamus on Christmas.
The campaign succeeded, and she was presented with an actual hippopotamus, which she donated to the city zoo. It lived for nearly 50 years.
That brings us to the point. Had she decided to keep it, it wouldn't have exactly been a house pet.
She would have had to put in a gigantic pool because the hippos spend most of their day wallowing in the water to keep their body temperature down and to keep their skin from drying out. With the exception of eating, most of hippopotamuses' lives occur in the water.
Which brings us to another problem. Hippos leave the water at dusk and travel inland, sometimes up to five miles to graze on short grass, their main source of food. That probably wouldn't have gone over too well with the neighbors and their lawns. Hippos can consume upwards of 150 pounds of grass each night.
The hippopotamus would probably have had problems living in an urban setting. They are among the largest living mammals, only elephants, rhinoceroses and some whales are heavier. They are also one of the most aggressive creatures in the world, and is often regarded as one of the most dangerous animals in Africa. So, you'd probably want to have it on a leash.
But, that probably wouldn't do any good. An adult male can weigh between 3,300 and 4,000 pounds, with older males reaching 7,100 to 9,900 pounds, and would have no problems breaking a tether. Although a female hippo stops growing at around 25 years of age, the males appear to continue to grow throughout their lives.
And, if it got loose, don't try to outrun it. Despite their bulk, hippopotamuses can run faster than a human on land. Estimates have put their running speed from 18 to 25 miles per hour. The upside? It can only maintain that speed for a few hundred yards. (Actually, that's all it would need to run you down).
Peevey's local public works department may have frowned on her having a hippo. Because of their size and their habit of taking the same paths to feed, hippos can have a significant impact on the land they walk across, both by keeping the land clear of vegetation and depressing the ground. But worse, over prolonged periods, hippos could divert the paths of streams and storm run off.
You'd also have to modify your will and make arrangements for its care. Their lifespan is typically 40 to 50 years, and could possibly outlive you. While some have been known to live longer. Bertie the Hippo, who resides at the Denver Zoo, is currently the oldest living hippo in captivity at age 58 years. Donna the Hippo, had been the oldest living hippo in captivity, but died on Aug. 3, 2012, at the Mesker Park Zoo in Evansville, Indiana. The oldest recorded lifespan was Tanga, who lived in Munich, Germany, and died in 1995 at the age of 61. But there are conflicting reports on Donna. Some say she was 61 years old, while others claim she was 62, which would have made her the longest living hippo in captivity in history. Until recently, Blackie, who resided at the Cleveland Zoo, was the longest living, at age 59, but died on January 13, 2014.
So, if you really want a hippopotamus for Christmas, you'd better do your homework.
Roland's trivia question of the week:
Tom Brady has won six Super Bowls, (2001, 2003, 2004, 2014, 2016, 2018), name the two NFL quarterbacks to have won four.
Responsible journalism is hard work!
It is also expensive!
If you enjoy reading The Town Line and the good news we bring you each week, would you consider a donation to help us continue the work we're doing?
The Town Line is a 501(c)(3) nonprofit private foundation, and all donations are tax deductible under the Internal Revenue Service code.
To help, please visit our online
donation page
or mail a check payable to
The Town Line, PO Box 89, South China, ME 04358
. Your contribution is appreciated!
https://townline.org/wp-content/uploads/2019/07/Town-Line-Website-banner-v3-1030x206.jpg
0
0
Roland D. Hallee
https://townline.org/wp-content/uploads/2019/07/Town-Line-Website-banner-v3-1030x206.jpg
Roland D. Hallee
2019-12-17 13:34:16
2019-12-17 13:34:16
SCORES & OUTDOORS: Would you really want a hippopotamus for Christmas?