SCORES & OUTDOORS: Where have all the birds gone?
by Roland D. Hallee
Where have all the birds gone? That is a question that has been asked of me many times over the last several weeks. My wife first brought it to my attention when we first moved back to town from camp in early October. So, like a good husband, I ignored it. I said that I had seen birds at the feeders. Then, someone called a couple of weeks ago, and asked the same question. Many friends have also brought the situation to my attention.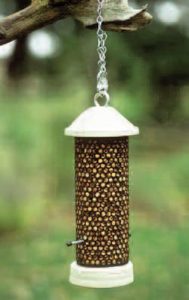 So, thinking back, I realized the birds I had seen at home did not amount to the same number that have frequented our feeders in the past. Namely, one nuthatch, one chickadee and one house finch. The feeders are usually covered with gold finches, woodpeckers along with many other species. So, where did they go?
Even at camp, we noticed a shortage of birds this season. We did not see any grosbeaks, orioles or cardinals. And the hummingbirds left two weeks earlier than usual. So, where did the bird go?
Research showed me there is no definite answer. One of the reasons could be the loss of insects. Birds are highly dependent on them. When was the last time you had to clean your windshield of insects in the summer as we once did? Even at camp this summer, we noticed a shortage of insects. I haven't seen a June bug in two years. There were hardly any hickory tussock caterpillars this fall, and definitely a decline in the number of harvestman spiders.
The loss of bird populations in the Western Mountains of Maine includes three major causes. First, there has been a coincidental drop in insect life. No one completely understands how or why this has happened. Another reason is loss of habitat.
Has anyone seen a wooly bear caterpillar this fall? They usually begin to appear in mid-September. I have seen zero, nil, zilch this fall.
Birds are the warning lights that tell us our natural systems are stressed out. Seen as indicator species for the health of America's natural landscape, they are declining in numbers at an alarming rate.
I think it was in July when we first noticed there weren't as many birds around as usual. We kept the feeders filled, but the time lapse between fill-ups was getting longer.
Was the summer too cold for baby birds to survive? Also, organized spraying campaigns can kill birds as well as the massive caterpillar population. Or, did the birds just go somewhere else. I guess we shouldn't take it personally because birds do move from place to place in search of food. Birds migrate, so did they leave to head south a little earlier than normal. Did the violent hurricane activity this year have an affect on the bird migration? Did the storms mess up the birds' timing and navigation? I guess the questions are endless on the possibilities.
The best reason I was able to find was from the Audubon Society, along with other bird information sources, insisting that nothing is wrong. That because of the warmer than usual fall weather and the unusually abundant sources of natural food, the birds are still finding plenty to eat in the wild. Also, another explanation was that bird populations naturally fluctuate from year to year and that a feeder that is really "busy" one year may have fewer birds the next.
It is apparently a universal question in our area right now, and one that seems to have fewer answers.
Read the follow-up, Update on Birds
Responsible journalism is hard work!
It is also expensive!
If you enjoy reading The Town Line and the good news we bring you each week, would you consider a donation to help us continue the work we're doing?
The Town Line is a 501(c)(3) nonprofit private foundation, and all donations are tax deductible under the Internal Revenue Service code.
To help, please visit our online
donation page
or mail a check payable to
The Town Line, PO Box 89, South China, ME 04358
. Your contribution is appreciated!
https://townline.org/wp-content/uploads/2016/06/TownLineBanner.jpg
0
0
Roland D. Hallee
https://townline.org/wp-content/uploads/2016/06/TownLineBanner.jpg
Roland D. Hallee
2017-10-25 18:10:18
2017-12-07 03:23:13
SCORES & OUTDOORS: Where have all the birds gone?