SCORES & OUTDOORS: An unexpected late night concert
SCORES & OUTDOORS
by Roland D. Hallee
Last Thursday night my wife woke me from a sound sleep to listen to something outside our camp. Well, being somewhat groggy, I didn't hear anything, and went back to sleep. It wasn't long afterwards that she woke me again.
"Can't you hear that?" she inquired sounding a little frustrated – You see, my wife tells me I'm going deaf.
I sat up, and listened attentively. "OK, I hear it, it's a Barred Owl," I told her.
She persisted. "Listen carefully."
What I then heard made the hairs on the back of my neck stand up. It was at least two, maybe three, barred owls caterwauling to each other. This was at about 11 p.m. I had heard Barred Owls behind camp a thousand times, but never anything like this. It was almost as intriguing as listening to loons calling to each other.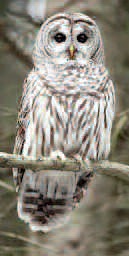 The "who cooks for you, who cooks for you all" call was unmistakable. But, I think it was a strange time of year for them to engage in this activity. This is usually done during the spring courtship, when one will vocalize to its mate, and vice versa. There were times when it was so loud and sustained, it almost sounded like a barking dog.
These calls are most heard at night or in twilight, and especially during the breeding season. However, calls can be heard year round since these birds do not migrate. They are very territorial, and will chase away intruders with loud hoots. These vocalizations become more frequent during the mating season, where female birds make invitation calls to mate with males.
Scientists, however, have debated that the calls of Barred Owls are much more diverse than we think. The research indicates that more needs to be known about the Barred Owls before they can deduce more about its behaviors in and out of the breeding season. Owls in general can be a difficult species of bird to study since they are mainly nocturnal and are not incredibly active until the breeding season.
Barred Owls, Strix varia, are easiest to find when they are active at night, but they are easier to hear than to see. From a distance, their calls can sound like a barking dog. They prefer mature forests, and their main diet is small mammals, reptiles and amphibians.
Since the 1960s, Barred Owls have expanded their range to the Pacific Coast where they are considered invasive. That is because it is believed they are partly to blame for the recent decline of the northern Spotted Owl, which is native to British Columbia, Washington, Oregon and California. When Barred Owls and Spotted Owls occupy the same space, the Barred Owl is more aggressive and will out-compete the Spotted Owl. Barred Owls have even been known to kill Spotted Owls. Interbreeding is also suspected.
In 2007, White House officials announced a U.S. Fish and Wildlife Service proposal to shoot Barred Owls in order to reduce the threat to the Spotted Owls. If implemented, it was estimated 2,150 to 2,850 Barred Owls should be taken over a five to 10 year period. It is feared that increased populations of Barred Owls could eventually render the Spotted Owl extinct. Environmentalists fear increased blame on Barred Owls for declining Spotted Owl numbers will result in less attention being paid to territorial protections and resumption of logging in protected Spotted Owl habitat.
According to the Oregon Fish and Wildlife Office, the experiment is ongoing and results are still being studied.
An adult Barred Owl can be anywhere from 16 – 25 inches long and weigh 1.1 to 2.3 pounds, with a wingspan of 38-49 inches. The Barred Owl is the only true owl of the eastern United States which has brown eyes. All others have yellow eyes.
The upper parts are a gray/brown, the underparts are light with markings. The chest is barred horizontally while the belly is striped vertically. The legs and feet are covered with feathers to the talons, and the head is round with no ear tufts.
Even though they are primarily nocturnal, they generally hunt near dawn or dusk, swooping down from a high perch, to take their prey.
Responsible journalism is hard work!
It is also expensive!
If you enjoy reading The Town Line and the good news we bring you each week, would you consider a donation to help us continue the work we're doing?
The Town Line is a 501(c)(3) nonprofit private foundation, and all donations are tax deductible under the Internal Revenue Service code.
To help, please visit our online
donation page
or mail a check payable to
The Town Line, PO Box 89, South China, ME 04358
. Your contribution is appreciated!
https://townline.org/wp-content/uploads/2016/06/TownLineBanner.jpg
0
0
Roland D. Hallee
https://townline.org/wp-content/uploads/2016/06/TownLineBanner.jpg
Roland D. Hallee
2017-08-16 17:33:43
2017-12-07 03:24:34
SCORES & OUTDOORS: An unexpected late night concert