SCORES & OUTDOORS: Are robins truly sign of spring?
SCORES & OUTDOORS
by Roland D. Hallee
According to the calendar, spring is about 10 days away, as of this writing. Many people, as of late, have been telling me about robin sightings – a sure sign of spring. But… is that a fact or a myth? Let's explore.
The American robin, Turdus migratorius, is a migratory songbird, belonging to the thrush family. It is widely distributed throughout North America, wintering from southern Canada to central Mexico.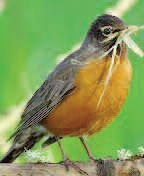 The American robin is the second most populous bird in North America, behind only the red-winged blackbird, and just ahead of the European starling, in their numbers. With an estimated population of 320 million individuals, the bird is not threatened with population decline. The International Union for Conservation of Nature (IUCN) evaluates the robin as least concern. At one point, the bird was killed for its meat, but it is now protected throughout its range in the United States by the Migratory Bird Act. So, look but don't touch.
Its natural predators include hawks, cats, and snakes, but when feeding in flocks, it can be vigilant and watch other birds for reactions to predators. Brown cowbirds have been known to use robin nests to lay their eggs, but are generally rejected.
The robins' diet consists of 40 percent small insects, to 60 percent wild and cultivated fruits and berries. Their ability to switch to berries allows them to winter much further north than most other thrushes. They love fermented berries, and don't be surprised to see them fall over from intoxication should they consume large amounts of these berries. However, they are still attracted to the good old-fashioned earthworm.
The male and female resemble each other, with the female having the tendency for the red breast to be a bit duller in color.
Now that we have learned a little about the bird, what about that robin-and-spring correlation.
Robins breed throughout most of North America, from Alaska and Canada southward to northern Florida and Mexico. This is where the controversy begins. Although not backed by any scientific evidence, I have spoken with people who say they have robins in their backyards all winter long. Well, that is quite possible. Although robins prefer to migrate south of Canada to Florida, the Gulf Coast to central Mexico, they will occasionally overwinter in the northern part of the United States and southern Canada. Most going south will depart by the end of August, returning in February and March.
But, as much as we like to see these fellas toward the end of winter, and the anticipation of warmer weather, they can also be a hazard to humans. They are a known carrier of the West Nile virus. While crows and blue jays are often the first noticed death in an area, the American robin is suspected to be a key host, and holds a larger responsibility for the transmission of the virus to humans. This is because, while crows and blue jays die quickly from the virus, American robins survive the virus longer, thus spreading it to more mosquitoes, who then transmit the virus to humans and other species.
The robin also has a place in Native American mythology. The story goes how the robin got its red breast by fanning the dying flames of a campfire to save a Native American man and a boy. Also, the superhero Robin was so named by his mother because he was born on the first day of spring, with his red shirt suggesting the bird's red breast.
The robin probably became a symbol of spring from a well-known poem by Emily Dickinson, titled I Dreaded That First Robin So." Also, based on a Québec supersitition, by the wife of Dr. William H. Drummond, that whoever sees the first robin of spring will have good luck.
But the primary reason the robin is associated with spring is based on the fact that robins tend to follow the 37° F isotherm – a type of equal temperature at a given date or time on a geographic map – north in spring, but also south in fall. The sooner the temperatures warm, the sooner they begin their journey north.
Hopefully, that clears up the picture a little bit. Right?
Responsible journalism is hard work!
It is also expensive!
If you enjoy reading The Town Line and the good news we bring you each week, would you consider a donation to help us continue the work we're doing?
The Town Line is a 501(c)(3) nonprofit private foundation, and all donations are tax deductible under the Internal Revenue Service code.
To help, please visit our online
donation page
or mail a check payable to
The Town Line, PO Box 89, South China, ME 04358
. Your contribution is appreciated!
https://townline.org/wp-content/uploads/2016/06/TownLineBanner.jpg
0
0
Roland D. Hallee
https://townline.org/wp-content/uploads/2016/06/TownLineBanner.jpg
Roland D. Hallee
2017-03-08 18:32:12
2017-12-07 03:27:01
SCORES & OUTDOORS: Are robins truly sign of spring?