GARDEN WORKS: EXTEND SUCCESS! Starting long-season varieties now for best results (Conclusion)
GARDEN WORKS
by  Emily Cates
For part 1 of this series, click here.
The previous article in this 2-part series looked at practical suggestions on starting long-season plants in our climate. We looked at lighting setups, substrate (growing mediums), containers, watering, and climate control. This time, we'll explore topics of viable seeds, what to plant, when to plant, and nutrition.
An essential element of germination is ensuring the use of seeds that are viable. Seeds that are fresh and stored in a cool, dry area will have a higher germination rate. If in doubt, pack a few into a damp paper towel, place into a zip lock bag, and store for several days in a warm place. Check daily for sprouts, keep moist, and observe. Sometimes it might be necessary to wait a week or two more, (be patient with certain varieties, it should say on the packet), but after that I?d give up and buy new seed for sure. Also, remember to bring frozen seeds to room temperature before opening, lest they condensate and spoil the seeds. And never leave packets of seeds in a greenhouse, please!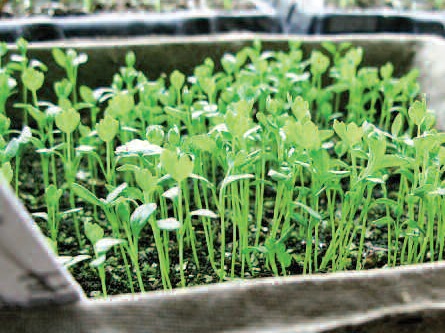 Now let's look at is what to plant. Long-season seedlings that take a long time to get to a plant-able size from seed are happiest and most productive when started early. If these seeds were sown directly in our gardens here in Central Maine, they likely would not have time to reach their full potential. That's why we start them early indoors. The cast of characters starring in your grow system could include leeks, onions, peppers, tomatoes, eggplant, artichoke, long-season herbs, and perennial flowers. Most likely it will state in the seed catalog or on the seed packet whether or not the seed needs to be started early. Since here in Maine we can get anywhere from 90 to 140 frost-free days, it is important to pay attention to the days needed until harvest that is listed with the seed. Timing is everything, which goes along with our next point:
We want to be sure when to plant. This involves finding out the recommended planting time frame, as mentioned above. Check a seed packet or gardening book for planting instructions and you might find that the time to start the seeds for your favorite plant is now! But not too early, unless you plan on transplanting into bigger and bigger pots later on as they grow- and using up more and more planting medium. Personally, I prefer to start smaller, later-planted seedlings near the later side of the recommended timeframe and let them catch up, as opposed to jumping the gun and ending up with oversized, pot-bound, sulking plants. I?ve even waited until a few weeks or so after the recommended planting timeframes and observed that the later plantings will oftentimes catch up with the earlier ones. I've noticed this to be especially so as the moon is increasing (when I try to start seeds), since it appears that a full moon has an affinity towards fertility and growth. That said, I have also experienced the disappointment of growing beautiful plants for a whole season only to have the frost get them just days before they would have ripened. There is oftentimes room for a little bit of error in case of late frosts in fall, though I wouldn't count on it. The point? Starting seeds is a flexible endeavor and will accommodate a variety of schedules- but if we're lazy we might miss out.
The final feature of a successful grow system that we'll look at today involves nutrition. Since most seedlings do not require nutrients until the first set of true leaves has formed, don't worry too much about it until then. Thereafter, feed an organic fertilizer specific to seedlings as directed about every week and a half or so. My favorite formulas are liquid fish-seaweed blends. The fish gives it a nitrogen boost, and the kelp provides trace minerals and hormones. I just add a little to my watering can when it's time to fertilize, it's quite convenient. Everyone seems to have their preferred brand or formula, so do a little research if you can to find out one that suits you best. As was mentioned in the previous article, the best locally-owned places to visit for nutrients and other growing supplies include LaVerdier's General Store, along with FEDCO and Johnny's.
Here's hoping you seedlings are happy and healthy when the above needs are considered. But what should we do when things go wrong? It happens to the best of us! Let's take a look at the subject of pests on seedlings at another time. Until then, enjoy gardening now in the comfort and convenience of a warm room.
Responsible journalism is hard work!
It is also expensive!
If you enjoy reading The Town Line and the good news we bring you each week, would you consider a donation to help us continue the work we're doing?
The Town Line is a 501(c)(3) nonprofit private foundation, and all donations are tax deductible under the Internal Revenue Service code.
To help, please visit our online
donation page
or mail a check payable to
The Town Line, PO Box 89, South China, ME 04358
. Your contribution is appreciated!
https://townline.org/wp-content/uploads/2016/06/TownLineBanner.jpg
0
0
Emily Cates
https://townline.org/wp-content/uploads/2016/06/TownLineBanner.jpg
Emily Cates
2017-03-15 17:11:29
2017-12-08 01:57:23
GARDEN WORKS: EXTEND SUCCESS! Starting long-season varieties now for best results (Conclusion)