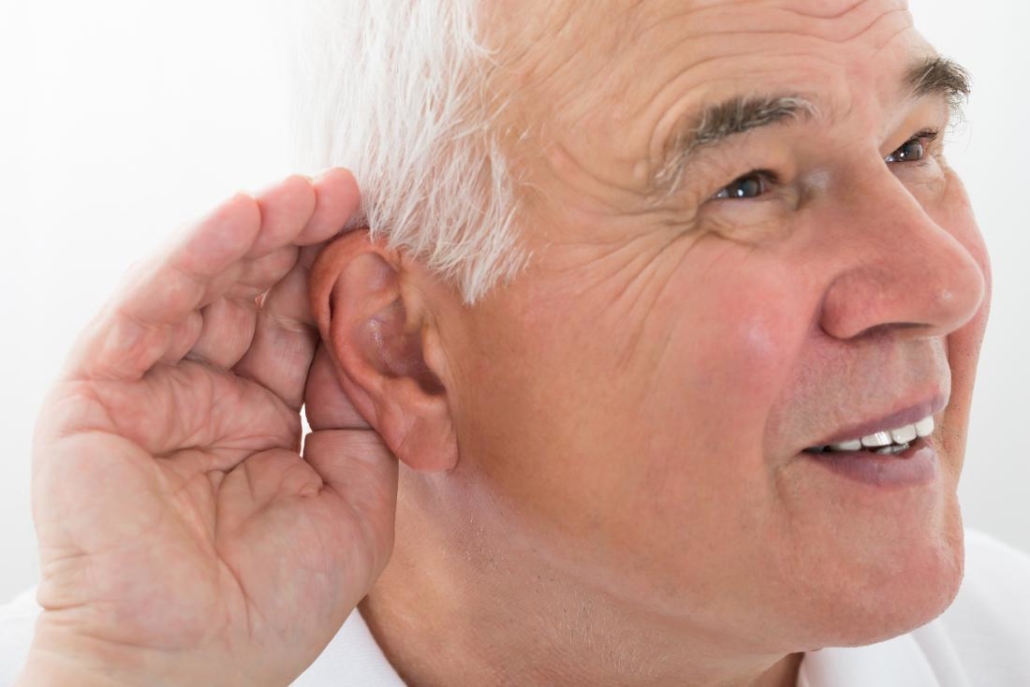 I saw the best ad for hearing aids recently. It started out with "My husband left me, but he's come back." It reminded me of how, long ago, we really lost my Dad. He was disabled for about 36 years. He died in June 2005, just before his 79th birthday, but truthfully we lost him long before that. It all started years ago, and progressed very gradually.
In 1989, dad and mom made a trip from Maine to visit us in Florida. My daughter was graduating from high school and they wanted to be there. I watched dad at the party we had to honor her accomplishment. Dad had always been a very sociable person – he had owned a mom and pop store and enjoyed the interaction with all his customers. However, I was watching him sit back at this party, with all these new people, and not communicating with anyone. I watched his face; I could tell he wasn't hearing what was going on and he wasn't very comfortable.
The process of losing your hearing, I imagine, is gradual, unless, of course, it is caused by an accident or infection. It seems that slowly the person affected withdraws from family and friends. One thing we noticed after a while was that dad talked only when he could control the conversation. He would talk about history, and antiques, and family history. He talked. There were very few people that he could have these conversations with comfortably. It all makes for a very small world I would think.
Dad and mom's conversations became almost non-existent, just answers to some very loud questions. If dad had been willing to get a hearing aid, they and we could have had so much more. He was very interested in a lot of different subjects, some that the rest of us would like to have shared with him in our adult years. We would like to have been able to share our interests with him too. Some of these things don't really become important to you until you are an adult. We lost those years with dad.
It seems that getting glasses because our eyesight fails is much easier to accept than losing our hearing. I am more than curious; I don't understand why. You need the glasses or contacts otherwise you are just not going to be able to see, and I believe headaches drive some people to tend to their eyesight. But not their hearing; I can't imagine that it isn't every bit as important and uncomfortable. Yet people don't want the hearing aids.
I know several people who have hearing aids and just won't wear them. I understand with some it is vanity. I have heard some say they can't get used to the changes in crowds as opposed to TV or one on one conversation, "background noise" I think is the description. (I also understand that for some a hearing aid will not help. It's more of a physical problem, I guess, and there isn't always an answer for that.)
I am thankful that my mom got a hearing aid. It seems her driving force was that she wanted to be able to hear my nieces and nephews: they are very soft spoken. Mom had watched dad slowly slip away from us over the years and I am thankful that she understood how important her hearing was for her and to us as a family.
Dad was lucky. He had mom as a buffer zone to the world, but mom wouldn't have had that same luxury.
I know of some very disturbing situations that have happened because of something said being misunderstood due to a hearing problem. People like dad will sit there, appearing to be listening, but not hearing much of what is said at all – but they won't tell you. Imagine that same scene with a discussion with a doctor: they are telling you how to care for yourself and you don't get all the information. That type of situation could actually turn out to have tragic results.
I wonder how many people we have that are misunderstood as being a loner simply because they isolate themselves from situations they can't control due to the hearing problem. I wonder how many people get depressed because of the loneliness and don't seek help.
In the ad the woman says, "My husband once left me, but now he has come back!" Do you realize it is not just the loneliness suffered by the person who has lost their hearing, but also that of their partner, family and friends?
Responsible journalism is hard work!
It is also expensive!
If you enjoy reading The Town Line and the good news we bring you each week, would you consider a donation to help us continue the work we're doing?
The Town Line is a 501(c)(3) nonprofit private foundation, and all donations are tax deductible under the Internal Revenue Service code.
To help, please visit our online
donation page
or mail a check payable to
The Town Line, PO Box 89, South China, ME 04358
. Your contribution is appreciated!
https://townline.org/wp-content/uploads/2019/07/Town-Line-Website-banner-v3-1030x206.jpg
0
0
Debbie Walker
https://townline.org/wp-content/uploads/2019/07/Town-Line-Website-banner-v3-1030x206.jpg
Debbie Walker
2019-02-13 15:16:08
2019-02-13 19:30:08
I'M JUST CURIOUS: Hearing loss can cause people to isolate themselves