OBITUARIES for Thursday, April 14, 2022
NANCY C. FARRINGTON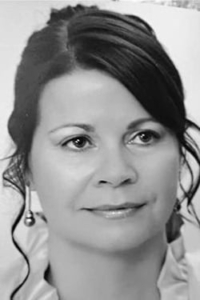 AUGUSTA – Nancy Cyr Farrington, 57, passed away Thursday, March 24, 2022, at MaineGeneral Medical Center, in Augusta. Nancy was born in Biddeford at Webber Hospital June 14, 1964.
She graduated from Mt. Blue High School, in Farmington, in 1982 and in 1995 cum laude with a BS in business administration from the University of Southern Maine, in Gorham. She received a MBA in technology management May 31, 2002, at University of Phoenix.
She was the first to implement an internship with MCI through USM, leading to a successful career in sales with over 17 years in technology to improve efficiencies, and reduce costs for Office Max, MaineGeneral Medical Center, CompuPay, SymQuest, and others.
Nancy was known for her athleticism and love of the outdoors. She was a high school basketball superstar. She never lost her passion for the game. She loved hiking, swimming, and gardening. She loved the beaches. Her friends and family have fond memories at ocean sites around Maine including: Old Orchard, Owl's Head, Popham, Scarborough, and in Florida. She went to lake beaches in Maine, notably Tassel Top and Sebago. Her hobby was watching cardinals and hummingbirds outside her front widow.
Nancy believed in Jesus and read her Bible daily, growing her faith was her source of strength for eight years battling cancer. She was a member of Fayette Baptist Church.
She was predeceased by her nephews, Joshua and Jaxon.
She is survived by her parents, Ronnie and Faye Cyr; daughter Faith Emery; husband Norman; two brothers Jim and Al and sisters-in-law, Kristin and Sandy; nieces/nephews Johnny, Kallie and Devin; stepchildren, Nicholas and Keirra; grandchildren, Caylie, Corbin, Caroline, Camile, Ava and Isabel; sisters-in-law, Joan Mills and Rosalind Farrington; nieces/nephews, Violet and Ayla.
The ceremony is being held on Thursday, April 21, 2022, at Fayette Baptist Church. There will be a 10 a.m. service with Pastor Russ Cotnoir. The burial will follow at 2 p.m. in the VA cemetery. Fayette Baptist Church, on 39 Baldwin Hill Road, Fayette and VA cemetery: (section H) , 163 Mt. Vernon Road, Augusta.
ALBERT J. DUGUAY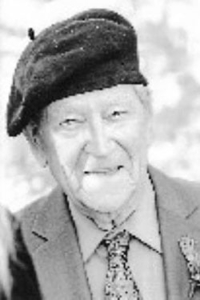 FAIRFIELD – Albert Joseph Duguay, 96, passed away on Monday, March 28, 2022. He was the third child, born of 13, to John Baptist and Anne (Joseph) Duguay, on February 28, 1926.
Leaving high school to serve his country, he enlisted in the U.S. Navy serving in World War II. Upon an honorable discharge he came home and married Antoinette Turmelle on October 28, 1950. Together they had six children.
Al was a communicate of Corpus Christi Parish, in Waterville, Immaculate Heart of Mary, in Fairfield, and St. John the Baptist, in Winslow. Church. Al was a proud member of the Knights of Columbus #11303, Bourque-Lanigan American Legion Post #5, in Waterville, Blessed Sacrament Board of Trustee, etc.
He went back to earn his high school diploma at the age of 66 and continued on to take college classes at the University of Maine Augusta. He stressed education to all his children, grandchildren and great-grandchildren. He was employed by the union in construction for many years and retired from the United States Postal Service in 1984.
Al had many "self-taught skills"; carpenter, plumber, electrician, car mechanic, painter, roofer, chauffeur, gardener, cook, guitar player, and writer. He rebuilt a homestead wall by wall and with continual upkeep, for over 70 years, maintained its beauty. He had many projects always going, so when he couldn't find the right tool or nail he'd head down to the basement because he knew he had all of these items somewhere… In a box!
Since the lottery began he would buy his Mega-Million and Power ball tickets, no frills, faithfully. He said if he ever won, he would make sure any child's college education would be paid for. As being one of the oldest sons, he made sure part of his service check went to his mother, to help with all his siblings. He loved to jump in his car, pick up blueberry and cream filled donuts from Hillman's Bakery, in Fairfield, and make his rounds seeing his favorite people in town to share a donut and a story.
He loved all God's creatures, building hotels and gardens for the birds in his backyard. He would whistle many bird calls swinging on his deck swing.
Back in the day he was a very good athlete and played semi-pro football, he loved to drive the "green hornet", and loved to go dancing. There were always gatherings of family and friends, music, food, and laughter in the house. The door was always open and was a safe and warm place for anyone that entered.
Not only was he a devout Catholic but a devout and proud veteran and Democrat! A thrill was when him and mom went to John F. Kennedy's and Bill Clinton's conventions. He loved debates and was an advocate for his fellow union members and would travel anywhere to make sure their voices where being heard. We believe that is what kept him alive!
Al was involved in community projects. Working alongside his fellow knights on fish chowder night, basketball shoot fundraisers, helping to organize the painting of the town's fire hydrants, building the park gazebo, ringing of the bell at Christmas for the Salvation Army, to handing out poppies on Remembrance Day, to name just a few. He was predeceased by his parents; brothers Don (Lillian), Eddie, Omar, Babe (Norma), sisters Evelyn Morneau (Leo), Jean Carey (Harold), Van Peters (Lee), B-I-L; Chip Plant, Bob Turmelle (Dot); S-I-L: Katherine Duguay, Cecile Gagnon, Judith Turmelle; and great-grandson Nathan.
He is survived by his wife, Toni of 71 years; five daughters, Vicki Goodwin (Steven), of Buxton, Patricia Dustin (Gary), of Waterville, Laurie Byrne (Jim), of Winslow, Leslie DuVall, of Winslow, Melodie Furbush (Randy), of Oakland; one son, Michael Duguay (Victoria), of Waterville; grandchildren, Barret Fortier (Bill), Travis Dustin (Sarah), Brooke Dillon, Cierra McLaughlin (Michael), Taylor Byrne (Sarah), Adam DuVall (Justine), Lindsey Nichols (Nate), Katie Furbush, Chad Furbush (Kristina), Kirt Furbush (Melissa), Sage Chartier (Justin), Chase Duguay; great-grandchildren, Aiden, Sam, Quinn Fortier; Riley, Joshua, Rianne Dustin; Nealey, Baylee Dillon; Kalli, Kendall, Cameron DuVall; Alexis Gibson, Anthony Sproul; Sawyer, Evelynn Byrne; Dominique Furbush, Joshua Zinkovitch; and great-great grandson Mason Lambert; his brothers, Joseph, John (Nancy), Larry (Faye) and sisters, Theresa Plant, Lorraine Reny (Don), S-I-L, Julie Thomas, Jeanette Michaud; and many nephews, nieces and cousins.
Family and friends are invited to attend a Mass of Christian burial at St. John the Baptist Church, 26 Monument Street, Winslow, ME, to be celebrated on Saturday, June 18, 2022, at 11 a.m., with lunch to follow. Navy honors will be held at the Maine Veterans Memorial, 143 Blue Star Ave., Augusta, on Tuesday, June 21, 2022 at 2 p.m.
Arrangements under the direction and care of Dan & Scott's Cremation & Funeral Service, 445 Waterville Road, Skowhegan ME 04976.
In lieu of flowers, donations can be made to Blessed Sacrament, 101 Silver St., Waterville, ME 04901.
DAVID A. COSGROVE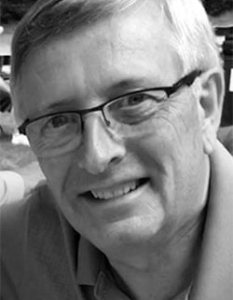 WATERVILLE – David Adams Cosgrove, 73, passed away peacefully on Wednesday, March 30, 2022, in his home, in Waterville. David was born in Waterville to parents Robert and Marjorie Cosgrove.
He graduated from Lawrence High School, in Fairfield, and earned his business degree at Nichols College, in Dudley, Massachusetts. He cherished his time at Nichols, where he made many lifelong friends. Soon after college, David married Marilyn Fitzpatrick; they were to celebrate their 50th wedding anniversary in May.
David earned his Maine real estate license in 1971 and began working for the family business, The Cosgrove Agency, in Waterville, where he sold real estate and insurance alongside Marilyn for 35 years. Upon selling the Cosgrove Agency in 2015, David worked for GHM Insurance, in Waterville, and sold real estate for the Coldwell Banker Plourde Real Estate Agency until retirement.
David was a respected and proud member of the Waterville community. He was a Corporator at Kennebec Savings Bank, a member of the Maine Housing Authority, Waterville Lions Club, and served on the board of the Waterville Sewage District. He was a member of the Waterville Country Club for many years, where he enjoyed golfing and spending time with his dearest friends.
David's greatest achievement was his family; he was a devoted husband, adoring father, and proud grandfather.
Of no coincidence, he collected "Life is Good" shirts; he must have had at least 50. David embodied what it means to be a fan. He was a loyal Boston and Waterville sports fan, but his fandom was highest of daughters and grandchildren. He got the most joy from watching them in any sport in which they were involved; he never missed a game.
He is survived by his wife, Marilyn Fitzpatrick Cosgrove; his two daughters, Laura Cosgrove and Beth Cosgrove; and four grandchildren. His eldest daughter, Laura, lives in Waterville and has two children, Margaret "Maggie" Brock and Herbert "Jay" Brock V. Beth lives in Park City, Utah, with her husband, Seth Dromgoole, and two children, Sally Dromgoole and Samuel Dromgoole; his sister, Jane Cosgrove-Dirkman and husband Jack Dirkman, of Waterville; and sister Barbara Cosgrove-Schwartz and husband James Schwartz, of Barrington, New Hampshire; his nephews John Robertson and Matthew McDonough, and nieces Julie Robertson, Megan McDonough.
David was predeceased by his parents, Robert F. Cosgrove and Marjorie Adams Cosgrove; his sister-in-law Judy Fitzpatrick Weston; and niece Betsy Robertson.
A celebration of David's life will be planned at a later date.
Arrangements are in the care of Lawry Brothers Funeral Home, 107 Main St., Fairfield where memories may be shared, and an online register book signed by visiting http://www.lawrybrothers.com.
In lieu of flowers, the Cosgrove family request donations be made to the Waterville High School Athletic Department at Waterville High School, c/o Heidi Bernier, One Brooklyn Ave., Waterville, ME 04901.
FREDERICK J. DYER JR.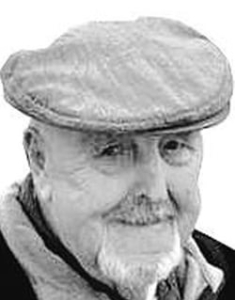 FAIRFIELD – Frederick "Fred" "Bobby" J. Dyer Jr., 92, of Fairfield, passed away peacefully, on Wednesday, March 30, 2022. Fred was born on Feb­ruary 9, 1930, in Fairfield, son of Fred­erick and Laura "Ackley" Dyer.
He married Mary Madeline Tobey, on July 10, 1948. In his early years he worked for Dr. Bovie, of Fairfield, who invented the electric scalpel used in surgery, where he had many enlightening conversations. Fred also started working as a young teenager, at The Flood Dairy Farm, in Clinton, to help support his family. After graduating from Lawrence High, in Fairfield, in 1948, he worked in construction before starting his career as a salesman for Waterville Window and Care Free Homes. He was a jack of all trades, being able to fix and build almost anything. As he always told us, "When I was young, I painted the gold cross on the steeple at The Immaculate Heart Church, in Fairfield".
As a high school star athlete in three sports, Fred's love of sports was carried on through his sons, grandchildren, and great-grandchildren, in Fairfield, and at Lawrence High School, until he died. He was an avid New England sports fan, enjoying watching the Red Sox, Patriots, Celtics and Bruins, and Maine college games.
Fred, aka "Gramps", was very devoted to his family. He would help anyone with projects they were doing, building decks, repairing cars, and was always available to give rides to school or work, not only to his family but to his local community friends.
Fred was an extremely outgoing person. He was a frequent visitor to local stores and became friends with many of the workers at these stores. Every day he would run in to get his lottery tickets and end up sharing stories and jokes with them. One person said that when she was pregnant and her car was broken, he would give her rides to and from work, so she didn't have to get a taxi.
Family is as follows: daughters: Jane Moffitt, Stockton Springs; Nancy Simpson and her husband Robert, Fairfield; sons: Robert Dyer and his wife Susanne, Benton; Ronald Dyer, Fairfield; grandchildren: Sarah Moffitt, Stockton Springs, Aimee Moffitt-Mercer, Belfast, Caleb Moffitt and his husband Roberto Forleo, Jacksonville, Florida; Kevin Dyer and his wife Tammy, Clinton; Kelly Dyer, Benton; Kasey Dyer and his wife Jenny, Sidney; Jennifer Simpson, Fairfield, Tobey Simpson, and his wife Bodhi, Benton; Tori Dyer, Bangor; great- grandchildren: Dustin Simpson-Bragg, Davin Bolduc, Tobey, and Willow Simpson. Cody Grenier, Ryan Gagne, Kayla Duprey, Kaden Dyer, Alli Tulley, Gracelyn Dyer Haylee and Lillyanne Dyer; great-great grandchildren: Reese Tulley and Gavin Grenier; his sister Camilla Giguere and her husband Claude; many nieces and nephews
Fred was predeceased by his wife, Madeline Dyer, and his son Peter Dyer.
A celebration of Fred's life will be held on Sunday, April 24, 2022, from noon – 3 p.m., at The Best Western Hotel, 375 Main St, Waterville. A light lunch will be provided.
Arrangements under the direction and care of Dan & Scott's Cremation & Funeral Service, 445 Waterville Road, Skowhegan ME 04976.
In lieu of flowers, donations can be made payable to Lawrence High School, 9 School Street, Fairfield, ME 04937, to the Peter J. Dyer Memorial Athletic Scholarship Fund.
ROLAND A. WOODWORTH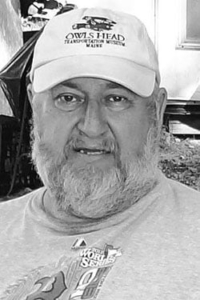 BENTON – Roland "Rollie" Arthur Woodworth, 67, died Friday, April 1, 2022, at MaineGeneral Medical Center, following a two-year battle with cancer. Roland was born on November 18, 1954, in Waterville, to Harry (Skip) and June Barker Woodworth.
He graduated from Lawrence High School, inFairfield, in 1973. He married Joanne Kent, May 7, 1977. Roland worked at Huhtamaki, in Waterville, for 47 years starting out at the Shawmut mill. He served in the U.S. Army from 1980 to 1983.
Roland loved to fly radio-controlled airplanes and gliders and belonged to the KVMA Club and AMA for several years. He loved to read about history, especially the World Wars I and II and the American Civil War eras.
Roland is survived by his wife Joanne Kent Woodworth, of Benton; sons, Jason A. Woodworth and s/o Stacey Keith, of Lisbon, and Joshua A. Woodworth and his wife Jane, of Fort Worth, Texas; grandchildren, Alice, Andrew, and Jaina Woodworth, of Fort Worth, Texas, Elliot Woodworth, of Medway, and Irene Woodworth, of Lisbon; sister June Caron and husband Leo, of Benton; brother-in-law Bryant Kent and his wife Laura; and sister-in-law Mary Colson and husband Michael; several nieces and nephews and great-nieces and nephews.
He was predeceased by his parents, Harry "Skip" and June Woodworth, parents in-law Edward and Janice Kent; brother-in-law Stephen Kent.
A Celebration of Life will be held Saturday, April 16, 2022, at 2 p.m., at the Benton Grange Hall, School Street, Benton with Pastor Dan officiating.
Arrangements under the direction and care of Dan & Scott's Cremation & Funeral Service, 445 Waterville Road, Skowhegan ME 04976.
In lieu of flowers, please send memorial donations to MaineGeneral Health Office of Philanthropy, (Harold Alfond Center), P.O. Box 828, Waterville, ME 04901 or the charity of your choice.
EVAN A. KLANE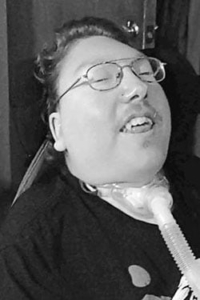 FAIRFIELD – Evan Andrew Klane, 31, passed away on Monday, April 4, 2022, at his home. He was known as "the boy/man who outlived" all expectations.
Well known as his mother's "Beautiful Boy", her "Celtic Warrior", Evan was born under a remarkable full moon on September 4, 1990, coming into his earthly world quietly, but fighting for his life.
Despite his lifelong disabilities, chronic and sometimes life-threatening illnesses, Evan defied the NICU staff predictions of not living to see a first birthday by going on to live for over three decades. Evan was known for his tenacity and fighting spirit, but a pure sweetness complemented his "tough guy" image. Evan's joyful smile could light up the room, especially when something tickled that wicked funny bone of his, or whenever he would hear his beloved brother Ian tearing around the house as a little guy, or at Ian's "Hey, Bud, I miss you, love you" each time Ian would call from his current home in Arizona.
Evan also enjoyed the many stories his dad, Jonathan, would read to him each week bringing a joyful connection as they shared a passion for the original Brother's Grimm's Children's and Household Tales. Evan's life had a profoundly positive impact on everyone with whom he came in contact.
As a graduate of the class of 2009 from Lawrence High School (MSAD #49), in Fairfield, Evan was a teacher as much as he was a student K through 12, as he taught empathy, compassion, perseverance, acceptance, tolerance, but most of all, love.
Evan was predeceased by maternal grandparents Charles "Grampy" and Lorraine "Grammie" McCallum, of Massachusetts, and paternal grandparents Keith "Grandpa" and Ethel "Nana" Klane, of Massachusetts. He is survived by his mother Deborah MacCallum Klane, of Fairfield; his father Jonathan Klane, of Mesa, Arizona; brother Ian MacCallum Klane (partner Ashley Mendola); maternal family Auntie Diana, Uncle George, and Cam Burke; Uncle Doug and Auntie Diana McCallum, and Uncle Dickie McCallum; paternal family Auntie Leslie and Uncle Ralph Brogna, Uncle Larry Klane; cousins, Bob, Jeff, Chris, Lisa and their families; and extended family Godmother Kathy Jason and her family and Jan Isbell.
There will be no formal funeral, but instead a Celebration of Life sometime in the summer or fall, 2022.
Arrangements are under the direction and care of Gallant Funeral Home, 10 Elm Street, Waterville.
An online guestbook may be signed, condolences and memories shared at http://www.gallantfh.com.
In lieu of flowers, the Klane family is requesting that donations be made in Evan's name to any of the following organizations that were an important part of Evan's legacy: Make a Wish of Maine, 66 Mussey Road, Scarborough, ME 04074, www.wish.org/maine/our-chapter; Wounded Warrior Project, 4899 Belfort Road, Suite 300, Jacksonville, Florida 32256, www.woundedwarriorproject.org/contact-us; Belgrade Regional Health Center, 4 Clement Way, Belgrade, ME 04917, www.healthreach.org/Belgrade/Default.aspx#.
MICHAEL J. PUSHARD SR.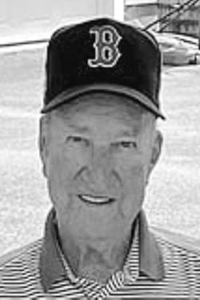 CHELSEA – Michael Joseph Pushard Sr., 81, died Wednesday, April 6, 2022. He was born in Augusta, on January 25, 1941, the son of the late Lawrence M. Pushard Sr. and Cecile (Poulin) Pushard.
While growing up on the Ferry Road, after school he would help the boatman (Frank Hassan) with many duties tending the ferry between Chelsea and Hallowell. At a young age, he was a caddy at the Augusta Country Club where he would walk from Chelsea to the club. One of his first jobs was being a security guard at AMHI, sharing many stories of walking the tunnels. During the '70s and '80s he helped build Chelsea station number one fire department and was assistant fire chief for many years.
He was employed by Edwards Manufacturing Company, in Augusta, from 1958-1983. Mike started as a chemical mixer working in the dye department. He then became the night foreman supervising the night shift operation in the finishing department. He ended at Edwards as the yard superintendent. He worked for Statler Tissue Company, inAugusta, from 1983-1995. He worked at Carlton Woolen Mill from 1995 – 1998. He finished his career at Maine Yankee, inWiscasset, where he later retired.
Mike married Joan Jacques on July 22, 1961. They had two children, Christine "Tina" Ware and Michael Pushard Jr.
Mike spent his free time golfing with his many golf friends. He enjoyed fishing and camping. There were many family outings spent in Jackman. He would go hunting and fishing at The Forks with good friends Gilbert and Joe Babcock. He enjoyed racing sled dogs with his good friend Mike Riley. He loved coaching his son Michael in Little League. He had a love of seafood! Back when you could dig for clams, he loved to take the kids to South Bristol.
He was a proud member of Le Club Calumet and the Elks Club, in Augusta.
He was predeceased by his parents Lawrence and Cecile and siblings: Lawrence Junior, Richard, Paul, Dennis, Mary Ann, and Germaine.
He is survived by his wife of 60 years, Joan; daughter, Christine and husband Randy Ware, of Augusta; son, Michael Jr. and wife Kimberly, of Chelsea; his siblings: David, Ronald, Gloria, Lorraine, Jeanne, and Priscilla; grandchildren, Ashley and her husband Doug, Amanda and her husband Derek, Brittany and Will, Courtney and her husband Troy, Sierra and Cody; great-grandchildren, Taylor and her husband Hunter, Lauren, Parker, Jackson, Grace, Ella, Olivia, Vincent, Luke, Emily, Hudson, Sylvana as well as several nieces and nephews.
At his request there will be no service or visitation.
Arrangements have been entrusted to Plummer Funeral Home, 16 Pleasant St., Augusta, ME.
Condolences, stories and photos may be shared at http://www.plummerfh.com.
The family requests that donations in Michael's memory be made to St. Jude Children's Research Hospital, 501 St. Jude Place, Memphis, TN, 38105.
JORDAN D. WILLIAMS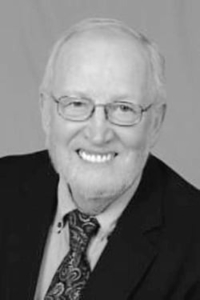 CLINTON – Jordan D. Williams, 78, passed away on Wednesday, April 6, 2022, at his home, in Clinton. He was born in New Haven, Connecticut, the son of Ronald and Vesta Williams.
He attended Clinton schools and graduated from Waterville High School in 1962. During his high school years, he worked for Cottle's Supermarket, in Waterville. Soon after high school he enlisted in the United States Coast Guard and was stationed at Cape May, New Jersey. He completed his Coast Guard duties in March 1970 and returned to work for Cottle's as meat manager in Belfast and later in Waterville.
He met Barbara, his wife of 54 years, in 1967, in Waterville, it was love at first sight, and they were married in February after a short, four-month courtship. Soon after, they moved to their Clinton home where Jordan has resided since 1948. Jordan became a proud father of their first child, Ronald, in 1968 and second son, Jeffrey, in 1971. His son Bradlee was born in 1977, and daughter Heather in 1979.
Jordan was an entrepreneur, becoming owner and proprietor of Jordy's Custom Meat Shoppe along with his wife, Barbara, in 1976. He was also renowned for his ability to operate machinery, including his bulldozer and backhoe used to landscape local properties, restore driveways, and install septic systems from 1988 through the early 2000s. This was one of his biggest joys.
In recent years, Jordan attended courses at Kennebec Valley Community College, in Fairfield, in precision machining technology. He became an accomplished assembler for Cooper Weymouth, in Clinton, and completed his working career as a tool crib attendant for Mid-State Machine, in Winslow.
Jordan was a past selectman for the town of Clinton and held previous membership in the Jaycees and Clinton Grange. He was a member of the Brown Memorial Methodist Church, the American Legion and Clinton Lions Club where he was a past president.
Jordan and Barbara enjoyed entertaining at Riverbend Campground where they had a seasonal site.
He was predeceased by his parents Ronald and Vesta and brother Dale.
He is survived by his wife Barbara and their four children Ronald and wife Julie, Jeffrey and wife Serena, Bradlee and wife Trish and Heather Ward and husband Jim; his grandchildren Kaia, Piper, Coulton and wife Allison, Madeline, Morgan, Hazel, Odin, Haley, Leah and many nieces, nephews, and cousins.
Family and friends are invited to a service at the Brown Memorial United Methodist Church, in Clinton, on April 23, 2022, at 2 p.m. A celebration of life will immediately follow in the church fellowship hall. A private graveside service will be held at a later date at the Town House Hill Cemetery, in Clinton.
Arrangements are in the care of Lawry Brothers Funeral Home, 107 Main St., Fairfield, where memories may be shared, and an online register book signed by visiting http://www.lawrybrothers.com.
PHILIP B. DAGGETT
FAIRFIELD – Philip Bruce Daggett, 73, died peacefully, following a brief illness, on Thursday, April 7, 2022, at Eastern Maine Medical Center, in Bangor.
Phil was born in Brookline, Massachusetts on October 3, 1948, the son of Harry "Bud" and Elizabeth (Knowlton) Daggett. Phil graduated from Washburn High School in 1967. He was drafted into the U.S. Army that same year and served our country honorably in Vietnam. He was awarded a Purple Heart for his service and was honorably discharged in 1969. Upon his discharge he continued to serve the country as an employee of Bath Iron Works as a pipe fitter. Phil eventually obtained his bachelor's degree in counseling from the University of New England, in Biddeford, and a master's degree in counseling from the University of Maine. He worked as a school counselor for several school systems throughout northern and central Maine and was dedicated to his students and imparted his wisdom to them regarding spruce gum.
Phil may have been best known for his time spent at Hewes Brook Lodge. Under his leadership and guidance, he expanded The Lodge with the help of family and friends from a small family cabin frequented by local hunters to a four-season retreat loved by hunters, anglers, snowmobilers, and nature enthusiasts from all over the United States and beyond. Phil was a Registered Maine Guide and a lover of all things associated with the Maine North Woods. Despite his varied career, which took him all over the state of Maine, his roots were always in Aroostook County and were particularly grounded at Hewes Brook Lodge, just west of Portage.
Phil's spirituality was very personal to him, and he spent many hours in deep thought and meditation. Phil was known to be many things which included a master craftsman, artist, cook, gardener, builder and most importantly, storyteller.
Phil was predeceased by his parents Bud and Lib (Knowlton) Daggett; and his sister, Elaine Patterson and her son, Matthew Holmes, of Massachusetts.
Phil is survived by his wife of 44 years, Cheryl; his two daughters, Candy Lessard and her partner, David Sovetsky, of Winslow, and Sandy (Ghent) Holdsworth, of Caribou; six grandchildren, Christopher (Emily) Corey, Athena Sargent and her fiancé, Andrew Nicknair, Deanna (Jessie) Murchie, Matthew Corey, Mason (Monica) Sargent and Jonathan Corey; nine great-grandchildren, Julia, Olivia and Daniel Corey, Brantley and Noura Nicknair, Gabby and Ezra Murchie, Daniel, and Owen Sargent; his brother, Dana Daggett and his partner, Carol, of Bryant Pond, and his sister, Susan (Everett) Adams, of Fort Fairfield; sisters-in-law Linda Hersey, and Charlotte (Donald) Jackson; nephew, Sai Adams, and nieces Naomi Donaldson, Aurora Adams, and Leah Arteaga.
A celebration of life was held on April 15, at Lawry Brothers Funeral Home, located at 107 Main St., Fairfield.
Arrangements are in the care of Lawry Brothers Funeral Home, 107 Main St., Fairfield, where memories may be shared, and an online register book signed by visiting http://www.lawrybrothers.com.
For those wishing to make a monetary contribution in lieu of flowers, contributions can be made in memory of Phil Daggett to the Maine Botanical Gardens, at http://www.mainegardens.org/donate, to support Phil's love of flowers, or to the Travis Mills Foundation at http://www.travismillsfoundation.org, in support of veterans and their families.
RAYMOND PICKERING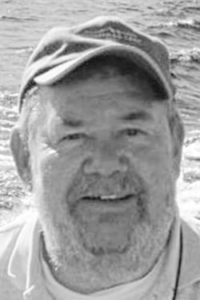 CLINTON – Raymond Pickering, 74, passed away Wednesday, January 19, 2022. He was born September 13, 1947, in Blue Hill.
He graduated from Bucksport High School in 1965 and then went on to attend and graduate from Maine Maritime Academy, in Castine.
Ray had a passion for hunting and fishing from his early days that continued throughout his life. His many expeditions to Newfoundland, the camp he and Bob once owned, and fishing with his buddy, were among his most fond memories. Ray loved his log cabin home in Clinton and his many yellow labs. Ray was a member of the Clinton Lion's Club and also the Masonic Lodges, in Sebasticook and Orland.
He was predeceased by his mother Martha Gracie and his grandmother Hittie Pickering.
He is survived by his four siblings, Joyce Gracie, Janice Boetsch, Edward Gracie, and Sally Bottie, along with their families; Linda Watson, to whom he was once married, and remained good friends with; his late uncle Frank Pickering; cousins Richard Lord and Di Johnson; his sister Coleen Bean.
A gathering to remember Ray will be held on Saturday, May 7, from 1 to 3 p.m., at the Orland Community Center, 21 School House Road. Call Sally with any questions: 866-2305.
Responsible journalism is hard work!
It is also expensive!
If you enjoy reading The Town Line and the good news we bring you each week, would you consider a donation to help us continue the work we're doing?
The Town Line is a 501(c)(3) nonprofit private foundation, and all donations are tax deductible under the Internal Revenue Service code.
To help, please visit our online
donation page
or mail a check payable to
The Town Line, PO Box 89, South China, ME 04358
. Your contribution is appreciated!
https://townline.org/wp-content/uploads/2016/06/TownLineBanner.jpg
0
0
Website Editor
https://townline.org/wp-content/uploads/2016/06/TownLineBanner.jpg
Website Editor
2022-04-13 13:17:01
2022-04-13 13:17:01
OBITUARIES for Thursday, April 14, 2022