OBITUARIES for Thursday, June 16, 2022
PAULINE HORAK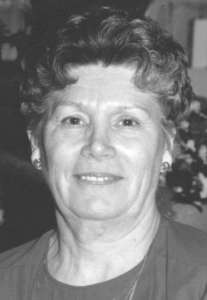 PALERMO – Pauline Horak, 93, of Palermo, passed away peacefully on Thursday, May 19, 2022. She was born in Russia on November 19, 1928. She was married to Anton Horak for 54 years.
In 1967 she and her family found their forever home in Palermo.
Pauline loved gardening and being in the kitchen where she was always preparing a signature meal for anyone who came by. Her cookies and cakes were by far the best and loved by all.
Pauline was the heart of her family.
She is survived by her children Michael, Anton, Lydia, James and his wife Debora and her daughter-in-law Gail; 10 grandchildren; 19 great-grandchildren; and five great-great-grandchildren.
She was predeceased by her husband Anton; son George; a grandson; and great-grandson.
A celebration of life will be held on June 26, 2022, from 1-3 p.m., at the Searsmont Seventh-day Adventist Church where she was an active member.
Memories and condolences may be shared at ripostafh.com.
Donations can be made to the American Cancer Society.
STEFAN J. TURLO

WATERVILLE – Stefan J. Turlo passed away from natural causes on Friday, May 20, 2022, in Waterville.
The family will have a private service and burial will be held in the St. Francis Catholic Cemetery, in Waterville, at a later date.
To see the full obituary and leave condolences please visit http://www.gallantfh.com
BRUCE A. RODERICK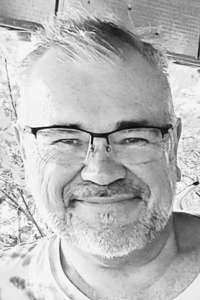 FAIRFIELD – Bruce A. Roderick, 60, passed away unexpectedly on Friday, June 3, 2022. He was born on December 21, 1961, in Augusta, to Wallace "Wally" and Blanche Roderick, of Fairfield.
Bruce spent his life in Fairfield, graduating from Lawrence High School in 1980. He went on to attend the University of Maine at Orono, and while there, married his junior high school sweetheart Trishia "Richardson" Roderick in 1984. They would have celebrated their 38th wedding anniversary this August.
Bruce and Trish enjoyed traveling together and were working their way toward visiting each state in the US. While at home they enjoyed spoiling their two dogs with trips to the lake, belly rubs, endless treats and lots of love.
He built his life around their four children; Justin, Kayla, Zachary, and Kori. He was the most amazing dad. He was the loudest cheerleader, the biggest fan, fiercest protector and was unwaveringly proud of his children. His greatest joy was being Papa to his eight grandchildren; Owen, Mason and Kendall Roderick, children of Justin and Elizabeth Roderick; Harper Roderick-Cloutier, child of Kayla Roderick; Olivia and Avery Roderick, children of Zachary and Bryanna Roderick; and Briley and Lennon Whited, children of Kori and Zachary Whited. Bruce's biggest priority was planning and orchestrating family trips, events, parties, gathering's at "Camp Chaos" and more, to create memories with those he loved the most.
Bruce chose a career in sales which was perfect for his competitive nature, outgoing personality, and desire to connect with others. He began his career at Selection Video before moving on to RJ Reynolds. Eventually he moved on to Swedish Match North America where he enjoyed 19 years leading his team as Key Account Manager. In those years he built many lasting connections and friendships, both within the company and throughout his market. What Bruce enjoyed most about his job was the people. He was a born leader and true mentor to many of his colleagues, as he was in many other aspects of his life.
One of Bruce's strongest passions was serving his community, whether it be helping a neighbor, volunteering his time, offering advice, or even just giving a big Bruce bear hug. Above all stood Bruce's extraordinary commitment to the Fairfield PAL Program. His mission was to continue the legacy built by the founders and those who served before him. Bruce started as a participant in Fairfield PAL, later coaching his own children within the program. He eventually became director of the football program, before moving on to become a member of the PAL board and ultimately president of the board of directors. Through it all, his main mission was to ensure that every child, regardless of circumstance, could have a safe, fun, and equally fulfilling experience in any activity they chose.
In addition to the aforementioned immediate family, Bruce is survived by an uncle, Bill Silsby, in-laws, nieces, nephews, several cousins, and countless close friends that were really more like family.
A celebration of life will be held on Saturday, June 25, 2022, at 1 p.m., at Bill Donahue field in the Richard McGee Athletic Complex, 92 Western Ave, Fairfield. In the event of inclement weather, the celebration will be held at Lawrence Junior High School Gymnasium. There is no formal dress code. Please feel free to dress in whatever attire makes you feel closest to Bruce whether it be PAL gear, a football jersey, crocs, suit, etc.
Arrangements under the direction and care of Dan & Scott's Cremation & Funeral Service, 445 Waterville Road, Skowhegan ME 04976.
In lieu of flowers, the family would appreciate donations in Bruce's name be made to Fairfield PAL Program, C/O Frank Bouchard, PO Box 362, Fairfield, ME 04937.
ALLEN C. DOWLING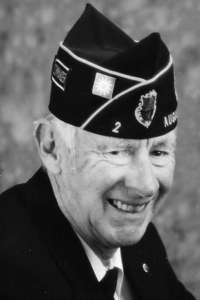 CHELSEA – Allen C. Dowling, 93, of Mud Mill Road, died June 6, 2022, at the Veterans Adminis­ration Center at Togus, following an extended illness. He was born in Newton, Massa­chusetts, on November 3, 1928, the son of Allen A. Dowling and Anna (Milne) Dowling.
Allen attended Augusta schools, graduating from Cony High School in the class of 1947. After high school, he worked for Augusta Fruit Co. before joining the U.S. Army. He served from 1950-1952 in Korea.
In 1953, he started his own candy and cigarette route, called Augusta Tobacco. He retired as supervisor of cooks in 1989 from the Togus V.A. Center after 30 years of service. He then opened Al's Sulky Restaurant, in Chelsea, from 1990-1998.
Allen was involved in horse racing since the age of 14. He owned and drove many standardbreds throughout his lifetime. He was a member of Maine Harness Horseman's Association, United States Trotting Association and Maine State Breeders Association.
Allen was a lifetime member and past commander of American Legion Post #2, of Augusta; Lifetime member of Benevolent & Protective Order of Elks #964, of Augusta; Lifetime member of Fraternal Order of Eagles, of Augusta; member of Disabled American Veterans; Blinded Veterans Association and Korean War Veterans.
Allen was preceded in death by his parents.
Surviving is his wife, Marcella (Johnson) Gallagher Dowling, of Chelsea; his daughter, Sharon Krechkin; granddaughter Cortney Tanner and husband James; two great-grandchildren, Reeve and Harlow Tanner, of Windsor; brother-in-law William White and Desanges; cousins Betty Westgate and Gerine Dowling; his stepchildren, Tammy and Ed Symes, Randy Gallagher and partner Sharon, Peter Gallagher, Jeff Gallagher and partner Dawn, Michael Gallagher and partner Crystal; 11 step-grandchildren and many great-stepgrandchildren; sister-in-law Mary Jane Hinds; Gail Parker and husband Dana; brother-in-law Bruce Johnson and wife Linda.
There are no planned public visiting hours. A Memorial Mass of Christian Burial will be celebrated at 11 a.m., on Wednesday June 22, 2022, at St. Mary of the Assumption Church, Western Ave., Augusta.
Burial will follow in St. Mary's Cemetery, Augusta.
A Celebration of Life will follow at American Legion Post #2, 7 Legion Drive, Augusta.
Arrangements have been entrusted to Plummer Funeral Home, 16 Pleasant St., Augusta. Condolences, stories and photos may be shared at http://www.plummerfh.com. Memorial donations may be made to: American Legion Post #2, 7 Legion Drive, Augusta, ME, or Elks Veterans Program, P.O Box 2206, Augusta, ME 04338-2206.
GERMAINE A. ORLOFF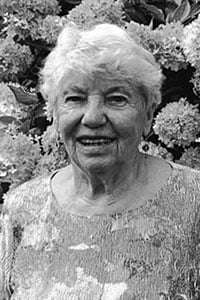 WATERVILLE – Germaine Alice Michaud Orloff, 88, passed away peacefully on Wednesday, June 8, 2022, at Sentry Hill, in York. Germaine was born on September 9, 1933, to parents of French-Canadian descent, and raised in Waterville along with her five siblings.
After completing elementary and middle school at St. Francis de Sales School, and finishing first in her class, she attended Mount Merici Academy, in Waterville, on a scholarship for her freshman year before transitioning to Waterville High School, graduating in 1951. Germaine received her B.A. in chemistry from Colby College, in Waterville, in 1955, working various jobs throughout her undergraduate years to pay for her education., including a period at the Keyes Fibre Company, in Waterville.
After graduating from Colby, Germaine married her high school sweetheart, Paul John Orloff, in 1956. Germaine was a devoted wife and mother of five children, all born and raised in Waterville. On top of raising a large family, Germaine worked as a private tutor for math and science, served as a substitute teacher in the Waterville school system, and eventually received her M.B.A. from Thomas College, in Waterville, where she was appointed assistant professor teaching math and statistics.
At various times, Germaine also served as Director of Volunteer Services at Thayer Hospital (Mid-Maine Medical Center), in Waterville, led Hospice Services in the Waterville area, coordinated Bilingual activities at the University of Maine at Augusta, actively supported the Boys and Girls Club of Greater Waterville, and sat on the Waterville City Council. She was always a dedicated and loyal alumnus of Colby College.
Germaine shared many outside interests with family and friends. She enjoyed snow and water skiing, swimming, tennis, hiking, boating, croquet, reading and attending Book Club, and, of course, playing bridge with a fiercely competitive edge.
Though some of her physical pursuits gradually became more limited following a diagnosis of multiple sclerosis in her late 50s, she never let her illness dampen her determination or zest for life. She loved good food, great company, and fine wine. She and Paul enjoyed the company of many great friends, and they traveled extensively abroad, including trips to Italy, France, Japan, Russia, and Africa.
Germaine will be remembered as a warm and spirited woman who cared deeply for her family, who never shied away from a good argument, and who felt strongly about many social issues, driven in part by her Catholic upbringing. She loved having the extended family, including all her grandchildren, visit the lake home in Belgrade to enjoy her fabulous cooking, activities on the water, and croquet games on the front lawn.
Germaine was predeceased by her husband, Paul Orloff; her parents Joseph and Hermoza Michaud; her sister, Gertrude Michaud, and her brother, Joseph Michaud.
She is survived by her children and their spouses John and Gwen Orloff, of York, Lauren and Roy Williams, of Grand Cayman, Karen and Brian Maddox, of Stuart, Florida, Glenn and Lana Orloff, of Bethesda, Maryland, and Ellen and Mark Gauthier, of Wheatridge, Colorado; her sister, Jeanette Curtis and her husband, Keith Curtis, of Waterville; her sister-in-law, Betty Michaud, of Waterville; her sister, Marie Lacombe, of Grants Pass, Oregan; her brother, Harold "Mitch" Michaud and his wife Stephanie, of Shrewsbury, Massachusetts; her 13 grandchildren Jaclyn Michel, Kirsten and Mark Orloff; Anaise and Chloe Williams; Phoebe, Ian and Marly Maddox; Max Peselev and Evan and Cole Orloff; and Brynn and Nathan Gauthier; and her four great-grandchildren, Evelyn and Sadie Michel, and Kieran and Rory Packer.
A funeral Mass will take place at 10 a.m., on Friday, July 1, at St. Mary's Church, 41 Western Ave., Augusta, ME 04330. A lunch reception will be held beginning at 12:30 p.m., at Glenn Orloff's lakeside residence, 71 Stony Point Rd, Belgrade, ME 04917.
Visit http://www.lucaseatonfuneralhome.com for online condolences.
In lieu of flowers, please direct donations to the Alfond Youth Center, Boys & Girls Clubs and YMCA of Greater Waterville, 126 North St., Waterville, ME 04901.
JILL VanGORDEN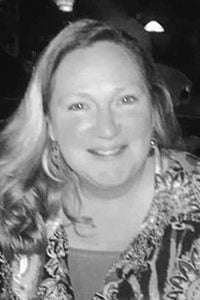 WATERVILLE – Jill (Etchie) VanGorden, aka "Purple Lady", 63, of Water­ville, passed away peacefully on Wed­nesday, June 8, 2022. Born on November 21, 1958, in Waterville, she was the daughter of the late Pearl Mary Etchie and Cecil Felix Etchie, Jr.
Jill was employed by The Mid-Maine Chamber of Commerce for 20 years, where she developed many lifelong and cherished friendships. She later worked for Dignity Memorial.
Jill was a 1977 graduate of Waterville Senior High School, and attended Thomas College, in Waterville.
Jill was always the life of the party. Her laughter will always be remembered. She loved opening her home up for celebrations with loved ones, and feeding all those that came through her door to gather for them. Her selfless love created a safe haven for all those in her life, and this is one of the many things that will be deeply missed about her. She never missed her son's or grandchildren's sporting events or nieces' and nephew's plays and performances. Jill loved to shop until she dropped, and was an avid fan of Days of Our Lives. Her knowledge of all her favorite shows made her a walking movie/TV database.
Jill is survived by her two sons, Robert VanGorden, wife Cassie, and Nathan VanGorden, wife Chelsea; her two sisters, Jane Kennedy, husband Larry, and Joan Levesque, husband Matt; her grandchildren Keelyn, Owhen, Finn, Evan, Emmitt and Ethan; nieces Heather, Nicole, Emily, Nephew Zachary; and great-nieces Katarina and Chloe.
She was predeceased by her parents; her sister, Anne, and her brother, Kim.
A celebration of life will be held Saturday, August 6, at 122 Unity Rd., Benton, ME 04901, from 1 to 5 p.m.
Arrangements are under the direction and care of Gallant Funeral Home, 10 Elm St., Waterville. An online guestbook may be signed, condolences and memories shared at http://www.gallantfh.com.
Jill loved all things purple, including flowers. Alternatively, donations can be made to the charity of your choice in Jill's name.
DANIEL K. HIRSCHY
WATERVILLE – Daniel K. Hirschy, 104, of Waterville, formerly of Evans City, Pennsylvania, died on Sunday, May 29, 2022, in Maine. Daniel was born April 21, 1918, in Berne, Indiana. He was the son of Norman and Esther (Sprunger) Hirschy.
Daniel was a member of Burnham Baptist Church, in Burnham. Rev. Hirschy and his wife served as missionaries in the Republic of Chad in Africa for 27 years. He loved God, his family, reading and teaching the Bible, quoting poetry, gardening and playing word games.
He is survived by his four daughters, Mrs. David (Elaine) Rifenberick, of Joliet, Illinois, Mrs. Dennis (Judy) Reiter, of Willimantic, Connecticut, and Linda and Kathy Hirschy, both of Waterville; five grandchildren; and 11 great-grandchildren.
He was preceded in death by his two brothers and his three sisters.
In lieu of flowers, donations may be given in Daniel'sname to Burnham Baptist Church, P.O. Box 46, 25 Troy Road, Burnham, Maine 04922.
CHRYSTAL R. POMROY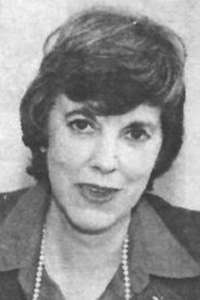 WINSLOW – Chrystal Roberta (Ambrose) Pomroy, 92, passed away peacefully on Saturday, April 21, 2022, at her residence in Winslow. She was born in Castle Hill, the daughter of Leith (Richardson) Ambrose and Arnold Ambrose on April 6, 1930.
Chrystal was a graduate of Easton High School 1948, in Easton, Maine."Chris" went to work at WAGM radio station in Presque Isle for two and a half years. When the Presque Isle Air Force Base opened, she then worked for 10 years as the secretary for the base commander. After the base closed, she worked in the Community Action Program in Presque Isle and Augusta and ultimately became the correspondence secretary for Governor Kenneth Curtis. Chris worked in two law firms in Augusta and as the secretary to the hospital administrator at Augusta General. In 1977 she started her own successful secretarial service business, Bridget Secretarial Services, in Augusta.
In Chris' years of retirement, six-eight fellow quilters would gather in her home to design and create hundreds of lap robes, walker bags, and adult bibs to be given to nursing homes throughout the area. Chris was a teacher to many fellow crafters, sharing her love of knitting, crocheting, card-making, and quilting, to name a few of her hobbies.
Chris was predeceased by her husband Oral Lionel Pomroy, her sister Harriett Day, and her brother Fenton Ambrose.
Chris is survived by her stepson Michael Pomroy and his wife Karina; grandsons, Ian Pomroy and Benjamin Allen.
In lieu of service, please reach out to members of your community in need of a smile, companionship, and a hug. It would warm Chris' heart if donations were made in her memory to your choice of animal shelter or nursing home.
HENRY J. VEILLEUX
THE VILLAGES, Florida – Henry Joseph Veilleux ("Hank") was born to the late Ernest and Bernadette Veilleux in Waterville, on December 22, 1940. He was an early Christmas present to an eager mom and dad.
Most of Henry's working life was spent immersed in the blessings and challenges serving as school principal in Wilton, a town he loved both for its tightknit community, as well as its hidden gem, Wilson Lake Country Club, which he frequented in the warmer months of the year. In the colder months, Henry could be found on neighboring Wilson Lake, typically with a sack full of ice fishing traps, bait and a baloney sandwich, and he never returned home empty-handed.
If you asked a hundred people who Henry Veilleux was, they'd all give you a different story. A golf shark to those at Wilson Lake. A superhero to the kids at Wilton Academy. The hardest working man in the world to his co-workers. A mastermind head coach to the Wilton Cubs little league team, which during Henry's reign frequented the local little league world series. A master sailor. And a loving father and grandfather to his children and grandkids.
Henry was also a storyteller, and it's no surprise that he featured as the hero of most of his tales. Whether it was the whimsical five-iron into #2 at Wilson Lake from the back tees, the eight-pound salmon caught on a regular trip down the West Branch of the Penobscot River, or the rogue bear that attacked camp while Henry and his good friend Roland were sleeping, the stories were as fantastic as he was – colorful, vibrant, and full of life.
Henry had time to consider his obituary. In his final memo to those that knew him, he asked that you remember this last message: "keep telling stories. It is our stories that connect us and unite us, and it is through our stories that we can change the world."
Henry is survived by his son Jeremy Veilleux; his daughters Jocelin Snow and Jenny Veilleux; his grandsons Brandon and Ryan Veilleux; his brother Roger Veilleux; his sisters Corinne Whitney and Elaine Hoag; all respective spouses and families. A celebration of Henry's life will be held for close family in Waterville.
In lieu of flowers, the family asks that donations be sent to the American Heart Association in memory of Henry.
Responsible journalism is hard work!
It is also expensive!
If you enjoy reading The Town Line and the good news we bring you each week, would you consider a donation to help us continue the work we're doing?
The Town Line is a 501(c)(3) nonprofit private foundation, and all donations are tax deductible under the Internal Revenue Service code.
To help, please visit our online
donation page
or mail a check payable to
The Town Line, PO Box 89, South China, ME 04358
. Your contribution is appreciated!
https://townline.org/wp-content/uploads/2016/06/TownLineBanner.jpg
0
0
Website Editor
https://townline.org/wp-content/uploads/2016/06/TownLineBanner.jpg
Website Editor
2022-06-15 13:15:42
2022-06-15 13:15:42
OBITUARIES for Thursday, June 16, 2022