Obituaries, Week of August 4, 2016
FLORENCE I. DOWLING
WHITEFIELD––Florence Irene Dowling, 83, wife of the late James Dowling, both of Whitefield, passed away Monday, July 18, 2016  at MaineGeneral in Augusta. She was born in Alna on October 29, 1932, and attended a one-room school house in Edgecomb where she lived for all of her younger years.
She married Millard Spinney and they had one child. She then met her husband James Dowling in Wiscasset where they married and lived for several years before moving to Whitefield where they settled and raised their very large, somewhat crazy, family. They were married for 56 years or as she would say forever.
Florence, or Flossy as many called her, was a beautiful artist, a woman who loved making stuffed bears and dolls of all sorts. She enjoyed giving them to her grandchildren and great-grandchildren.
In her early years she loved playing her guitar and singing, mostly classic older country, she loved shooting her gun, she was often called Annie Oakley, as she never missed her mark. In her younger years she was an avid horseback rider, generally riding with her late husband on trails or just through the woods. She loved to read and was a great cook. Her favorite times were spent with family.
Florence was predeceased by mother, Adela James; father, Lloyd James; husband, James Dowling; uncle, Joseph Hogan and wife Marjorie.
She is survived by sons, Millard Spinney and wife Jeanne, of Alaska, James Dowling Jr. and wife Cathy, of Dresden, and Jonathan Dowling, of Whitefield; daughters, Lori Allen and husband Jon, of Whitefield, Pamela Perry and husband Burt, of Whitefield, and Paula Engstrom and husband Kraig, of Whitefield; 13 grandchildren; 14 great-grandchildren; and a sister, Louise Bougie and husband Joseph, of Sanford.
Donations in her memory may be made to MaineGeneral Harold Alfond Center for Cancer Care (HACCC), 361 Old Belgrade Road, Augusta ME 04330.
LOUIS H. GOODWIN
WINSLOW––Louis H. Goodwin, 100, passed away on Friday, July 22, 2016, at his home in Winslow. Louis was born in Rumford to Frank and Mary (Therault) Goodwin on June 15, 1916.
His family moved to Madison when he was a child, where he attended local schools and graduated from Madison High School in 1936. On August 12, 1939, he married Rachael Mathieu.
His first job was as a milk deliveryman, followed by working at the Madison woolen mill for ten years. He later worked hand-sewing shoes at Skowhegan Shoe for 22 years, and finally worked as a custodian and bus driver for M.S.A.D. 59, Madison, for 15 years until his retirement at age 70 in 1986.
Despite working very hard to support his family, Louis always made time to spend with them. For example, after working all day, he would take his oldest son on a bicycle to go fishing.
He loved baseball, especially watching the Red Sox play. He also loved taking long walks, putting together jigsaw puzzles, and going to play bingo with his wife and friends.
For all of the things he did throughout his life, he will be best remembered as a loving and supportive husband, father and grandfather.
Louis was predeceased by his parents, three brothers, and a sister.
He is survived by his wife of 76 years, Rachael; two sons, Peter Goodwin and wife Adeline, of Myrtle Beach, South Carolina and Paul Goodwin and wife Jennifer, of Madison; eight grandchildren, Michelle Goodwin, Mark Goodwin, Anita Krazenski, Danny Goodwin, Christina Sylvestre, Erica Violette, Ryan Goodwin and Adam; special niece Patricia Tobey and husband Harry, as well as several other nieces and nephews.
He will be dearly missed by all who had the privilege to know and love him.
LEON O. RICHARD
OAKLAND––Leon Omer Richard passed away on Sunday, July 24, 2016, at his home. Born on July 11, 1932, in Vassalboro, he was the son of Hubert and Paula (Picard) Richard.
He was drafted by the United States Army, and proudly served his country during the Korean War. Upon returning from Korea, he married Beverly Jean (Pare), on February 12, 1955. Leon and Beverly resided in Vassalboro, where they raised their six children. A member of the plumber's union, Leon was a hardworking, skilled master plumber who worked on many large building projects in the area. He would later be employed by the Maine Central Railroad, where he worked for 18 years, retiring in 1997.
Leon was a remarkable man who took great pride in his role as a devoted husband, father, grandfather "pup" and great-grandfather. He loved his wife, six children, ten grandchildren and three great-grandchildren, wholeheartedly and unconditionally. He could often be heard saying, "I love you," to each of them, and he gave the gift of many hugs. He was so very proud of his family, and he loved to be surrounded by them, whenever he could be.
Next to his family, Leon's other joy was staying active, which he did, up until the last week of his life. He enjoyed several daily walks around the cul-de-sac, and always took the time to stop to talk to the neighbors, and enjoy the birds and other wildlife around him. On any given day, you might also see him whirling around on his mini golf cart that he referred to as "Fred's Green Machine."
An incredibly humble man, he was self-sacrificing, strong and soft-hearted; and he will forever be admired and cherished. He will be sorely missed, but his infinite love and his legacy will live on through his loving family.
He was predeceased by his parents (Hubert and Paula Richard), sister Yvette Goodrich, and brother Daniel Richard.
He is survived by his wife Beverly of 61 years; his six children, Pamela Jacques and husband Joe, of Fairfield, Ammie Breton and husband Alan, of Oakland, Tammie Richard and companion Tim Warren, of Smithfield, Leon Richard and wife Liezl, of Nikiski, Alaska, Carla Caron and husband Keith, of Winslow, and Gene Richard and wife Alicia, of Rome; grandchildren, Brian, Kelly, Jeffery, Jessica, Ashley, Casey, Derek, Justin, Jacey and Louise; great-grandchildren, Brian Allen, Anthony, and Bailey; sister, Emily Loiselle and husband Leo, of Fort Meyers, Florida; and sister-in-law Maureen Richard, of Camden.
An on-line guestbook may be signed and memories shared at: www.lawrybrothers.com.
Memorial donation may be made to The Travis Mills Foundation, 89 Water Street, Hallowell ME 04347, or www.travismills.org/donate.
ROSALIE PALOW
WINSLOW––Rosalie Palow, 80, of Winslow, died on Tuesday, July 26, 2016. She was born on April 14, 1936, and was the daughter of Bernard and Yvonne (Boivin) Poulin.
She grew up in Vassalboro and attended l local schools. She would go to work at the chicken plant until it closed and then worked in the K-Mart restaurant until it closed–she then retired. Rosalie enjoyed helping others. She was a member of St. John the Baptist Catholic Church, in Winslow.
She was predeceased by her parents; her brothers-in-law Arthur Dutil and Harley Mairs and her nephew Michael Mairs.
Rosalie is survived by sister Bernadine Dutil, of Vassalboro; brother Bernard Poulin, of Waterville; five nieces; three nephews; and several great-nieces and nephews.
Please visit www.lveilleuxfuneralhome.com to share condolences, memories and tributes with her family.
MICHELLE A. LeBRUN
WATERVILLE – Michelle "Shelly" A. LeBrun, 46, passed away unexpectedly  on Thursd­ay, July 21, 2016. She was born September 18, 1969, in Waterville, the daughter of Charles P. LeBrun and Priscilla J. (Shorey) Abbott.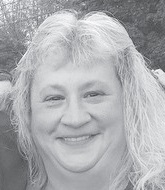 Shelly will be sadly missed by her family and friends. She had a heart of gold and would help anyone who needed it.
She is survived by her three children, Maggie, Nicholas and Sarah; grandchildren, Alianah and Lydia; mother, Priscilla Abbott and step-father, Dale; sister, Leah Norton and husband Chuck, their children, Megan and Adam; several nieces and nephews. She was predeceased by her father, Charles LeBrun.
Memorial donations may be made to  Shelly's memorial fund, c/o Priscilla Abbott, 906 Abbott Road, Winslow, ME 04901.
Arrangements under the direction and care of Dan & Scott's Cremation & Funeral Service, 445 Waterville Road, Skowhegan, Maine 04976.
RONALD H. SHERMAN
PALERMO – Ronald "Ronnie" Howard Sherman, 74, passed away Tuesday, July 26, 2016, at home. He was born October 30, 1941, in Waterville, the son of Howard Wales and Virgeline Lucille Sherman.
Ronnie loved all things hunting and fishing. He instilled a love for both in his son and his grandchildren. Visiting the deer farm, helping his son, Kirk, with the chores, and feeding the deer apples, were among his favorite things. He coached Little League and softball when his children were young. He was very proud of his family and always did what he could to help his children.
He was a volunteer firefighter with the North Vassalboro Fire Department and worked for Cianbro Corp., of Pittsfield,  at a young age. He retired from Huhtamaki after 33 years as a south end panel operator with Union Local #449. That is where he met his lifelong friend, Leo Beaulieu. They spent many hours together fishing, hunting, and four wheeling.
Ronnie is survived by two daughters, Kim Young and husband Jeff, of Albion, Karen Parisien and fiancé Joseph "J.B." Lewis, of China; one son, Kirk Sherman and wife Judy, of China; grandchildren, Michael, Jessica, Amy, Jesse, Kayla, Corbin, Brianna, Josh, Brittany, Harvey, Kiki, and Kali; great grandchildren, Katie, Lucas, Sawyer, Parker, Madyson, Zayne, and Colt; sister, Cynthia French of China; niece, Keeley French; nephew, Herbert French; great niece, Breama French.
He was predeceased by his parents, Howard and Virgeline Sherman; and wife Jane Sherman. They were married for 52 years and life wasn't the same for him after she passed on December 27, 2014. They are together again.
Their wishes were to be buried together. A graveside service for both Jane and Ronnie will be held Saturday, August 6, at 1 p.m., at the Village Cemetery, in Vassalboro, with Dennis Keller, family friend, officiating.
In lieu of flowers, friends and family wishing, may make donations in memory of Ronald, Jane, and their beloved cats, Smokey and Tiger to the Kennebec Valley Humane Society, Connor Animal Shelter, 10 Pet Haven Lane, Augusta, ME 04330.
Arrangements were under the direction of Dan & Scott's Cremation & Funeral Service, 445 Waterville Road, Skowhegan.
EDITH M. GREENE
WATERVILLE – Edith Marie Greene, 90, passed away Thursday, July 28, 2016, at MaineGeneral Medical Center, in Augusta . She was born March 27, 1926, in Waterville, the daughter of Axel H. And Alice M. (Johansson) Frodahl.
She was employed for many years by Diamond International, in Oakland. She was a member of Assemblies of God Church and taught Sunday school. Edith enjoyed cooking and baking. A devoted wife, mother, and grandmother, she was always ready for a game with the kids or a cup of coffee and a kind word for all. Her kind heart filled our lives with joy and laughter.
Edith is survived by husband Edward O. Greene, two daughters, Nancy Waraskevich and husband Tony, of Waterville, Heidi Montuori and husband John II, of New Jersey; daughter-in-law, Beverly Greene, of Winthrop; five grandsons, Joey Waraskevich, of Oakland, Jared Waraskevich, of Waterville, John Montuori III, of New Jersey, Jason Greene and wife Rebecca, of Lisbon, Casey Greene, of Winthrop; granddaughter, Amanda Montuori, of New Jersey; great-granddaughters, Riley and Harper Waraskevich, of Oakland, Eleanor Greene, of Lisbon, and several nieces and nephews.
She was predeceased by her son, Wayne Greene; two sisters, Elsie Sprague, Eva Frodahl; and brother, John Frodahl.
Memorial donations may be made to the Dementia Society of America, PO Box 600, Doylestown, Pennsylvania 18901; by phone: 1-844-336-3684; or online at www.dementiasociety.org.
Arrangements under the direction and care of Dan & Scott's Cremation & Funeral Service, 445 Waterville Road, Skowhegan, Maine 04976.
OTHERS DEPARTED
LOUIS P. BELANGER, 82, of Port Charlotte, Florida, passed away on Thursday, July 7, 2016, at his home. Locally, he is survived by a son, Dennis Belanger and wife Linda, of Oakland, and daughter Judy Richards and husband Karl, of Whitefield.
ESTHER F. DAWSON, 82, of Waldoboro, passed awayt on Friday, July 22, 2016, at the Knox Center. Locally, she is survived by her granddaugbhter, Kasey Blood, and great-grandson, Mason Blood, both of Whitefield
LORRAINE R. SIROIS, 86, of Waterville, passed away on Sunday, July 24, 2016, at Woodlands Assisted Living Center, in Waterville. Locally, she is survived by a daughter, Linda Bouchard and husband Leo, of Oakland, and son James Sirois and wife Cassey, of Winslow.
RUTH P. RICKER, 89, of Clinton, passed away on Friday, July 29, 2016, at Inland Hospital, in Waterville. Locally, she is survived by a brother Arlie Philbrick, of Oakland, a sister Ethel Bates, of Waterville.
FORMER RESIDENT
KEITH V. FRENCH, 52, of Shenandoah, Virginia, passed away on Sunday, July 24, 2016, following a battle with cancer. Keith grew up in Weeks Mills. He worked in the woods, then continued a family tradition by becoming an over-the-road trucker. Locally, he is survived by his parents, Vivan A. and Vernie E. French, of Weeks Mills.
Responsible journalism is hard work!
It is also expensive!
If you enjoy reading The Town Line and the good news we bring you each week, would you consider a donation to help us continue the work we're doing?
The Town Line is a 501(c)(3) nonprofit private foundation, and all donations are tax deductible under the Internal Revenue Service code.
To help, please visit our online
donation page
or mail a check payable to
The Town Line, PO Box 89, South China, ME 04358
. Your contribution is appreciated!
https://townline.org/wp-content/uploads/2016/06/TownLineBanner.jpg
0
0
Website Editor
https://townline.org/wp-content/uploads/2016/06/TownLineBanner.jpg
Website Editor
2016-08-04 19:07:58
2016-08-04 19:07:58
Obituaries, Week of August 4, 2016