Up and down the Kennebec Valley: Windsor's Colburn family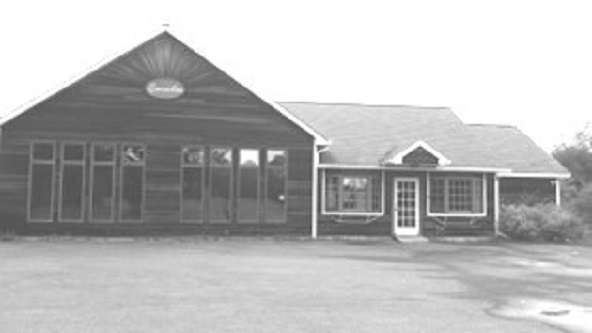 Exceptionally attentive readers with exceptionally good memories might remember that Francisco Colburn was one of the commanders of Windsor's Marcellus Vining GAR Post in the 1880s (see the May 25 issue of The Town Line).
Marcellus is not a typical Maine name, to be sure – presumably his classically-educated parents named him after the Roman Marcus Claudius Marcellus (42 – 23 B.C.). But for some reason, your writer was struck by Francisco, and began wondering why a couple in Windsor, Maine, in the 1830s would choose that name for their son.
The question remains unanswered. The search for the answer revealed a lot of information – and misinformation – about a once-prominent Windsor family.
A Civil War source found on line says Francisco Colburn was born in 1839. On Oct. 20, 1861, when he was 22 years old, he enlisted as a corporal in Company C, 1st Maine Cavalry. He was promoted to sergeant and then first sergeant in 1863, and was mustered out of service on Nov. 25, 1864.
Henry Kingsbury, in his Kennebec County history, added that he came back to Windsor and made his home on a piece of the family farm.
He married Sarah E. Chatman (1838 – 1922), daughter of Andrew Chatman, another Windsor resident. One on-line genealogy says their only child was a son they named Charles H.; born in 1865, he died in 1881, in his mid-teens.
However, Kingsbury listed four sons, all, from the wording, alive in 1892: "Francisco, George A., Horace and Raymond." And another on-line family history says Francisco and Sarah had five sons: Francisco D., Jr. (1862 -1901); Charles (1865 – 1881); George Arthur (1867-1936); Horace (1869-1957); and Raymond (1873-1940).
Kingsbury wrote that the first Francisco served as Windsor town treasurer for 1882 and 1883. He might have been a town selectman for two years beginning in 1886: Kingsbury listed "Francisco" as a last name, with a blank for the first name, but your writer suspects a printing error.
Francisco died in 1928, in his 89th year. He, Sarah and Charles are buried in Windsor's Oak Hill Cemetery, their graves marked by one of the five tall monuments there. A plaque lists the three names, with dates; to the south, a flat stone marks Charles' grave, and two more flat stones to the north are labeled "Mother" and "Father." There are no other marked graves in the plot.
In early June 2023 a new American flag stood beside the monument.
* * * * * *
Francisco's parents were Horace Colburn (Sept. 11, 1812 – April 15, 1885) and Almena Wilson Colburn (July 1813 – Feb. 11, 1903). They and other Colburns, including some of Francisco's brothers and sisters, are buried in Windsor's Resthaven cemetery.
Linwood Lowden's history of Windsor includes a reproduction of a photograph of Francisco's mother. Mrs. Almena Wilson Colburn is standing by a large spinning wheel in the dooryard of a white-painted house with a portico across the front. She wears a high-necked, long-sleeved, floor-length dress, dark-colored with small white flowers (?). Her dark hair, parted in the middle, is drawn tightly behind her head.
Sources differ wildly on the names and lives of Francisco's siblings; in the following paragraphs your writer combines several contradictory lists.
One says he had two older sisters for the first 10 years of his life. Ginevra was born in 1836 and died Aug. 13, 1849, when she was 12 years old. Delphena was 13 when she died Sept. 10, 1849. There might have been an epidemic that fall; Caleb W., born in 1845, died Oct. 3, 1849.
By then Horace and Almena had another daughter, Minerva, born Jan. 20, 1848, in Winslow (according to an obituary found on line). Minerva was a bookish child who soon began teaching, a career she continued until she married Dr. James A. Pierce on April 7, 1875.
The Pierces moved to Stockton Springs, where Minerva, though a semi-invalid for many years, was a well-loved community member. They had one son, James A. Pierce, Jr.
When Minerva Colburn Pierce died Dec. 26, 1900, at 88, the obituary says she was survived by her husband and son; her 88-year-old mother; one sister; and three brothers. Your writer has identified her mother and three brothers, Francisco, Joseph and Frank, but cannot name a surviving sister.
According to an on-line genealogy, Joseph (April 1843 – April 12, 1919) was born in Windsor. Kingsbury said he lived on part of the family farm and taught school in the winter from the time he was 16.
The genealogy said he married Eliza A. Wyman (Aug. 1843 – May 18, 1919) on Sept. 15, 1864, in Waterville. They had at least two children, Frederic (Oct. 1865 – ?) and Grace Almenia (Aug. 4, 1871 – Dec. 28, 1908). Joseph and Eliza are buried in Norton, Massachusetts.
Frank was Francisco's youngest brother, born in 1854 and died in 1927. He too lived on the family farm and was a teacher from his teens.
Frank's gravestone in Resthaven Cemetery says he married Lizzie E. Donnell (1861-1942). C. Arlene Barton Gilbert's chapter on education in Lowden's history lists Frank Colburn and Lizzie Donnell among 1881-82 Windsor teachers – Lizzie's fifth, sixth and seventh terms and Frank's eighth. Lizzie Colburn was still a Windsor teacher in 1927; by then the school year was 30 weeks, and teachers earned from $15 to $18 weekly.
Another source lists Sanford Colburn (? – Mar. 6, 1878) as one of Francisco's five siblings (and omits Minerva). Your writer has found no other information on Sanford Colburn.
* * * * * *
Horace Colburn is mentioned frequently by both Lowden and Kingsbury.
On Oct. 21, 1839 (the year Francisco was born), Lowden said, Horace Colburn, of Pittston, bought a farm on the west side of current Route 32 ("the main road leading to China Village"), about a mile north of the Windsor Corner post office. Carlton Colburn is listed as a co-purchaser, and elsewhere Lowden added Joseph; he did not explain their relationships.
The ad describing the farm (from the May 9, 1835, issue of The China Orb, published in China Village) said it was about 150 acres, 60 acres under tillage and the rest "woodland of an excellent quality." The property included "a young orchard"; an almost new sawmill (built by a prior owner named Nathan Tollman in or before 1832); three shingled barns, two 36-feet-square and the third 30-feet-square; other outbuildings; and a "good well of water" close to the farmhouse.
The brook that powered the mill, called Colburn Brook in Lowden's history, was either the one now called Dearborn Brook or the tributary (unnamed on on-line maps) that joins it from the west near Meadow Brook Lane.
The 1856 and 1879 Windsor maps Lowden reproduced both show H. Colburn's sawmill. Kingsbury wrote that in 1892 Horace Colburn's sons were running it; Lowden believed it operated until at least 1900.
The nearly-new farmhouse was a story and half on "an excellent cellar." Five of the six rooms on the ground floor had fireplaces.
The seller was John B. Swanton, Jr., of Bath, and the ad named local representatives Ebenezer Shaw, Esquire, in China Village, and Ebenezer Meigs, Esquire, in South China. Why it took four years to sell the farm Lowden does not guess.
Horace's sons Francisco, Joseph and Frank all settled on the property, changing the area's semi-official name from Linn Hill to Colburn Hill. For some years they ran the shingle mill and farmed, and Joseph and Frank taught school.
According to Kingsbury, Horace Colburn was Windsor's town treasurer in 1848, 1850, and 1856; served as a selectman for six years, beginning in 1853; and was "twice elected county commissioner, which office he held at his death."
Gilbert listed Horace as a member of Windsor's 1866-67 Superintending School Committee, with Orren Tyler and C. A. Pierce. The three reported that there were 478 students on April 1, 1866. They evaluated each of the teachers, mostly local, mostly female, whom they supervised during 24 terms in 13 schoolhouses.
They then berated Windsor voters. Teachers would have done better, they wrote, with proper schoolhouses:
"Three-fifths of our school houses are not fit places for schools. They would be more appropriate for pig-pens or hen-houses, we might have said stables, but conscience forbids, for many of the parents are sending their own children to those miserable huts called school houses which they would not even think of keeping their horses or oxen in during the winter season without repairing."
Their suggested remedy was to consolidate districts so taxpayers could build fewer, better schools, arguing that a good school a mile and a half away was better than "a nuisance" close to home.
In 1876, voters elected Horace Colburn moderator of an Aug. 12 special town meeting called to replace the tax collector, after an investigation that generated a report Lowden could not find in the town records.
Horace's younger sons also held town offices, according to Kingsbury. He lists Joseph as supervisor of schools from 1871 to 1886, town clerk in 1883 and 1887 and a selectman for two years beginning in 1891; and Frank as town treasurer in 1884, apparently as his brother Francisco's successor, and supervisor of schools in 1888 and 1889.
Lowden found other odds and ends of Colburn family history. For example, after Windsor Grange (Patrons of Husbandry No. 284) was organized June 2, 1886, the second Grange Master was Frank Colburn, in 1888. In 1895, there were seven Colburns among the membership: Francis (Francisco?) and his wife; Frank and his wife; J. (Joseph?), Eliza and Fred (Joseph's wife and son?).
Two of Windsor's early cemeteries

Linwood Lowden's Windsor history has a section on town cemeteries, including the Resthaven and Oak Hill cemeteries in which 19th-century Colburns are buried. Henry Kingsbury listed both graveyards in his Kennebec County history.

Resthaven Cemetery, much the larger of the two, is on the east side of Route 32 just south of the Maxcy's Mill Road intersection. Oak Hill Cemetery is less than half a mile north, on the west side of Route 32 just south of the Reed Road intersection.

said Resthaven Cemetery's first burial was that of Persis Wheeler, in 1810; Kingsbury dated the graveyard to 1808. Lowden wrote that Persis' husband, Samuel Wheeler, Sr., "apparently" owned the lot then, though shortly thereafter it was Joseph Linscott who deeded it to what was then the Town of Malta.

Lowden found a call for a July 1, 1811, special town meeting at which voters were asked to buy some "ground for a burying ground," though he found no related records. He also found a May 6, 1814, record of a decision to fence the cemetery; and he quoted Linscott's 1816 description: half an acre "in length ten rods on the said mill road [Maxcy's Mill?] and in width eight rods situated where the graves now are." (A rod equals 16.5 feet.)

Linscott wrote in the 1816 document that the land was intended as a "burying yard" for the Town of Malta and that he had received "the value thereof from said town."

Lowden said this cemetery was at different times named the Burying Ground on the Ridge, the Mill Road Cemetery and the Sand Hill Cemetery. He found it was re-fenced in 1856, and in 1859, the by-then-Windsor "selectmen divided this yard into lots."

The Colburn/Coburn/Oak Hill Cemetery, Lowden wrote, was "established as early as 1822 if not earlier." The first burials, beginning in 1822, were members of the David Given family. Kingsbury called it "the Chapman burying ground."

Lowden contradicted Kingsbury's claim that Oak Hill Cemetery was owned by those who bought lots there. He listed town expenditures: a pre-1837 fence; 1847 fence repairs; in 1853, approval of a half-acre expansion, at a cost of $25.00; in 1857, voters' rejection of a request to whitewash the fence; and in 1858, selection of a three-man committee to "lot out" the yard.
Main sources
Kingsbury, Henry D., ed., Illustrated History of Kennebec County Maine 1625-1892 (1892).
Lowden, Linwood H., good Land & fine Contrey but Poor roads a history of Windsor, Maine (1993)
Websites, miscellaneous.
Responsible journalism is hard work!
It is also expensive!
If you enjoy reading The Town Line and the good news we bring you each week, would you consider a donation to help us continue the work we're doing?
The Town Line is a 501(c)(3) nonprofit private foundation, and all donations are tax deductible under the Internal Revenue Service code.
To help, please visit our online
donation page
or mail a check payable to
The Town Line, PO Box 89, South China, ME 04358
. Your contribution is appreciated!
https://townline.org/wp-content/uploads/2016/06/TownLineBanner.jpg
0
0
Website Editor
https://townline.org/wp-content/uploads/2016/06/TownLineBanner.jpg
Website Editor
2023-06-07 16:03:18
2023-06-07 16:03:18
Up and down the Kennebec Valley: Windsor's Colburn family