FICTION: The House, part 1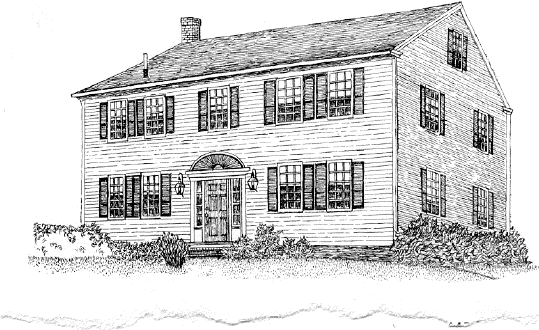 This story is completely fictional. Any resemblances to names of people and/or places is purely coincidental.
I would like to tell you about a house in Midia, Pennsylvania, very close to the Poconos where you can go hiking, cross-country skiing, horseback riding, camping, swimming and picnicking; even swim or canoe along the shores of the Delaware and Lehigh rivers. It's not just any house, but one beyond your imagination. It was built in the early 1800s by a wealthy family by the name of Hodges. Since the Hodges didn't have relatives to take over the house when they died, it stayed empty for several years. Over the years there have been only three other owners of this house, most selling it within five years. It is currently owned by the local bank due to foreclosure from the last owners.
It is a two-and-one-half story, nearly square building that is handsome in its own way. Large granite steps lead up to the front porch. A similar porch compliments the back of the house. Not counting the basement or attic, the house has 12 spacious rooms with one full bath on the main floor and a half bath on the second. It has a large enough kitchen to hold a breakfast nook with a window view, a utility room off the side of the kitchen, dining room, a living room with an adjacent smaller sitting room, and two bedrooms on the first floor. The second floor had six large rooms. The second floor had five large rooms and one smaller room. Two of the rooms are adjoined with doors leading into each other.
Why would folks buy the house and stay in it for only a few years? Maybe it was too large. Maybe it was too difficult to maintain. Maybe it was too expensive to renovate in order to get it up to code with electricity, plumbing, and heat. Maybe this is a mystery. Maybe this is a haunting. Maybe this is a fantasy. Maybe…you have to decide.
Over the years the house went through a few sales and finally a foreclosure. A young couple in their 30's are about to purchase the house through a realtor who is handling the sale for a bank. The price is right for the couple, especially since the price of real estate has, recently, gone through the roof. Let's see where this goes. Enjoy!
TO BUY OR NOT TO BUY
Jake and Miri Stewart had saved up to buy a house, maybe one that would be large enough to make into a Bed & Breakfast to help defray the cost of the mortgage. After five years of marriage and real estate constantly rising, they thought now would be a good time to become homeowners. They jumped from one realtor to another looking for something that wasn't in shambles and that they could afford. They started to lose all hope until they came to a realtor, who knew of a realtor, who was trying to get rid of a house for several years. He didn't know why the house wasn't selling, but from pictures he had seen, it looked fine. He helped make an appointment with A & B Realty the following day for them.
"It's a foreclosure home in Midia, which is only 20 miles away and being close to the Poconos, perfect for a Bed & Breakfast," stated Allen Jones. "From what I've been told by the bank, the house was built around 1830. It had a few owners, each starting to renovate it. I'm not sure why they didn't keep the house. The house is up to code and should pass any homeowner's inspection. I believe the price might be in your ballpark, especially since the bank in Midia is trying to get rid of it. I personally think it has a lot of character and potential, especially if you'd like to make it into a B&B."
"Any chance it's haunted," said Jake jokingly.
"My wife Betty asked the same thing but I wouldn't have anything to do with a haunted house, let alone sell one," laughed Mr. Jones.
Jake and Miri shrugged their shoulders, looked at Dave Brooks, Miri's brother, who was a jack of all trades and licensed/certified at carpentry, plumbing, and electricity. He was with them in hopes of living with them while helping to renovate the house if needed. "Up to you guys," he replied. They all agreed to go see the house.
Large was an understatement! The light gray and black shuttered house appeared to be in excellent condition except for needing a new coat of paint and a few of the shutters requiring repairs. Miri especially liked the large octagonal cabin breeze dormer window that appeared to go to the attic of the house. She could see themselves sitting and relaxing on the large front porch. She could also see herself placing large hanging flower baskets in strategic places to make the porch a welcoming place.The lawns and landscaping needed some work but the house was going to be their principle objective.
When Mr. Jones opened the front door, allowing all to walk through, he heard the sounds of awe coming from the trio. Thankfully renovations did not cause the house to lose its inner beauty. The twisted banister and staircase leading upstairs was in rich mahogany. At the top of the stairs was an elliptical stained glass cameo window. "So beautiful!" exclaimed Miri. "I'm so glad no one got rid of this window or the one in the dormer."
All other windows in the house had been replaced with energy saving double paned windows. The windows were installed to keep an inside ledge, which gave the house even more charm. The heavy dark wood trim was kept and evidently was also liked by previous owners because they were pristine.
After looking around and doing a thorough inspection Dave commented, "I don't get it. For a house that no one has lived in for years with minimal heating so the pipes wouldn't freeze, it is a very sound house. Except for cobwebs, the basement doesn't appear to have water problems, which is a plus. Glad that was taken care of. When this house was built, I bet it had a dirt floor. You guys are lucky that it was redone with cement. There are a few storage rooms down there, too, with a few things in them. I checked the circuit breaker panel as well as the furnace, which needs cleaning, but otherwise all looks good."
The kitchen and bathrooms were the only rooms to have been modernized and not keep the old world charm. The kitchen had all the modern conveniences anyone could ask for; dishwasher, deep sink with state of the art faucets, and a central island that held the electric range and oven, with a separate oven in the wall. "Hey, Miri, that extra oven will come in handy when you have to make all those muffins and cookies for the B&B." laughed Jake."
Miri's reply was 'the look' that all men know, but she did agree with him that an extra oven would be convenient. "I like the fact that they made a separate laundry room to the side of the kitchen. It will be so much easier having it on the main floor. I just wish that once we have the B&B opened, that there would be an easier way to bring down the linens and towels."
"I can probably figure out a way to make a laundry chute somewhere in the upstairs hallway leading down to the laundry room," said Dave.
Renovators kept many of the built-ins such as shelving with beautifully etched glass doors in the living room and small sitting room. There was a set of double doors between the two rooms with designer glass. It allowed light to go into the small room while keeping privacy to anyone within it. Some of the furniture looked like it could have been furniture from back in the 1800s when the house was built.
"You folks seem to like what you're seeing, am I right?" asked the realtor with a smile in hopes that they would take the house off his and the bank's hands.
"We do like it, Mr. Jones, but after doing all of this work, especially in the kitchen and bathrooms, why did the people give it up, especially the last owners?"
"I can't give the reasoning for the two previous owners but the last ones who did most of the renovating just ran out of money and couldn't afford to pay their bills and mortgage. Such a shame. They did wonderful work for the place," he replied.
Miri and Jake went into another room to talk it over while Dave remained behind to talk a bit more with the realtor. "You know they intend to make this a B & B, which means modifications to the upstairs rooms. That will take a chunk of change, if you get my drift."
When they returned Jake asked one more question of the realtor, "We really do love this house and it would be a perfect Bed and Breakfast. Is there any chance the bank would lower the price?"
"Give me an offer and I'll present it to the bank. I'll make sure to tell them about what you're planning on doing with the place which will generate more business in town. As soon as I give them the offer and have an answer, I'll get in touch with you and we'll see if we can't close on this place." They left the house, shaking hands and went their separate ways. Jake turned the car around so they could take another look at the house. "I hope we can make this work," said Jake.
"We'll make it work, together," added his wife, "With Dave's help that is." All three laughed and three weeks later the house became the Stewart home, later to become the Stewart B & B.
Responsible journalism is hard work!
It is also expensive!
If you enjoy reading The Town Line and the good news we bring you each week, would you consider a donation to help us continue the work we're doing?
The Town Line is a 501(c)(3) nonprofit private foundation, and all donations are tax deductible under the Internal Revenue Service code.
To help, please visit our online
donation page
or mail a check payable to
The Town Line, PO Box 89, South China, ME 04358
. Your contribution is appreciated!
https://townline.org/wp-content/uploads/2016/06/TownLineBanner.jpg
0
0
Website Editor
https://townline.org/wp-content/uploads/2016/06/TownLineBanner.jpg
Website Editor
2023-01-04 16:52:17
2023-02-15 14:10:09
FICTION: The House, part 1