LIFE ON THE PLAINS: Modern marvels began to pop up
Growing up on The Plains in the 1950s and '60s brought about some revolutionary, and exciting, changes in our way of life. Modern conveniences were beginning to pop up in our humble homes.
How it was: The street I grew up on was not paved, but rather it was gravel. That came later in the '60s when they would come around and "pave" the street with liquid tar. Didn't my mother keep a strict eye on us, because we always went down to the street to investigate afterward. Unfortunately, some of the liquid would spray onto the edge of the lawn, and, of course, you guessed it, we would get some on our shoes, and then attempt to enter the house. No way that was happening. The shoes had to come off.
In our kitchen, there was an ice box, a wood/kerosene stove, and a wringer washing machine. Our house had no television, and no telephone. Actually, we didn't miss them, because we didn't know any better. That's the way it was as far back as we could remember.
The first to be changed was the ice box. Believe it or not, it was manufactured by Volkswagen. Every week, a horse-drawn wagon would come to the front of the house from Springbrook Ice & Fuel Co. A man would enter the house, look at the ice compartment, then go back to the wagon. He would grab hold of a chunk of ice with a pair of grapplers, throw the ice over his shoulder and put it in the ice box. The compartment was at the top of the ice box, with a tube that would drain the melted ice into a pan that lay just above the floor. That had to be emptied periodically. One of our chores. Our dad eventually did away with that and bought a brand new Hotpoint refrigerator. That ice box exists to this day.
Then, there was the stove. Wood fired on one side, and kerosene on the other. Behind the stove stood a tank, loaded upside down, with kerosene, with a spring-loaded valve. That tank had to be refilled often from a 55-gallon drum that sat on the back porch. Another one of our chores.
But, boy, I can still smell the wood stove used mostly in the winter. Our mother would make toast and pancakes right on the cast iron plates that covered the wood box. Those were the best I have ever tasted. The rest of the time, it was the kerosene side that got all the use.
On laundry day, which was always Monday, our mother would do the wash, and in more pleasant weather, the clothes was hung outside to dry. During colder weather, the downstairs turned into a clothing maze. She would string clothes lines, criss-crossed through the dining room and kitchen. We had to maneuver our way through the clothes that was hung to dry. That all came to an end in 1964, when dad purchased a brand-spanking new automatic washer and dryer.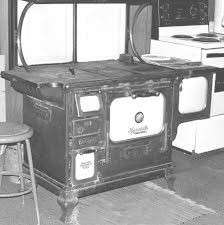 In the basement, was the wood furnace. Every fall, a truck load of firewood was delivered on the side lawn, cut and split to stove length (20 inches). My father, and two older brothers would be outside, feeding the sticks through a cellar window, where my younger brother and our mother would stack the wood against the walls. I don't recall how many cords a year, but I do remember that it was back-breaking work.
Of course, we had to monitor the furnace, especially when our dad worked the night shift. Keep the fire stoked!
On my grandfather's side, he heated with a coal-fired furnace. Well, after a chimney fire one night, dad had oil-fired forced hot air systems installed. Another marvelous modern convenience. No more lugging and stacking firewood.
All the heat was gravity fed through floor grates, and there were no heating ducts. Right outside our bedroom, on the second floor, was one grate. It would be a wrestling match in the morning to see who would get dressed while standing on the heating grate. As you would guess, the two older brothers would usually prevail. All four of us slept in a single room that my father had dubbed, "the dormitory".
It was October 1958 when my dad finally decided to purchase a television. There was only one other house on our street that had one (the Montminys). Our grandparents would come over, usually on Sunday nights, to watch Milton Berle do his comedy show. We only had three channels, and they would sign off every night at midnight. I don't recall any of the other shows, only that later on the Lawrence Welk Show would be a weekly staple. My grandfather would always say, in French mind you, to turn up the volume, citing, "Your grandmother is hard of hearing."
Then, there was the issue of the telephone. We didn't have one, but our grandparents did. We would have to give our friends their number. When a call would come in for any one of us, they would go to the wall that separated the two units, pound on the wall, wait for a return knock, and yell the name of whomever the call was for. (My dad worked at Hollingsworth & Whitney Paper Co., and was a machine tender. He didn't want a phone in the house because he didn't want to be called into work on his days off to replace a wet or dry end "wire" – I told you last week about our weekly lesson on papermaking.)
Well, around 1960, my older brother had a girlfriend who would call periodically. My grandparents would go through the routine, and my brother would go next door to answer the call. Well, my grandparents were both hard of hearing, but they heard every word discussed. My brother had had enough, and persuaded my dad to install a phone at my brother's expense. It was a two-party line, and you had to know which ring was yours and which was the other party's. It was very easy to listen in the other party's conversations, because you didn't know who the other party was.
Eventually, our dad broke down and had a one-party line brought into the house.
So, in the span of about four years, we went from pretty primitive accommodations, to all the "new fangled, modern" marvels.
Responsible journalism is hard work!
It is also expensive!
If you enjoy reading The Town Line and the good news we bring you each week, would you consider a donation to help us continue the work we're doing?
The Town Line is a 501(c)(3) nonprofit private foundation, and all donations are tax deductible under the Internal Revenue Service code.
To help, please visit our online
donation page
or mail a check payable to
The Town Line, PO Box 89, South China, ME 04358
. Your contribution is appreciated!
https://townline.org/wp-content/uploads/2016/06/TownLineBanner.jpg
0
0
Roland D. Hallee
https://townline.org/wp-content/uploads/2016/06/TownLineBanner.jpg
Roland D. Hallee
2022-08-03 15:10:13
2022-08-03 15:10:13
LIFE ON THE PLAINS: Modern marvels began to pop up