MY POINT OF VIEW: Remembering the spirit of Christmas, and its meaning
This was the time of year most of us looked forward to. School books, Christmas trees, Santa Claus, Christmas bonus, gifts and great food with family and friends. Usually our hearts are full of joy and season feelings such as giving. Most of us don't pass the guy or gal standing on the corner asking for help. We are afraid that person might be honestly hungry, homeless and/or alone. I have on occasion filled myself with such guilt that I have turned my vehicle around so as to retrace my steps and redo my original path to give that person standing on the corner a gift so as to right the wrong my mind tells me I might have done.
That being done I feel so much better. After all, who am I to judge or ignore that person's situation. The guilt would probably pass if I had nothing to give. Actually it's sad to have such feelings initiated because of a seasonal guilt trip. Jesus wasn't a big fan of birthdays himself. They were usually given in honor of the rich and famous (kings, pharaohs, etc.) Actually, whenever the Bible does show the celebration of birthdays, it was done by people who weren't following God.
Ecclesiastes 7:1 says the day of death is better than the day of birth. It continues to speak of the importance of mourning rather than celebrating. "The heart of the wise is in the house of mourning". (Ecclesiastes 7:4) It is good to celebrate our love for God any or every day. We as a collective honor God with our love and obedience to the principles he laid out for us. The greatest commandment is to first love God with all your heart, soul and might. By loving others in this entire world, irrespective of race, color or creed we are giving the greatest gift to God on any day as he did for you and the rest of mankind. The greatest gift each and every day is to try and understand your fellow man/woman and show love. It's a gift that was given to you and it's yours to understand and use.
Remember Jesus never asked us to celebrate his birth, he commanded us to remember his death. Christmas is actually a Catholic holiday. I don't mean to demean the intent; I am just saying there are many misconceptions when it comes to the Christmas holiday. If you forget all the tankers laying idle in the harbors off the West and East coasts you might find many broken hearts revolving around material things and also billions in profits that benefit other than the poor and truly faithful.
The greatest gift waiting to be received by us is that of faith and love. You are the reason for the season and when you think about it you will realize it. If those ships laden with Barbie Dolls and electronic toys were to never reach our shore or, in fact, our homes what do we tell the children. There laid a beautiful chance to set the record straight. We can always give our children material things but what the world needs right now is children taught history as it was meant to be. God so loved the world that he gave the most precious gift that could possibly be given, his only son. Times are very trying right now and the salvation of this world rests on the shoulders of that which we love most, our children. They must learn that we are one in the eyes of he who matters. There is no place for greed, lust, materialism and prejudice. They need to learn that only they can bring about the change that will redeem this lonely, war-ridden place that has been created. We need to help them turn that corner and embrace that which we annually celebrate. Enjoy this holiday that was created by man but remember its original intent and see it through to its true purpose. Let's remember the loved ones we have lost through this tumultuous time we have addressed as life, and remember the great promise of the real gift, "Eternal Life" with he whom we celebrate in his name. The books of Luke and Matthew as well as John indicate different dates for the possible date of the birth of Jesus of Naza­reth. There are many assumptions but the best would be somewhere between 6 – 4 BC in Bethlehem during or shortly after the harvest season of that area. Some say September or October. After all is said and done it really doesn't matter when, its why.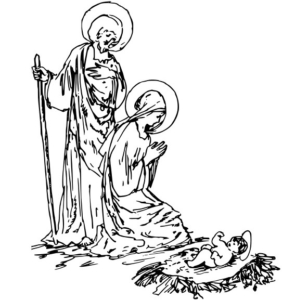 We still celebrate Christmas for the love of Christ on December 25 and we will still target our children for the merriment. It's a reason to love and fill them with joy while loving the Holy Father as the reason for the season.
One more thing before I go, The Town Line is staffed with some military veterans, some with disabilities and some with those you might not see. In any case we know what it's like to be away from home and those that we love. I am sure we have all shed a tear or two. However, we eventually came home, but many of our comrades didn't. Both men and women know Flanders Field.
These as you are now seeing are uncertain times. Make sure you pray for all those who wear the uniform of our states and our country. At the same time pray for love and guidance to those of other countries. One field goal, basket or run doesn't make a game. It's just a step in the right direction. We all have the ability to love. I can't imagine someone not loving anyone. For me that is not a possibility.
We wish you all a very merry holiday season and God be with and protect you and yours. Stay safe and remember others always. We are all in this together. If we remember that then we will all receive the blessing of, Peace on Earth and Goodwill to all. Merry Christmas and have a blessed New Year.
The views of the author in this column are not necessarily those of The Town Line newspaper, its staff and board of directors.
Responsible journalism is hard work!
It is also expensive!
If you enjoy reading The Town Line and the good news we bring you each week, would you consider a donation to help us continue the work we're doing?
The Town Line is a 501(c)(3) nonprofit private foundation, and all donations are tax deductible under the Internal Revenue Service code.
To help, please visit our online
donation page
or mail a check payable to
The Town Line, PO Box 89, South China, ME 04358
. Your contribution is appreciated!
https://townline.org/wp-content/uploads/2016/06/TownLineBanner.jpg
0
0
Gary Kennedy
https://townline.org/wp-content/uploads/2016/06/TownLineBanner.jpg
Gary Kennedy
2021-12-22 15:51:53
2021-12-22 15:56:31
MY POINT OF VIEW: Remembering the spirit of Christmas, and its meaning