by Roland D. Hallee
Last weekend, while we were getting ready to open camp for the summer, we did some raking of leaves along with some of our camp neighbors. While raking a section of road, our friends alerted me to something they found. It was definitely a leg from some kind of large bird. My first thought was a raptor because of the size, and the presence of a large spur on the back of the leg. But my gut feeling was turkey. It had three toes and this one rather large talon on the back of the leg. Now, I have never hunted turkey, and never really paid much attention to the species, except when it's on a platter on the Thanksgiving dinner table. Also, the part of the leg that was found is usually removed from the holiday fowl.
It didn't take much research to confirm my suspicion. It was the leg of a turkey, pretty well picked clean of all meat. The only thing that confused me was the color of the feathers remaining on the leg. They were reddish in color. But, it was definitely turkey.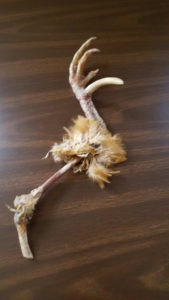 The next question in my mind was what could have taken down a bird of that size. More investigation showed the foot print of the bird to be three inches. A mature male tom turkey would have a footprint of about six inches, while an adult female would be about four inches. So, this fowl was probably a poult, or young turkey, a more manageable target for a predator.
From the time an egg is laid, there is a predator looking for a ready-made omelet. Snakes of all descriptions, skunks, crows and ravens, opossums, raccoons, rodents, dogs and coyotes, even domestic cats, to name a few, are on the lookout for a nest and an easy lunch. If the eggs survive to hatching, things don't get any easier. Hawks, owls, foxes and other large predators like cougars and eagles in some parts of the country love to find a brood from which they can grab a young, unsuspecting poult.
But the list goes on. Predators on poults can include bald eagles, barred owls, red-tailed hawks and broad-winged hawks, all of which exist around our camp. Mortality of poults is greatest in the first 14 days of life, especially of those roosting on the ground. Add to that list of predators coyotes, gray wolf, bobcats, cougars and even black bears, and the turkey population could take a considerable hit.
As noted earlier, the large spur on the talon was something I had never seen before, and didn't think existed on a turkey. Occasionally, if cornered, adult turkeys may try to fight off predators, and large male toms can be especially aggressive in self-defense. When fighting off predators, turkeys may kick with their legs, using the spurs on the back of their legs as a weapon.
The turkey was Benjamin Franklin's choice for the United States' national bird. It was a favored food of Native Americans. Yet, by the early 20th century, wild turkeys no longer roamed over much of their traditional range. They had been wiped out by hunting and the disappearace of their favored woodland habitat.
Historically, in Maine, wild turkeys existed in significant numbers in southern counties. From the time of settlement, until 1880 agricultural practices intensified, farmland comprised about 90 percent of York and Cumberland counties. The reduction in forest land and unrestricted hunting are believed to be the two most important factors leading to the extirpation of native wild turkeys in Maine in the early 1800s.
Attempts to reintroduce turkeys in Maine began in 1942, but several attempts to restock the bird failed. Over the years, farms became abandoned and land was reverted back to forest.
In 1977 and 1978, 41 wild turkeys were obtained from Vermont and released in York and Cumberland counties. In 1984, 19 birds were captured in York County and released in Hancock County. To make a long story short, the population continued to grow. Today, in the 2000s, the wild turkey population is high in Maine. The flock in Maine is now estimated at more than 60,000 birds and growing. They now exists in all 16 Maine counties.
In the end, the restocking of wild turkeys – nearly wiped off the American landscape – has been a conservation success story. But, has it been too successful. Like mentioned earlier, the flock is continually growing – good news for the Thanksgiving table – but bad news for those who have seen the turkeys destroy their crops. Turkeys are now present in 49 states – only Alaska is void of them.
Farmers, especially in Maine, don't like the birds. A flock of 20 turkeys can go down a row in the orchard and peck an apple here and there, and destroy $10,000 in apples in an hour. Not only that, but turkeys also compete for the same foods as the white-tailed deer.
We're still not sure what killed and consumed that particular turkey. A close look at the bones didn't show any evidence of claw or teeth marks – maybe I've watched too many episodes of the TV series Bones, but we do know it lurks in the campground. And it has a taste for turkey.
Roland's trivia question of the week:
In the 13 years between 1957 and 1969, what of significance happened during the NBA playoffs?
Responsible journalism is hard work!
It is also expensive!
If you enjoy reading The Town Line and the good news we bring you each week, would you consider a donation to help us continue the work we're doing?
The Town Line is a 501(c)(3) nonprofit private foundation, and all donations are tax deductible under the Internal Revenue Service code.
To help, please visit our online
donation page
or mail a check payable to
The Town Line, PO Box 89, South China, ME 04358
. Your contribution is appreciated!
https://townline.org/wp-content/uploads/2019/07/Town-Line-Website-banner-v3-1030x206.jpg
0
0
Website Editor
https://townline.org/wp-content/uploads/2019/07/Town-Line-Website-banner-v3-1030x206.jpg
Website Editor
2016-05-16 19:49:22
2016-05-31 18:58:11
Mystery claw not so mysterious