Obituaries, Week of July 26, 2018
ROBERT E. WARNER
VASSALBORO – Robert E. Warner, 92, of Vassalboro, died on Thursday, July 5, 2018, at the Maine Veterans Home, in Augusta. He was born in Searsmont on August 4, 1925, the son of William and Calista (Sprowl) Warner.
He grew up in Searsmont with his grandparents and attended school there. He also attended high school in Belfast at Morse Memorial High School. Bob served in the infantry in World War II, receiving the Purple Heart for wounds received in battle near Aachen, Germany. He worked at Sprowl Brothers in the log mill and the state of Maine before going to work at Togus VA for 30 years, until his retirement due to disability.
Bob was predeceased by his parents; his first wife and the mother of his children, Louise B. Warner and his second wife, Vivian Warner; daughter Marilyn Shorey and two brothers, William Warner and Lyndly Warner.
He is survived by wife Hazel (Brown) Warner; daughters Beverly Wyman and husband Reid, of Vassalboro, and Patricia Richards, of Vassalboro; brother Stanly Warner and wife Lynn, of Pittston; grandchildren, Brian Shorey, of Hallowell, Scott Shorey, of Rockland, Tammy Summers, of Colorado, William Bailey, of Freeport, and Sue Richards, of Lewiston; great-grandchildren Christopher and Justin Allen, Emily and Brandon Shorey, and Chelsea and Katie Summers.
A graveside service with military honors will be held at the Maine Veterans Memorial Cemetery, Civic Center Drive, in Augusta, on Wednesday, August 1, 2018, at 10 a.m.
Memories, condolences, photos and videos may be shared with the family at www.khrfuneralhomes.com.
Arrangements were in the care of Knowlton and Hewins Funeral Home, One Church St., Augusta.
NANCY A. ANDREWS
WINDSOR––Nancy A. An­drews, 78, of Windsor, passed away on Tuesday, July 10, 2018, at MaineGeneral Medical Center following a short battle with cancer. She was born in Gardiner on March 11, 1940, the daughter of Charles and Betsy (Grant) Hill.
She graduated from Hallowell High School.
Nancy worked at Health Tex for 30 years, and then worked for Uplift for 10 years. She loved spending time with her family and friends, traveling with Tammy, and watching her Boston Red Sox and the New England Patriots.
Nancy was predeceased by her parents; husband, Richard G. Andrews; and a sister, Julie.
She is survived by her daughter, Tammy Andrews, of Windsor; and several cousins.
Memories, condolences, photos and videos may be shared with the family on the obituary page of the website at www.staplesfuneralhome.com.
KATHLEEN BARRETT
WINSLOW––Kathleen Barrett, 72, of Winslow, died unexpectedly on Thursday, July 12, 2018, at Inland Hospital. She was born in Cambridge, Massachusetts, on July 16, 1945, a daughter of Alice (Lange) and Roland Huggard.
She attended and graduated from Cambridge schools.
Through the years Kathleen worked as an administration assistant for mechanical engineering firms, retiring as office manager for Trimont Engineering Co. She was an avid reader and when not reading could be found outdoors, working in the yard tending to her flower gardens. She also enjoyed the company of her cats.
Kathleen will be remembered for her many fine qualities of loyalty, honesty, her ability to listen, friendship and love of others. She will be greatly missed.
She is survived by her husband of 47 years, John Barrett, of Winslow; her daughter Jodi Mezzanotte, of Scarborough; her granddaughter Paige Lemieux, of El Paso, Texas; her grandson Nathan Lemieux, of London, england; her sister Diane Clark, of Bremen; her nephew William Clark and wife Jennifer and their children: BJ, Nathan, and Austin, all of South Bristol; her step-daughter Anji Barrett, of Austin, Texas; her step-son John Barrett, Jr, of Austin, Texas.
Burial will be in Hillside Cemetery in Damariscotta at a later date.
Please visit www.veilleuxfuneralhome.com to view a video collage of Kathleen's life and to share condolences, memories and tributes with her family.
For those who wish, donations may be made in Kathleen's memory to: St. Jude Children's Research Hospital, Attn: Memorial/Honor Program, PO Box 1000 Dept. 300, Memphis TN 38148-0552
SYLVIA A. PEASLEE
VASSALBORO––Sylvia Alicia (Campbell) Peaslee, 83, of Vassalboro, passed away at her home, on Thursday, July 12, 2018. Sylvia was born in Augusta on January 15, 1935, the daughter of Elmer and Marian Campbell.
She attended Cony High School where she met her soulmate, Keith Peaslee. They fell in love and were engaged. After two years at the University of Maine at Farmington, and Keith being away in training for the U.S, Army, they decided to marry on October 6, 1956.
They shared 63 years together and celebrated an extraordinary love. They built a home and decided to have children. Whether it was working in the garden or tending the animals on their farm, Sylvia enjoyed work and was always willing to help.
She worked for the U.S. Army , in the commissary, while they were stationed in Governors Island, New York. She sold Avon briefly and was a very successful saleswoman for Electrolux. She put in countless hours at her church as a deaconess, Sunday school teacher, handy woman, and she also worked with the Chapel on Wheels ministry at the fairs. Sylvia;s caring and loving heart put others before herself. Always prepared with a firm, but kind, word of wisdom, a delicious meal, or a hug only she could provide, no matter how bad you felt before you arrived, you knew you'd feel much better when you left.
Sylvia inspired her family to be kind, honest, hard working, and to appreciate the little things.
She was predeceased by three siblings, Ruth Dow, Richard Campbell, and Bruce Dow.
Surviving is her husband, Keith Peaslee; son, Daniel Peaslee; daughter, Kathleen Hinkley; son-in-law, Peter Hinkley and wife, Nancy Camelio; granddaughters: Shila Hammond, Samantha Peaslee, Heather Peaslee and Zack Oxley, Melina Peaslee, Diane Cook and husband, Tim, Crystal St. Onge and husband, Jacques, Alicia Hinkley and James Paine; great-grandchildren: Christopher Hammond, Mariah Hammond, Paige Cook, Carly Cook, Khloye Cloutier. Gabriel Wachter, Tyson Pooler, James Jolly, Shiloh St. Onge, Solomon St. Onge and Jaelyn Paine; her sister, Phyllis Dore; also many nieces and nephews.
MURRY B. MCINTOSH JR.
VASSALBORO––Murray Bernard McIntosh Jr., 86, passed away on Sunday, July 15, 2019, following a long battle with Parkinson's Disease. Murray, also known as Bob to family and friends, was born April 23, 1932, in Caribou.
He faithfully served the Lord with the gifts God gave him for over 50 years. He helped build and maintain churches and served in various church leaderships. Bob visited Swaziland, Africa, twice in his later years, where he helped feed hungry, needy children and literally gave the shoes of his own feet to a man who had none.
Bob was a skilled craftsman and enjoyed working with his hands. He was a welder by trade and worked for United Technologies for over 30 years. He was a dedicated father and grandfather and used these skills to help his family and anyone else in need.
When Bob wasn't working, he was fishing. Faithfully accompanied by the love of his life, Murial. He enjoyed fly fishing as she watched him and knitted on the bank of the river. Most of the time, they didn't even keep the fish Bob caught. Instead, he would think of someone who could use it more and gave it away. Together they loved camping, long rides through the back roads of Maine and showering friends and family with their unending hospitality.
Bob was predeceased by Muriel, his wife and friend of 61 years; his son Rodney McIntosh; and infant son Basil McIntosh.
Bob is survived by daughters, Julie and husband Larry Rowe, Mary Ann and husband Danny Quirion; son Bernard and wife April McIntosh; 17 grandchildren; and 22 great-grandchildren.
An online guestbook may be signed and memories shared at www.lawrybrothers.com.
LEWIS A. OUILETTE, JR.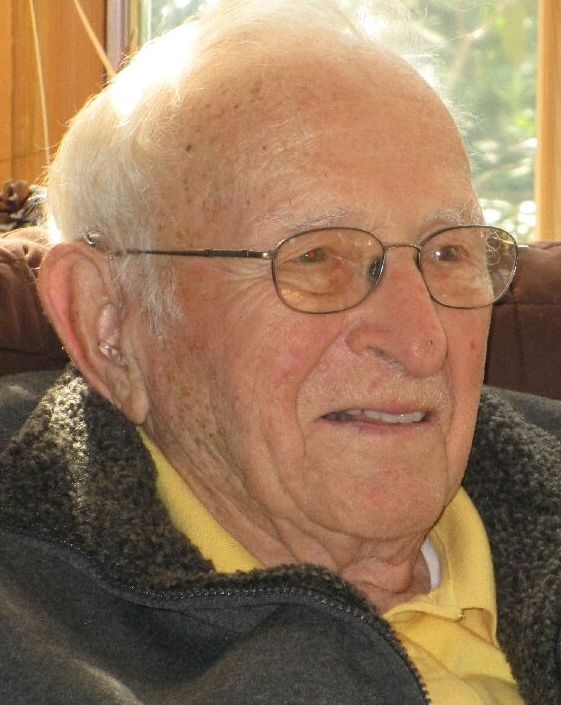 MADISON – Lewis A. Ouilette, Jr., 90, passed away peacefully on Tuesday, July 17, 2018. He was born in Fairfield Center on July 19, 1927, the son of Florence (Ronco) and Lewis Ouilette, Sr.
Lew graduated from Skowhegan High School, class of 1944. While attending the University of Maine, Lew left for a time to serve our country in the United States Navy. After his service, he finished his bachelor's degree in engineering. For the majority of his working life, Lew was a shoe design engineer at Alfond's Shoe, Norwalk Shoe, Viners Shoes, Little Falls Footwear, other famous designers and special needs shoes. He worked all over the U.S. and was known professionally as an expert in his trade.
On October 30, 1948, he married Joyce Fenderson and they raised their sons Nick and Dean, in Madison.
Joyce passed away in January 1976. In February 1977, Lew married Katie Valliere-Denis and with her three children they made their home in East Madison. Although Lew dabbled in real estate in New Hampshire, he was most active in his retirement working for Allied Realty and Whittemore's Real Estate.
Lew was an active member of the civic organizations Rotary International and Kiwanis. He also served on Madison Planning Board and others throughout the Madison-Skowhegan area, including serving on the Finance Committee for Christ the King Catholic Parishes in Skowhegan, Madison and Bingham. He loved the outdoors especially hunting and fishing. He made many great memories with Nick, Dean, Russell, Matt, Kenny, Mac and others during the many fishing trips to Bull Dog Pond and Parlin Pond and most recently at a pond in Aroostook County.
Lew also loved going to and acting in live theater. While in Little Falls, New York, he performed in Fiddler on the Roof and Oliver.
Lew is survived by his wife of 41 years, Kathleen "Katie" Ouilette; son, Nick Ouilette; son, Dean Ouilette and his wife Donna; step-children, Craig Denis and his wife Laurie, and Lynn Rooney; grandchildren, Danny Ouilette, Michelle Wilhelm, Matthew Ouilette, Brittany Bondar, Angela Norton, Andrea Standring, Mark Denis, Paul Denis, Danielle Denis, Roxie Paine, Leigh Paine and DJ; great-grandchildren, Landon Arevelo, Kinley, Caden, and Kyler Wilhelm, Olive and Frances Ouilette, Arabella-Joyce Bondar, Rylie Norton, Colvin, Alexis and Cody Standring, Sydney Duncan, Reese and Owen Paine; sister, Elene Higgins and her husband George.
Lew was predeceased by his parents; wife, Joyce; step-son, Russell Denis; and sister, Ina.
A Mass of Christian burial will be celebrated at 11a.m,. Friday, August 3, 2018, at Notre Dame de Lourdes Catholic Church, Water Street, Skowhegan, with the Rev. James Nadeau, celebrant. Interment will follow at Fairview Cemetery, Canaan. Family and friends are invited to a reception at Lew and Katie's home following services.
Lew and Katie's grandson Landen is a cancer survivor due to the wonderful research at St Jude's. Memorial donations may be made to St. Jude Children's Research Hospital, Memorial and Honor Gifts, P.O. Box 1000, Dept. 142, Memphis, Tennessee 38148-0142,
LOCAL TIES
JAMES D. TONER, 59, of New Vineyard, passed away on Monday, July 16, 2018, following a courageous battle with cancer. Jim spent 18 years as the well-respected director of Parks and Recreation for the city of Waterville, where he helped build new sports fields, oversaw the construction of a new public pool facility, and even dressed up as the Easter Bunny for the popular city Easter egg hunt. In the latter part of his tenure for the city of Waterville, his job expanded to include director of the Public Works Department. He later went on to be director of the Fitness and Recreation Center at the University of Maine at Farmington, in 2006.
Responsible journalism is hard work!
It is also expensive!
If you enjoy reading The Town Line and the good news we bring you each week, would you consider a donation to help us continue the work we're doing?
The Town Line is a 501(c)(3) nonprofit private foundation, and all donations are tax deductible under the Internal Revenue Service code.
To help, please visit our online
donation page
or mail a check payable to
The Town Line, PO Box 89, South China, ME 04358
. Your contribution is appreciated!
https://townline.org/wp-content/uploads/2019/07/Town-Line-Website-banner-v3-1030x206.jpg
0
0
Website Editor
https://townline.org/wp-content/uploads/2019/07/Town-Line-Website-banner-v3-1030x206.jpg
Website Editor
2018-07-25 14:50:39
2018-07-25 14:50:39
Obituaries, Week of July 26, 2018