TECH TALK: Why you can't afford to be neutral on Net Neutrality
ERIC'S TECH TALK
by Eric Austin
Technical Advisor
Net Neutrality is — arguably — the most important legislative issue in the world of technology right now. And it's an issue that will affect the lives of every single person reading this column.
Today, the Internet is like a super highway where every destination is the same distance from you. You decide where you want to go based on the content you are interested in, not the time it takes to get there. In Internet terms, this means that no particular website is given bandwidth preference (distance) over another. They are all equally accessible to you as the consumer.
You decide which websites to visit. You decide which video services you subscribe to.
But some people want to allow Internet Service Providers (ISPs) to restrict those choices. They want to allow your ISP to determine which services on the Internet you have access to. So, if you get your Internet from Time-Warner, you might only be allowed to stream video through Hulu. But if your service provider is Comcast, you might be required to use Netflix instead. This would become true of many of the services you use on the web. No longer would it be your choice. Instead it would be dictated by your service provider.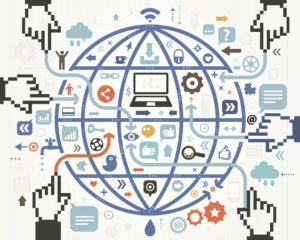 That doesn't sound like much fun, does it? Why would anyone want an Internet that works this way?
As Internet-based companies grow larger, they seek new ways to capture even more of their market share. One way of doing this is by paying (bribing) Internet Service Providers to give their content bandwidth preference.
If opponents of Net Neutrality get their way, big companies like Amazon, Hulu, Netflix and others would be able to pay (bribe) ISPs to give preferential treatment to their web platform over their competitors, similar to how a restaurant today will offer Pepsi or Coke — but not both.
Do we want that to become the norm on the Internet? So that picking an Internet Service Provider also means restricting our Internet content options to the ones that have paid the most to our ISP for exclusivity? It's starting to sound more like picking a cable package than accessing the Internet.
In the early days of the Internet, the web was widely touted as a "level playing field" where small companies like Google and Amazon could compete equally with huge, established corporations like Microsoft and Blockbuster.
Although, that time has come and passed, the barrier to a successful web business is still much lower than it is to open a traditional brick-and-mortar store. But suppose that, aside from needing to build a website and supply it with original content, you also had to pay Internet Service Providers to "allow" traffic to come to it? How would you compete against the likes of Google, Microsoft, and Facebook?
From a business perspective, it means that smaller, newer businesses could be discriminated against in favor of bigger, wealthier and more established corporations. Good news for Big Business. Bad news for promising young entrepreneurs.
From a consumer perspective, it means fewer choices for Internet content.
In 2015, the FCC (Federal Communications Commission) decided to reclassify Internet providers as "common carriers" under Title II of the Telecommunications Act of 1996. This classification is reserved for "necessary" utility services like telephone, electricity, gas and water. These types of services are subject to greater regulation and oversight to prevent discrimination and price gouging of vulnerable consumers.
This was a huge victory for Net Neutrality, and recognition that the Internet has become an essential part of many people's lives. It also meant that ISPs could not restrict or throttle bandwidths based on content, but had to make all (legal) content equally accessible to everyone. Simply put, this meant that Amazon, Hulu, Netflix – and your next-door neighbor Dave's 24-hr livecast of his boring life – all have an equal right to the Internet's bandwidth.
But the fight is far from over. With a new administration comes new policies, and the recently appointed chairman of the FCC (and former attorney for Verizon), Mr. Ajit Pai, only last Wednesday announced his plans to reverse this classification and rollback current regulations protecting Internet neutrality.
If you have any doubts about which side of the debate you, as an average consumer, should be on, simply consider those that are fighting for and against this issue.
On the pro-Net Neutrality side, we have numerous consumer advocacy and human rights groups such as Article 19, Free Press, the Electronic Frontier Foundation, and the ACLU, to name just a few. Even web companies like Amazon, Microsoft, Yahoo! and Google have come out in favor of Net Neutrality. And it's advocated by people like the co-founder of Apple, Steve Wozniak; inventor of the World Wide Web, Sir Timothy Berners-Lee; and President Barack Obama.
On the other side, you have the lobbyists of large communications companies like AT&T, Qualcomm, and Verizon, as well as (according to Wikipedia) certain noted "technologists" (whatever those are) and "economists." And, really, when was the last time "economists" were on the side of the little guy?
Have you ever gone to a restaurant and ordered Coke only to be told that all they serve is Pepsi?
Well, if you don't want to be stuck drinking Internet Pepsi when you really prefer Coke (or vice versa), call your Senator and Representative in Washington today and tell them you want an open and free Internet, where access to content is decided by you, the consumer, rather than big communication companies!
For more information about Net Neutrality or to get involved, visit www.savetheinternet.com.
Eric W. Austin is a marketing and technology expert, and an advocate for a free and open Internet. As long as email remains free, he can be reached at ericwaustin@gmail.com.
Further reading:
Responsible journalism is hard work!
It is also expensive!
If you enjoy reading The Town Line and the good news we bring you each week, would you consider a donation to help us continue the work we're doing?
The Town Line is a 501(c)(3) nonprofit private foundation, and all donations are tax deductible under the Internal Revenue Service code.
To help, please visit our online
donation page
or mail a check payable to
The Town Line, PO Box 89, South China, ME 04358
. Your contribution is appreciated!
https://townline.org/wp-content/uploads/2016/06/TownLineBanner.jpg
0
0
Eric W. Austin
https://townline.org/wp-content/uploads/2016/06/TownLineBanner.jpg
Eric W. Austin
2017-05-04 04:09:01
2017-12-26 06:16:21
TECH TALK: Why you can't afford to be neutral on Net Neutrality