RAYMOND H. CAREY
ALBION – Raymond H. Carey, 95, of Albion, passed away at Togus VA Health care on Wed­nesd­ay, August 10, 2016. He was born in Canada on Dec­ember 17, 1920, the son of the late Harold W. and Susan (Byrnes) Carey.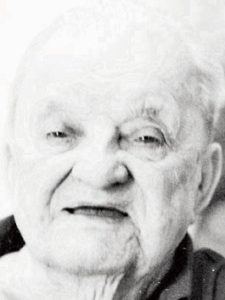 Following his schooling, he served with the US Army from November 25, 1942 to December 25, 1945, during World War II. Raymond was part of the invasion of the Philippines, and was part of the first wave of troops, 96th infantry tank battalion, in Okinawa. He received the Bronze Star Medal, Good Conduct Medal, Victory Medal, Asiatic Pacific Theater Campaign Ribbon, and Philippines Liberation Ribbon with Bronze Service Star.
Over the years he worked construction with different companies. He was a member of Local #621, in Bangor. He and his wife enjoyed raising horses.
Besides his parents, he was predeceased by his wife, Gertrude A. Carey, who passed away on December 5, 2001.
He is survived by his close friend, Jon Willette and his wife, Sandy of Freedom, and their daughter, Erin Mae Pelletier and her husband, William "Big Red" also of Freedom; and his special friend, Harry Yeaton of Albion.
An online guestbook may be signed and memories shared at www.lawrybrothers.com.
WILLIAM W. GLIDDEN
WINSLOW – William W. Glidden, 73, died unexpectedly at Maine Medical Center in Portland on Sunday, August 28, 2016. Bill was born on January 28, 1943, in Waterville, to Clifton and Doris (Hapworth) Glidden.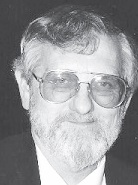 He graduated from Winslow High School, and then attended Berkshire Christian College before serving in the Navy during the Vietnam era. He married the former Lily Cady in 1990. Bill retired from Central Maine Power in 2004, where he had worked for 35 years as a meter technician.
Bill was an accomplished musician, playing trumpet and bass guitar, and had a wonderful singing voice. Over the years Bill played with several bands, including the R.B. Hall Band and several country bands. Bill was generous with his time and talent, playing frequently at church and in area nursing homes. He was an intelligent and witty individual who loved to debate Biblical philosophy and discuss current events.
Bill is survived by his wife Lily Glidden; son, William Jeffrey Glidden, of Florida, and his two children; six grandchildren Danielle, Dylan, Lindsay, Morgan, Sierra, and Aaron; his great-grandson, Ayden; step-children, Laurie Bourgoin and husband Eric, Steve Pottle and wife Kim, and Wayne Harmon ll and wife Nicole; brother, Clifton Glidden, Jr. and wife Sandra, of Virginia; nephews Clifton Glidden lll "Skip" and his partner Mary Erickson, and Mark Glidden and wife Sheryl; nieces Sherri Corbin and husband Victor, and Doraine Glidden; several great-nieces and great-nephews.
He was pre-deceased by his parents.
A memorial service will be held Saturday, September 10, at 2 p.m., at Blessed Hope Advent Christian Church, 10 Pleasant Street, Waterville, with a reception to follow in the fellowship hall. Rev. Michael Alex will perform the service.
Memorial donations may be made to Lakeside Advent Campground Association, William Glidden Memorial Scholarship, Attn: Benita Alley, Treasurer, PO Box 142, Beals, ME 04611.
Arrangements are under the direction and care of Dan & Scott's Cremation & Funeral Service, 445 Waterville Road, Skowhegan, Maine 04976.
EMMA L. STEVENS
UNITY – Emma Louise (Lamson) Stevens passed away Sunday, August 28, 2016, at the home of her son in Unity. She was born April 26, 1916, in Jackson, to Greta (Larrabee) and Phillip F. Lamson. She attended Monroe Elementary School and Freedom Academy.
Emma is the widow of Frank M. Stevens. They were married on November 17, 1934, moved to Unity in 1936, and farmed there for 25 years.
Emma worked at the Chicken Hatchery, in Unity, the Truitt Brothers Shoe Factory, in Belfast, in an Oregon lumber mill, and at the Ethan Allen Furniture Company, in Burnham, retiring in 1983.
She spent many a happy Saturday nights at the Blue Goose dancing with various friends.
She was predeceased by her parents; her husband, three sisters, Gertrude Shibles, June Fuller and Priscilla Walker, a brother, Charles; and a grandchild, Tracy Jean Smith.
Emma is survived by a daughter, Evelyn (Evie) and her husband David Smith, of Carmel, son, David Stevens, of Unity; grandchildren, Steven Smith and his wife Gail, of Orrington, Tobias Smith, of Ashburn, Virginia, Dolly Wilson and her husband Anthony, of Stoneham, Massachusetts, Ellen Stevens and Craig Stevens, of Unity, and Raymond Stevens of Nashville, Tennessee; one great-grandchild, Melissa Tracy Smith; and various nieces and nephews.
An online guestbook may be signed and memories shared at: www.lawrybrothers.com.
THERESE F. SMALL
WATERVILLE – Therese Frances Small, 89, of Water­ville, passed away on Wed­nesday, August 31, 2016. She was born on August 17, 1927, in Waterville, one of three daughters of Blanche (Bernier) and Philip Martin.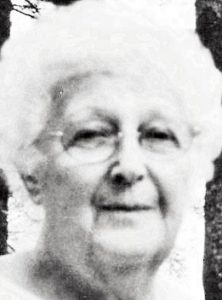 She graduated from Waterville High School, class of 1945. Terry worked for a time at Keyes Fibre, in Waterville, and at K-Mart while living in Connecticut.
She was married to Harold Small, who predeceased her. She was a member of the Winslow VFW Auxiliary and was an active and devoted member of Notre Dame Catholic Church, in Waterville. She and Harold enjoyed traveling and they traveled extensively throughout Europe. She had a great love of cats. Terry will be remembered most for her kindness and outgoing personality, who enjoyed her many friends.
Terry is survived by her godson, Marc Marquis and his family; her goddaughter, Susan Lewis and her family; Tammy Reed and her family; Roland Fuller and his family; and many lifetime friends.
She also was predeceased by her sisters, Evelyn Martin and Carmen Faucher, and her brother-in-law, Clayton "Pete" Faucher.
To share condolences, memories and tributes with her family, please visit: www.veilleuxfuneralhome.com.
RONALD J. WEBBER
OAKLAND – Ronald J. Webber, 96, of Oakland, passed away Friday, September 2, 2016, at his home. He was born October 21, 1919, in Oak­land, the son of the late George A. and A. Izetta (Wood) Webber.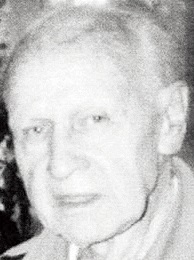 In 1920, he moved to Sidney, where he grew to adulthood on a farm, and attended school. He joined the Sidney Grange in 1937, and later transferred his membership to West Suffield Grange #199, in Connecticut. He served in the USAAF during World War II, and greatly appreciated the opportunity as a veteran to attend the Maine Vocational-Technical Institute, in Augusta, from which he graduated in 1949.
In January 1954, he married Barbara C. (Fuller-White) and they reared two children, Curtis and Coral. Ronald and Barbara adopted square dancing for their foremost recreation in 1959, and enjoyed the activity and the multitude of friends made for the rest of their lives.
In 1950, Ronald moved to Connecticut and became licensed as a journeyman electrician in both Connecticut and Massachusetts. He was accepted into membership in Local Union No. 7 IBEW, in Springfield, Massachusetts, in April 1957, and worked at the trade until retiring in April 1985. He moved to Oakland in 1986.
He was predeceased by his son, Curtis; his sisters, Ernestine Crowell and E. Arlene Wilbur; and his brother, Alton Webber.
Ronald is survived by his wife, Barbara, of Oakland; his daughter, Coral, of Sidney; his grandson, Jesse, of Sidney; his great-grandson, Zachary, of Independence, Missouri; and several nieces and nephews.
An online guestbook may be signed and memories shared at: www.lawrybrothers.com.
Memorial donations may be made to the Second Baptist Church, 3022 W. River Road, Sidney, ME 04330.
OTHERS DEPARTED
DORIS L. GRAZIANO, 82, of Oldsmar, Florida, passed away following a long illness on August 22, 2016. She was born in Waterville. Doris worked for 30-plus years at Keyes Fibre, in Waterville. She moved to Florida in 1985 and was employed by the Pinellas County Schools for 10 years. Locally, she is survived by a daughter-in-law Marie Whary and husband Ron, of Winslow.
CARL WISHART, 49, of Waxahachie, Texas, passed away on Friday, August 26, 2016, at his residence. He was born on January 21, 1967, in Waterville. Carl went to Messalonski High School, in Oakland.
ZANIE N. HIKEL, Zanie Nawfel Hikel, 94, of Pittsfield, died peacefully, Saturday, August 27, 2016, in Pittsfield. Zanie was born on October 14, 1921, in Waterville, the daughter of Sam and Adma (Daghir) Nawfel. She graduated from Waterville High School and received her degree from Thomas College and the University of Maine. In her early years, she was employed as a secretary for the Department of the Navy in Washington, DC, working for Admiral Nimitz. She later worked on the military base in Bangor and also taught at Maine Central Institute, in Pittsfield, for over 20 years. Locally, she is survived by Dr. Michael Nawfel and wife, Dolores, of Waterville, and sister, Najla Joseph and husband, Harold, of Fairfield.
PHYLLIS A. POWERS FENDERSON, 97, of Falmouth, passed away unexpectedly on Thursday, September 1, 2016. Phyllis was born in Waterville on August 26, 1919, the daughter of Alfred A. Adams and Gladys Vandine Adams. She grew up in Waterville with her parents and 12 siblings, of which she was the youngest. She graduated from Waterville High School and also went to Thomas Business College, in Waterville. After college, she moved to Portland and took a job for Oakhurst Dairy as a secretary to the president.
EDMOND J. LaPOINTE, 87, of Waterville, passed away on Thursday, September 1, 2016, at Mount St. Joseph, in Waterville. Locally, he is survived by a daughter Sharon Carter and husband Henry, of Albion, and grandchildren Tanya L. Lennon, of Albion, Randy LaPointe Jr. and wife Monica, of Fairfield.
MAURICE A. BILODEAU, JR., of Belgrade, died peacefully September 2, 2016, at Eastern Maine Medical Center, in Bangor, following a short illness. He was born in North Vassalboro on August 15, 1922, the son of Sarah Poulin and Maurice Bilodeau Sr. He grew up in North Vassalboro and graduated from Winslow High School. He served in the Army during World War II, and following his service returned to Winslow, marrying Cecile Veilleux in 1947. He moved his family to Presque Isle, then Veazie, for his employment as an engineer with New England Telephone.
https://townline.org/wp-content/uploads/2016/06/TownLineBanner.jpg
0
0
Website Editor
https://townline.org/wp-content/uploads/2016/06/TownLineBanner.jpg
Website Editor
2016-09-08 16:33:06
2016-09-08 16:33:06
Obituaries, Week of September 8, 2016