CRAIG C. WRATTEN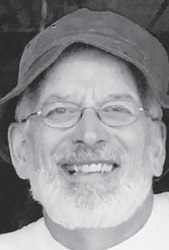 WINSLOW – Craig Charles Wratten passed away on Saturday, October 7, 2017. Craig was born in Batavia, New York.
ALS made him a prisoner in his own body, but never stole his sharp mind or sense of humor. His early years of education were in Amherst, New York, schools and he graduated from Amherst Central High School. He followed in his brothers' footsteps and attended Bethany College, in West Virginia, graduating in 1960, summa cum laude with a B.S. in chemistry. He furthered his education at the University of Wisconsin completing his M.S. and Ph.D. in biochemistry in 1965. He did post-doctoral research at the Institute of Molecular Biology, at Florida State University, in Tallahassee, Florida. Craig taught in the biochemistry Department at the University of Maine at Orono for seven years. In 1973 Craig attended The University of Connecticut and earned his B.S. in pharmacy, magna cum laude.
He was a pharmacist for 25 years. The majority of his pharmacy career was spent as a community pharmacist at Berry's Pharmacy, in Pittsfield. Craig also worked for Wellby's, LaVerdiere's, Rite-Aid, and Hannaford in the Central Maine area. In addition, for two years, Craig had the chance to live in Oregon and enjoyed exploring the West Coast. After his retirement, Craig embraced his passion of photography. For over 15 years he sold his photography at art shows. Thanks to those sales, his photographs can now be found in 39 states and seven countries. In addition to photography, Craig pursued many hobbies. He loved canoeing and fishing the quiet waters of Maine. He enjoyed woodworking, making bookshelves and other items for family and friends. Recently he taught himself the traditional skill of using hand tools and crafted wooden banks, boxes, and furniture totally by hand.
Craig is survived by Ardeene, his wife of 19 years; who cared for him 24/7 and whose love was unparalleled. His daughter Stephanie Wratten and husband David Engerman and children Nina and Simon; daughter Jennifer Bragg and children Emily and Rachel and her daughter Lily Ann; stepson Darren Moscrip and wife Jody; stepdaughter Tammy Moscrip and husband Ben Boese and children Tristin and Brennan; his brother Jim; nieces and nephews Darcy, Gary, Chris, Linda, Tim, Leigh, and Tom.
Craig was predeceased by his parents William and Geneva Wratten; a brother Gary, an Army surgeon killed in Vietnam; and Nancy, his first wife of 31 years.
A Celebration of Life Service will be held at 11 a.m., on Sunday, October 22, followed by a lunch reception and visiting hours from noon – 2 p.m, at Maple Hill Farm Bed and Breakfast, 11 Inn Road, in Hallowell. For anyone who wishes, there will be a chance to share memories of Craig during the service.
In lieu of flowers, memorial donations may be made to the Nature Conservancy of Maine or the ALS Association Northern New England Chapter.
Arrangements were under the direction and care of Dan & Scott's Cremation Services, Skowhegan, Maine 04976.
ROLAND J. LEARY
FAIRFIELD––Roland Joseph Leary, 66, passed away on Saturday, October 7, 2017. Roland was born in Waterville on February 27, 1951, son of the late Milton K. Leary and Katherine Leary (Grenier).
Roland attended schools in Fairfield and graduated from Waterville High School following his discharge from the Army.
Roland served in the Army and was deployed to Korea with the military police during the Vietnam War. After his tour in Korea Roland returned home to Fairfield. Roland went to work at Maine Central Railroad and stayed there until 1986. He then worked for Mushero Concrete, of Fairfield, until 1990. Roland was then hired at Sappi Paper company, in Hinckley, until his retirement in 2016.
For over 45 years, Roland lived on West Street, in Fairfield, right next to the high school. He always attended and supported Lawrence High athletics, especially football. Roland would go to every home game and of the away games as well. He even took time off from work to make sure he didn't miss the playoff or championship games. Roland was also sure to support the teams by buying a couple of hot dogs at every game.
Roland was a diehard New England Patriots and Boston Red Sox fan. Roland also was his grandchildren's biggest fan. He always made time to attend their games, recitals, or any activity they were involved with, rain or shine, sick or healthy he was always there. Roland had a heart of gold and would help anyone at anytime,
Roland was predeceased by his parents; brother Reginald Leary, sisters-in-law, Yvonne Leary and Debbie Leary.
Roland is survived by his sons, Todd Leary, and Travis and his wife Kristal; seven grandchildren; brothers, Robert Leary, Raymond Leary and his wife Claire, Ronald Leary and his wife Hazel, Russell Leary and his wife Beverly, Richard Leary, and Roger Leary; sister Rose Marie (Dodge) and her husband Guy; sister-in-law Katherine (Kitty) Leary; ex daughter-in-law Tauri; ex wife Melody; and several nieces, nephews and cousins.
An online guestbook may be signed and memories shared at www.lawrybrothers.com.
Memorial donations can be made to the Fairfield PAL Baseball Program, PO Box 362, Fairfield ME 04937.
PETER A. MCKENNEY
OAKLAND––Peter Andrew McKenney, 80, of Oakland, passed away on Sunday, October 8, 2017, at Mount Saint Joseph Residence and Rehabilitation, in Waterville. He was born in Waterville on October 15, 1936, at the original Thayer Hospital at Post Office Square, in Waterville, the son of Joseph Andrew McKenney and Helen (Frost) McKenney.
He grew up in a working class family in Waterville. He became active in theater in junior high and high school. He was a graduate of Waterville High School.
In his early years, he delivered newspapers for the Waterville Morning Sentinel, worked for his uncle at Civil Engineer at age 14, was a counselor at Boys Camp (YMCA); and worked behind the counter at Park's Diner on Main Street in Waterville.
He married Joan Lila Amburg, of Winthrop, and they shared many wonderful years together.
On February 3, 1955, he entered the United States Air Force, and trained in air police and security duties. He did the original assignment to Vietnam, and then his assignment changed to the air control site near Machias. Later, with his wife, they harvested blueberries in Maine's Washington County. He also cut pulpwood while working shifts at the base in nearby Whiting. He later transferred to Presque Isle's air base. He served as an air policeman, and retrained supervisor at Base Detention Center. He took FBI courses, and studied law by correspondence during this time.
Upon being discharged in 1958, he entered college in Presque Isle, which was part of the University of Maine system. He missed the G.I. Bill by three days. The Bill ran out January 30, 1958, and he entered college February 3, 1958.
He was hired as a television newsman and announcer at a local commercial television station. He began college for another half semester, and worked 48 hours a week. Upon receiving his degree, he taught fifth grade at Presque Isle Grammar School. Later, he moved to Central Maine, and taught government and history, and contract law at Williams High School, in Oakland. He also taught driver education, and worked at a local radio station after school. He later became an administrator of a state agency. He served on state and national committees (wrote the first 13 amendments to the Nation Highway Safety Law), and four years later left the state position to become a municipal manager. He worked for, and put together a state-wide health agency, Cystic Fibrosis and Children's Lung Patients Advocate.
With his wife and daughter, they purchased a business on Maine's coast. They managed the day-to-day operation of the successful restaurant in Boothbay Harbor, the Carousel Music Theatre. They owned the Carousel Music Theatre, in Boothbay Harbor, for 30 years.
He was predeceased by a brother, Ted.
He is survived by his wife, Joan L. McKenney; four daughters, Barbara, Donna McKenney Welch and her husband Anthony Joseph Welch, of Winslow, Jayne and Sherry; a brother, Nick; nine grandchildren; several great-grandchildren; and many nieces, nephews, and cousins.
An online guestbook may be signed at www.lawrybrothers.com.
SHIRLEY J. ESKELUND
WINSLOW––Shirley Jedele Eskelund, 89, passed away on Tuesday, October 10, 2017. She was born on July 6, 1928, in New York City, the daughter of Ruth (Hastings) and Earl Jedele.
Shirley graduated from University High School in Ann Arbor, Michigan, in 1947. She continued her education at Michigan State University (MSU) and in 1951 earned a bachelor's degree in journalism.
While at MSU, Shirley met Kenneth H. Eskelund and on March 19, 1950, they married in Ann Arbor, Michigan.
Shirley and Ken moved to Waterville in 1953, where she focused on raising her family of three boys. She became active in many local organizations and served as the chairman of the Interim Department of the Waterville Women's Club for several years. She served on the board of United Way of Mid-Maine and the Sunset Home. Shirley was a constant friend, supporter and volunteer for the Maine Children's Home for Little Wanderers for over 50 years. She served various capacities including one term as president of the Friends. She served six terms of office on the board of directors between 1976 and 2007. She was much recognized for her service to these organizations. Especially meaningful for her was recognition by the Maine Children's Home, both with a tea at the governor's mansion as well as the naming of their conference center on their Silver Street Campus as the Eskelund Center. She also opened her home to local organizations and hosted fund raising functions for many charitable groups.
When her family was mostly grown, Shirley went to work at Waterville Junior High School Library as assistant librarian. She enjoyed her work with librarian Ann Benbow and stayed for 15 years. She also worked for several years Maine Biological Laboratories, in Winslow.
Shirley was an outstanding cook and loved entertaining; she hosted many dinner, cocktail, and holiday parties.
She enjoyed art in all forms and became an accomplished watercolor painter. Shirley hosted a weekly painting group at her Schoolhouse Studio, in Winslow, for many years. Shirley truly loved her summers at the family camp on Snow Pond, in Oakland. She was an avid swimmer, swimming regularly in the lake, at Colby College in the winters, and then in her much-cherished pool at her home in Winslow.
Shirley loved to travel. She and Ken vacationed in several destinations in Europe, including Majorca, Spain, Austria, and Sweden, as well as in Hawaii, and Japan. She especially treasured the family ski vacations to Austria and Colorado. For over 25 years, she and Ken traveled to their timeshare condominium, Westwind II, on Cable Beach, Nassau, Bahamas, where they made many lifelong friends.
Shirley was predeceased by her husband, Dr. Kenneth H. Eskelund, of Winslow.
She is survived by sons David Eskelund and wife Cindy Grabinski, of Gray, Donald Eskelund and partner Heidi Jacobs, of Winslow and Richard Eskelund and wife Carol Paradis, of Sidney.
To share condolences, memories, and tributes with her family, please visit: www.redingtonfuneralhome.com.
Memorial donations should be made to the Shirley Eskelund Memorial Fund, Maine Children's Home for Little Wanderers, 93 Silver Street, Waterville ME 04901-5923.
JAN S. HOGENDORN
VASSALBORO––Jan Stafford Hogendorn, 79, died Tuesday, October 10, 2017, of natural causes. He was a longtime resident of East Vassalboro. He was born October 27, 1937, in Lahaina, Hawaii, to Paul Earl Hogendorn and Helen Isabel Stafford Hogendorn.
Evacuated from Hawaii by flying boat after Pearl Harbor, he grew up in Oskaloosa, Iowa. He was a champion debater at Oskaloosa High School, and he won the 1956 Voice of Democracy contest, and addressed that year's Democratic National Convention.
He came East to Wesleyan University, and in 1958 he was in the inaugural group of student to visit Africa as part of Operation Crossroads Africa. Inspired by the promise of economic growth in Africa, he decided to major in economics.
In 1958, he met Dianne Yvonne Hodet, and they married in 1960. They immediately set sail for England on the RMS Queen Elizabeth, and Jan studied at the London School of Economics on a Fulbright Scholarship. Returning to the U.S., Jan taught briefly at Boston University and at Colby College, in Waterville. The couple again traveled to England, and Jan studied at LSE for his Ph.D. on the subject of British colonial agricultural policy in northern Nigeria. In 1965, the couple drove their Volkswagen Microbus across the Sahara Desert to reach the site of Jan's dissertation fieldwork.
Jan became assistant professor of economics at Colby College in 1966, and soon afterward he and Dianne settled into the old Samuel Cates farmstead in East Vassalboro. He rose through the ranks at Colby, served as chairman of the economics department, and was appointed the Grossman Professor of Economics in 1977. He visited Nigeria and Britain several more times, including a visit to Oxford University on a John Simon Guggenheim Memorial Fellowship in 1986.
During his career he published more than 50 articles and essays; multiple editions of textbooks in introductory, international, and development economics; and three books on the history of agriculture, slavery, and abolition in West Africa.
In later life, Jan participated in local politics, serving as chairman of the Vassalboro Democratic Party and several times as moderator of the Vassalboro Town Meeting.
He is survived by his wife, Dianne; his son Christian, who also is a professor of economics; daughter-in-law Erika Naginski; and two grandchildren.
To share condolences, memories and tributes visit: www.redingtonfuneralhome.com.
https://townline.org/wp-content/uploads/2019/07/Town-Line-Website-banner-v3-1030x206.jpg
0
0
Website Editor
https://townline.org/wp-content/uploads/2019/07/Town-Line-Website-banner-v3-1030x206.jpg
Website Editor
2017-10-18 16:48:22
2017-10-18 16:52:14
Obituaries, Week of October 19, 2017