In previous pieces there have been references to local newspapers, especially the Augusta-based Kennebec Journal. Both it and its sister publication in Waterville, the "Morning Sentinel", have had long lives; but they are not and never have been the only newspapers in the central Kennebec Valley.
Here is a partial list of 18th and 19th century Augusta and Waterville papers, excluding monthlies and student and most other specialty publications. The Library of Congress list of newspaper holdings has others.
The earliest was the Eastern Star, Aug. 4, 1794 to sometime in 1795, published in Hallowell by Howard Robinson, the first of at least a dozen Hallowell papers started before 1830. Augusta was the northern part of Hallowell until February 1797.
The Tocsin, 1795-1797, was published by Thomas B. Wait and John K. Baker from Falmouth, who sold it to Benjamin Poor in September 1796.
The Kennebec Intelligencer, started Nov. 14, 1795, was published by Peter Edes (son of printer Benjamin Edes of Boston); it became the Kennebec Gazette in 1800 and the Herald of Liberty in 1810. The Herald of Liberty went out of existence in 1815 when Edes moved to Bangor.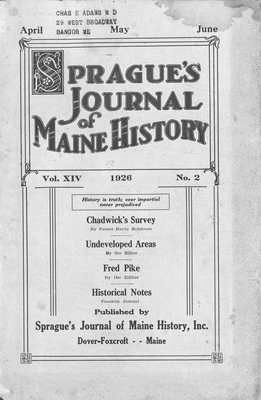 An excerpt from an on-line source says the Tocsin and the Kennebec Intelligencer were the earliest inland papers in Maine. The first Maine newspapers were published in Portland beginning in 1792. Kennebec Valley staff members worked hard to bring local people news from London in 61 days and from the United States Congress in Philadelphia in 16 days.
Hallowell Gazette was a Federalist organ published by Ezekiel Goodale and James Burton from January 1814 to 1827.
Augusta Patriot, March 17, 1817, was published by James Burton and, perhaps because Burton vowed to avoid "personal invective, political rancor, and sectarian heat," discontinued in less than two years for lack of readers.
Kennebec Journal, Jan. 8, 1823, was published by printers Luther Severance and Russell Eaton. It started as a Whig paper, with about 450 initial subscribers, and transitioned to the successor Republican party.
The Kennebec Journal had several owners in the mid-19th century, including briefly (1854-1857) James G. Blaine. Henry Kingsbury, in his Kennebec County history, describes Blaine's management as "able and vigorous." During part of the Civil War, the paper published a small daily supplement with current news, received by telegraph. At the beginning of 1870, Howard Owen, Charles E. Nash and Alden Sprague made the Daily Kennebec Journal the first successful daily paper in Augusta, while continuing the weekly version that Kingsbury says acquired subscribers state-wide.
Gospel Banner and Universalists' Family Monitor existed from July 25, 1835 to July 16, 1836; Gospel Banner and Maine Christian Pilot from July 23, 1836 to July 15, 1837; Gospel Banner, a weekly, from July 30, 1842 to Nov. 4, 1897. Kingsbury lists a number of successive owners and editors, the majority Universalist ministers.
Maine Patriot and State Gazette, Oct. 31, 1827-December 1831, was published weekly by James Dickman, edited by Aurelius V. Chandler for three years and J. W. Bradbury in 1831, after Chandler resigned and moved south for health reasons. (He died on Dec. 31, 1830, in Charleston, South Carolina, at the age of 23.) This paper was started to support Andrew Jackson against John Quincy Adams in the 1828 election.
The Age, Dec. 23, 1831, was started after Maine's capital was relocated from Portland to Augusta in 1827, to meet two needs: printing state documents and providing publicity for the state government. It was initially printed in the Maine Patriot and State Gazette's facility, and, Kingsbury wrote, "absorbed" the Gazette. It was edited by part-owner Francis Ormond Jonathan Smith, former editor of the "Portland Argus".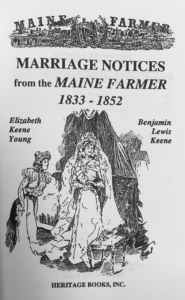 Early in his Augusta career, Kingsbury wrote, Smith wrote an article calling a Belgrade resident a deserter during the War of 1812. The Age's publisher was tried for criminal libel and was acquitted, giving the paper valuable publicity.
In the early 1840s, according to Kingsbury, The Age and the Kennebec Journal made an agreement under which each published on three alternate days, creating Augusta's first version of a daily paper. He did not say how long the arrangement lasted. From 1844 on The Age changed ownership frequently; an Augusta printer named Gilman Smith was the owner when the paper was discontinued during the Civil War.
Maine Farmer began in Winthrop in 1833 as the Kennebec Farmer. In 1844 Russell Eaton, Esq, bought it and moved it to Augusta, where it became the "Maine Farmer" and was published until 1900 (or later).
In her Albion history, Roby Crosby Wiggin describes and quotes from a Thursday morning, Feb. 27, 1851, copy of Maine Farmer, found by Albion residents remodeling an old house. The paper then had a circulation of 5,500 and cost four cents a copy. Annual subscription prices were $1.75 paid in advance, $2 paid within a year and $2.50 paid more than a year late. Anyone who signed up six paying subscribers got a free subscription.
Wiggin describes a variety of content – local news, national news, fiction, inspirational pieces and farming information and advice, all intermingled. Advertisers sold medicines and a medical self-help book; pickles; coffee; furniture; and coffins in a choice of pine, black walnut or mahogany with free cushions included.
The Washingtonian was a temperance paper started by journeyman printer Henry Green in 1840 and published "briefly," Kingsbury wrote, at the height of the temperance movement in Maine.
Drew's Rural Intelligencer, first published Jan. 6, 1855, was a weekly published by Rev. William A. Drew, a former "Gospel Banner" editor. A website offering a bound copy of the first year's issues gives its subtitle, "Devoted to the Wants and Pleasures of Rural Life; both in Town and Country," and says it mostly covered "agricultural and home craft pursuits." In 1857 a new owner moved the paper to Gardiner, where it appeared until 1859.
Maine Standard was a Democratic weekly published from April 5, 1867, to April 5, 1881, described by Kingsbury as a successor to The Age. Its publishers for the first year were Thaddeus A. Chick and Isaac W. Reed, succeeded by others.
The New Age, which began publication in 1881, was a successor to the Maine Standard, and was also Democratic. The publisher is given on-line as Manley H. Pike and Company, a reference to artist and writer Manley Herbert Pike (1857-1910), who bought the Maine Standard in 1881. This writer failed to find a date the paper was discontinued; it was still being published when Kingsbury wrote in 1892.
Home Farm, 1880–1887, was published by Boardman and Hall and edited by Samuel L. Boardman. It was an eight-page weekly, subtitled "A journal of practical agriculture and home life." George J. Varney's article on the history of Augusta in the Maine Gazetteer calls it "an attractive sheet for a small price."
(Samuel Lane Boardman [1836-1914] wrote books on history, including Peter Edes' life in Boston and in Maine; on Maine agriculture; on Maine horse-racing, and on ornithologist George Augustus Boardman [1818-1901], who worked in eastern Maine and New Brunswick. One hopes that George was not Samuel's father, because Wikipedia says George's only marriage was in 1843.)
In Waterville, Kingsbury wrote that the first attempts to provide newspapers were short-lived. According to Kingsbury and to Henry C. Prince (who was editor of The Waterville Mail when he wrote the chapter on the press in Edwin Carey Whittemore's 1902 history of Waterville), the early papers were:
The Waterville Intelligencer, started in May 1823 by William Hastings, a Baptist-oriented paper sponsored by Waterville College and devoid of local news. Its last issue was Nov. 26, 1828.
A successor named The Watchman, first published on Dec. 11, 1828, established by Hastings as an experimental political, literary and miscellaneous paper, and discontinued after its Dec. 30, 1829, issue.
The Times, a Whig paper started in June 1831 by John Burleigh, a failure by the fall of 1833.
The "Waterville Journal, Burleigh's and Waterville College's second venture, a non-sectarian religious paper that first appeared December 1833. Prince wrote that the college promised to help edit the paper and sign up subscribers, but "these promises not being fully met," the paper folded after a year. (The Library of Congress lists a second Waterville Journal that began publication in 1878.)
In May 1841 (Prince) or 1842 (Kingsbury), Daniel Ripley Wing and William Mathews founded The Watervillonian, described as "a literary and family journal." Prince quotes Mathews as sarcastically describing the paper starting with 400 subscribers and by filling its pages with dead authors' works reducing the number to 250 in a year. The paper ceased publication after that first year; Mathews said the publishers earned $600.
Kingsbury wrote that Wing (Dec. 13, 1816 — Dec. 2, 1885) remained in the newspaper business the rest of his life, and Mathews' later renown in literature "needs no comment."
(Mathews [July 28, 1818 – Feb. 14, 1909], was a Waterville native who entered Waterville College when he was 13; he got his bachelor's degree in 1835 and a law degree from Harvard in 1839. He supplemented his law business with the newspaper. A teacher, writer and lecturer, he lived in and around Chicago from 1856 to 1880 and in Boston from 1880 to his death.)
Mathews, Wing and Mathews' brother Edward started the Yankee Blade in June 1842. A new part-owner moved it to Gardiner in August 1843.
In April 1847 Charles F. Hathaway (later to found the Hathaway shirt factory) started The Waterville Union. Prince says it failed after 14 weeks, mostly due to "stringent rules adopted and enforced" about payment for subscriptions and ads (it sounds as though Hathaway wanted his money on time).
Hathaway sold to Ephraim Maxham, who started The Eastern Mail (first issue July 19, 1847) and on Sept. 4, 1863, renamed it The Waterville Mail. Wing had been working for Maxham; in 1849 he bought a half interest in the paper and stayed with it until his death.
The Mail endorsed the first Republican Presidential candidate, John Charles Fremont, in the 1856 election, but it only later became a reliably Republican paper, Prince wrote.
In 1886 two of Daniel Ripley Wing's sons, Charles G. Wing (or Charles Burleigh Wing, according to an on-line genealogy that says Daniel Ripley Wing's wife was Ann Elizabeth Burleigh) and Daniel Frank Wing, bought the Waterville Mail from Maxham and made it one of Maine's highest-quality local weeklies. It went through more ownership changes before folding in May 1906.
The first issue of The Waterville Sentinel appeared Wednesday, Dec. 1, 1880, published by M. A. Leger and E. O. Robinson, who believed Waterville would grow fast enough to justify two newspapers. In the next two decades the newspaper went through multiple ownership changes, and, Prince wrote, several changes in publication day – Wednesday in 1880, Friday as of February 1881, Saturday beginning in May 1884.
In December 1896 then-owner Samuel Appleton Burleigh of Vassalboro tried a bi-weekly appearing on Tuesdays and Fridays. The weekly publication resumed Friday, April 16, 1897. In November 1897 a section in French was added; it lasted a month.
The Waterville Morning Sentinel succeeded the earlier title in 1904, started by a group of Democratic politicians plus one newspaperman, Thomas F. Murphy, according to Wikipedia. As of March 3, 1904, it was published daily, Marriner said. It was the Morning Sentinel from 1961 to 1971, the Central Maine Morning Sentinel from 1971 to 1996 and is currently the Morning Sentinel. At some point it changed from weekly to daily publication.
On Wednesday, Feb. 18, 1887, the first issue of Ben Bunker's unabashedly political The Kennebec Democrat appeared in Waterville. Three months after Bunker's death in March 8, 1894, Augusta people bought the paper, moved it to Augusta and renamed it "The Maine Democrat", Prince wrote.
The former Home Farm (see above) moved from Augusta to Waterville and reappeared as the Eastern Farmer at the end of September 1887. Varney says Boardman still owned it; Kingsbury says Hall C. Burleigh and the Wing brothers (who were publishing the Mail) took it over, found it a "financial incubus" and killed it, selling the list of subscribers to the Lewiston Journal in April 1888.
The owners of the Waterville Mail added the Waterville Evening Mail as the city's first daily newspaper beginning on Jan. 29, 1896. Prince wrote that the four-page paper, still published in 1902, was primarily a source of local news, though world events were mentioned.
Main sources
Kingsbury, Henry D., ed., Illustrated History of Kennebec County Maine 1625-1892 (1892).
Marriner, Ernest Kennebec Yesterdays (1954).
Whittemore, Edwin Carey, The Centennial History of Waterville, Kennebec County, Maine (1902).
Websites, miscellaneous.
https://townline.org/wp-content/uploads/2016/06/TownLineBanner.jpg
0
0
Mary Grow
https://townline.org/wp-content/uploads/2016/06/TownLineBanner.jpg
Mary Grow
2020-11-24 14:28:12
2020-11-24 14:28:12
Up and down the Kennebec Valley: Newspapers of Central Maine, Part 1