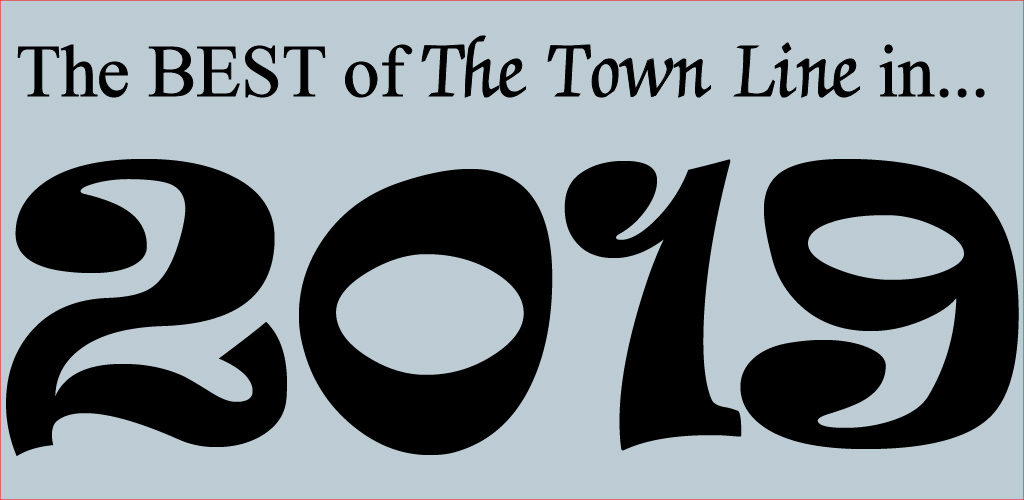 We've had nearly 90,000 visitors to our website in the past year, and pages on the site have been viewed more than 147,000 times according to Google Analytics which tracks traffic across the website. That's an increase over last year of around 40,000 visitors and nearly 50,000 page views!
The Town Line newspaper has had some wonderful local stories over the past year, so please enjoy these highlights from 2019, and in 2020 we look forward to another year filled with fantastic local stories written by our incredible community of writers. Happy New Year to everyone and thank you for making The Town Line newspaper the best place in central Maine for local news!

Growing up near China Village in the latter half of the last century, there was one place everyone visited at least once a week. Officially named China General Store, Incorporated, most of us knew it simply as "Jack's." It was the center of life in China Village for more than 50 years.
This is the story of Jack's General Store, and the man who ran it… [1715 words] by Eric W. Austin

"The architecture, the history, the old writing on the windowsills. The Mill was the center of town for so many years, and still is. We have weddings and birthday parties, flea markets and craft fairs. Being around all the people, watching them have fun and smiling at these events…it's all my favorite." It's safe to say that Ray Breton loves this Mill, and with all this activity, both physical and spiritual, you can understand why… [1613 words] by Sandy Isaac

This space is not large enough for the story of David Herard. During his remembrance at the China Dine-ah, I talked with daughters, sons-in-law, family, friends and colleagues and was given a glimpse into the life of a man who made his life's work looking after people, both those he knew and those he had never met… [949 words] by Ron Maxwell

Can farming save a life? Is there redemption in working with one's hands and caring for Earth's creatures? The answer to these questions may be found in the life and experiences of an apprentice at a local farm right here in China, Maine… [1475 words] by Emily Cates

This article about the current state of our local volunteer fire departments is based on interviews with seven area fire chiefs, from Albion, China, South China, Weeks Mills, Palermo, Vassalboro and Windsor. Research was also conducted using the internet, newspaper archives, and the exhaustively researched book by Joyce Butler, Wildfire Loose: The Week Maine Burned, available from the Albert Church Brown Memorial Library, in China Village… [2548 words] by Eric W. Austin

The Eastern coyote has long been recognized by state biologists as a coyote-wolf hybrid, first documented in Maine in the early 1900s. But, what sets the Maine coyotes apart from the others is that they are destined to become a bigger, bolder, more aggressive wolf-like animal and in time will pose a much greater risk to our deer population… [820 words] by Roland D. Hallee

For more than five years, a group of dedicated people have been working to re-open Maine waterways to the state's native migratory fish population. The obstacles have been fierce, but the rewards promise to be well worth the effort. Clearer water in our lakes and ponds, an enhanced food web and improved habitat along our rivers and streams are just a few of the benefits proponents of the project expect to see… [1580 words] by Eric W. Austin

The discovery of America is commonly questioned. I remember the question coming up in 1964 and pundits stating that the Americas were not discovered by Christopher Columbus in 1492. It was further stated that the Americas were actually discovered prior by an explorer by the name of Amerigo Vespucci. It's actually uncanny that the ages of the two men are so close… [1067 words] by Gary Kennedy

I have seen some interesting acts of Mother Nature during my travels, but what happened last week probably tops most of them. The first was somewhat insignificant because I had seen it one time before. Arriving home from work late last Wednesday, I noticed a dead crow in my backyard. But what I saw on Saturday, topped that without a contest… [732 words] by Roland D. Hallee

The brilliant morning sun glistened off the water when the congregation gathered at the lake shore across the road after Sunday service on August 4. Seth Fowles was baptized by full immersion in China Lake by Pastor Ron Morrell and celebrated by the congregation of China Baptist Church. China Baptist Church has seen numerous baptisms since their founding in 1801; however, this baptism was more challenging because Seth Fowles requires a wheelchair… [706 words] by Jeanne Marquis

A local toddler, Chance Cunningham, from China, received a successful bone marrow transplant in Boston, Massachusetts, to fight a rare disorder of his immune system, Hemophagocytic Lymphohistiocytosis, or HLH. Chance and his parents Lacey and Jeremy Cunningham returned home on the weekend of March 2, following a long, emotional stay in Boston… [605 words] by Jeanne Marquis

Amidst the lobster traps, blue and barren berried rolling hills of Harrington, Maine, forager, artist and engineer Dave Olson is re-imagining the rockweed harvesting scene. The Downeast region is known for its diverse oceanic industries, from lobster trapping to wrinkling whelks… [849 words] by Geoff Nosach