It seems an interest is what begins a collection. Collections move onto the best of intentions. It's a process of getting things from different places and bringing them together. That may be when the term hobby comes into play. You may find the time spent on a hobby outside your occupation brings relaxation to you.
When we moved back to Maine I began with an interest in fairies. There is an apple tree and a boulder out front that I was drawn to. The tree has a portion of the root system above ground. I kept thinking about what a neat place for fairies to live and I could picture my fairies playing around the boulder. It has been a process but that little interest turned into a collection of fairy items and into a hobby of writing my own fairy stories and, yes, I find writing and setting up a fairy village each summer very relaxing.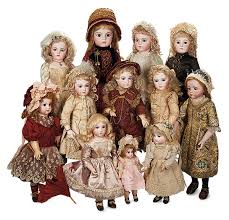 (My created fairies and their critter friends are outside and inside (taking over) the house. This place became known as Apple Tree Notch, home of the Bailey family of fairies.)
This example in no way represents the amount of collections in this house. There are decorative bird houses, costume jewelry (I take it apart and make other things), books both for the kids at school and ones for resource information of my many interests, etc. Right about now it is okay to start feeling bad for Ken, my significant other. Poor man, it's not always easy to live with a person of many interests. One day I may try to make a list of all of them. Mr. Neat Freak has done well to adapt.
There are as many reasons, unlimited and changeable, for collecting things as there are collectors.
A woman I knew in Florida collected dolls. No, not the pretty collectible dolls one would normally picture. She would go to thrift stores and find a naked, nasty haired, neglected doll. She would take it home, clean it, repair it when necessary, dress it and fix the hair. Then she would be onto the next one. Other than giving to a few children that had a need, she would keep (collect) them. Her brother explained they were a large migrant working family (with an abusive, alcoholic father). Their father wouldn't allow toys; there was no room to carry such around the country as they traveled from state to state for each crop season. She is fulfilling her childhood dream of pretty dolls.
I suppose I have to include something about hoarding. I told you of my having many interests and Ken thinks I have entered into hoarding. Hoarding is to collect and hide large amounts (something valuable). I am not hoarding, I'm not hiding a thing! However I am definitely collecting!
People gather all kinds of things for their collections or hobbies. It all starts with their interests. So rather you are a knitter (yarn), seamstress (material), hobbyist for trains and tracks or whatever your interest, I hope your collection brings you relaxation.
I'm just curious what your collections are. I will be waiting at dwdaffy@yahoo.com to hear about your collections and how they started. Thanks for reading.
https://townline.org/wp-content/uploads/2019/07/Town-Line-Website-banner-v3-1030x206.jpg
0
0
Debbie Walker
https://townline.org/wp-content/uploads/2019/07/Town-Line-Website-banner-v3-1030x206.jpg
Debbie Walker
2018-10-24 16:23:50
2018-10-24 16:23:50
I'M JUST CURIOUS: Collecting, or hoarding