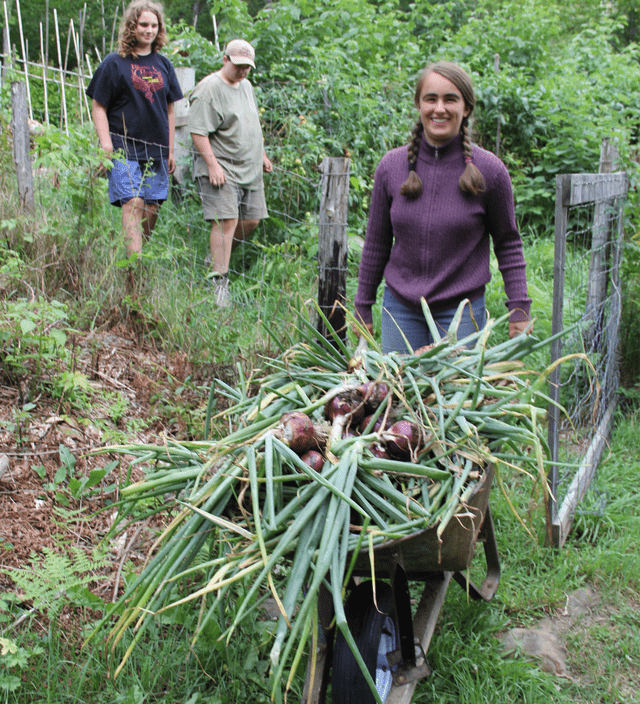 We are fueled by what we eat and at the Ecology Learning Center, we eat well!
Grounded in Maine's landscapes, we oriented our first 4-year cohort with trips across the state. Engaged in learning, we involve students in preparing and serving all meals. Focused on interdisciplinary learning, we tackle the complicated reality of our food system from all angles.
The High School
The high school's theme for the fall trimester is Food Systems, meaning that all classes are exploring the interdisciplinary complexities of where and how our food gets to people.
Students help prepare their own meals daily and the ingredients have come from local partners, such as Unity's Farm Drop, Ararat Farm, and Overland Farm.
Looking back to the school year beginnings, we also wanted to share from our first Orientation Trips!
The new ninth graders hiked the Hills to Sea Trail to the MOFGA Fairgrounds for a night of camping.
The 10th grade traveled to Temple to stay with the Maine Local Living School, fully immersed in their harvest and meal preparation.
Juniors traveled down to Port Clyde and Tenants Harbor for a Sea Kayaking adventure.
The first class of Seniors embarked upon a sailing and hiking trip around Penobscot Bay.
Bridge Program
Opening Day for the 2022-2023 Bridge Program is September 29. We have 12 families this year and a new Program Coordinator, Esther Williamson.
One of the three legs of the Ecology Learning Center, the Bridge Program holds the same mission and dedication of rooting students in place and honoring the food that sustains them.
Community Programming & Events
Applefest: Friday, September 30
Each year they host a fall celebration with a contradance, music, field games, costume contest, and much more. Stop by between noon and 2 p.m., at the Field of Dreams, for fall fun!
Stone Soup Supper: Friday, October 21, 4:30 – 7 p.m.
Tickets on sale only through October 10, buy yours now at the Ecology Learning Center, in Unity, Marsh River Cooperative, in Brooks, The Green Store, in Belfast, or Meridians, in Fairfield. Adults tickets $15+ and children tickets $10+ on sale now.
Fiber Arts Circle: Weekly on Tuesdays, 4 – 6 p.m., at the Unity Public Library
Join them with your craft to work alongside others! Bring something you are working on or are hoping to learn. See details here.
Woodworking Workshop: Saturday, November 20, 10am
Join their woodworking teacher and experienced woodworker, Doug Lakin, for a carving workshop and take home your own spoon. Workshop will be capped at 12 participants, so sign up now! $5 entrance fee for supplies and $20 suggested donation for instruction. Cash or check accepted. Please RSVP.
Broader Community News & Events
Unity Public Library continues to host fun and informational events – follow their Facebook Page for more information!
Buy their student-designed T-shirts, at the Green Store, in Belfast.
Check their website and Facebook Page as more events are added. They will be starting up more as we enter warmer weather!
Want to host a workshop? Planning an event and looking for a partner? Have a skill you want to share? Email community@ecologylearningcenter.org.
https://townline.org/wp-content/uploads/2016/06/TownLineBanner.jpg
0
0
Website Editor
https://townline.org/wp-content/uploads/2016/06/TownLineBanner.jpg
Website Editor
2022-09-28 15:21:22
2022-09-28 15:23:25
EVENTS: Harvest season at the Ecology Center in Unity