FICTION: The House, part 6: There's a chill in the air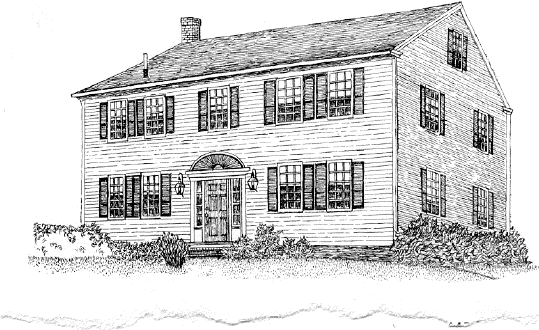 This story is completely fictional. Any resemblances to names of people and/or places is purely coincidental.
Click here for the previous installment.
"Would either of you two mind if Amy comes over this weekend?" asked David about his girlfriend, Amy Cookson. "I've been telling her about the house and the weird things we've been experiencing and she'd love to see the place."
Both Miri and Jake agreed to have her over, "Just tell her not to pick up any toys that she might find in the house. We'd hate to have her have to experience any of the 'weird' events we've been going through," insisted Jake.
The first visitor to the Stewart home arrived Friday afternoon. Amy was quite excited at seeing the place even before she set foot through the door. "This place is lovely, Miri. I love the large porch and that octagonal window on the top floor is alluring. I'd love to take photographs of the place." Amy is a professional photographer.
"I loved that window the first time I saw it," replied Miri. "You're welcome to take photographs of the place and who knows, we may ask to use some as advertisement once the place is a B & B. C'mon in and see the inside. It's just as lovely. Dave and Jake have done a lot of work in getting the place set up."
"Speaking of," started Amy, "Are you planning on having anyone else to help you once the place is open?"
"Are you offering?" queried Miri with a sly smile. "I don't know how much we'd be paying, but I know I could use the help in cooking, cleaning and laundering once we get going."
"I think it would be charming to work in a B & B so yes. I could still keep my business, working it around the work to be done here," answered Amy.
"As it gets closer to opening, we'll look into it. How much did Dave tell you about the place?" asked Miri.
"If you mean the hauntings by a little boy, I guess a lot. At least no one has been injured only 'inconvenienced', replied Amy
"I guess you can call it that," muttered Miri. "I hope Dave told you not to pick up any toys that you might see. That seems to start an occurrence."
The four enjoyed a quiet evening of dinner, which both Miri and Amy prepared, and sitting out on the porch talking over several topics. "If you don't mind," Amy interjected into their conversations, "I'd love to see the rest of the house tomorrow and see what you guys have done with the place. I promise to not pick up any toys," she laughed.
On Saturday morning, the guys were greeted with the scent of a wonderful breakfast waiting for them. Both Miri and Amy made omelets, french toast, bacon, and fresh squeezed OJ. "Wow, what did we do to deserve this?" asked Jake of the scrumptious site and smell.
"Miri and I decided to see what we might do in the future when this place opens up for business and you guys are our guinea pigs," answered Amy.
"That's right," said Miri. "Amy and I were talking last night about the possibility of her coming onboard to help us out."
"Sounds great," Jake commented, but we won't be able to pay you much at first.
"I'll be continuing with my photography, which I do well, financially," Amy pointed out. "After breakfast I'd love to look around the place if you don't mind."
"I'll show you around," Dave said with a wink to Jake and Miri, reaffirming everyone's agreement that Amy would not pick up any toys.
Dave started out with showing Amy what he and Jake had completed in their renovations thus far. He told her about the events that happened in the attic and the small storage room for the linens, towels, and other sundry items. "This is a weird kind of haunting," she commented. "It's as if the little boy is using you folks to experience a fantasy that he wishes he had experienced while he was alive."
"You might be right," confirmed Dave. "Here is the next room we'll be working on building an area for the bathroom and shower." He noticed Amy walking toward the armoir in the room. "None of the rooms have closets," he told her, explaining the whole thing about back in the day closets were taxed as rooms.
She admired how beautiful it was with some curved molding, not making it ornate but helping to take away the plainness of the piece of furniture. She opened the wardrobe and found it was occupied by a piece of clothing. A couple of moths flew out causing Amy to swat the air in hopes to push the pests away from her. "Someone left a coat in here." Before Dave could tell her not to take it out, she had it in her hands. It was a child's winter coat.
"I wish you hadn't picked that up," said Dave.
"You said not to pick up any toys. This is a little woolen coat," she replied. She felt the room sway. Dave hurriedly came to her side, knowing something was about to happen. "Why am I feeling dizzy?" she asked.
"We're about to experience something, that according to your words Ian, the little boy, wants us to fantasize for him," he explained to her. They started hearing wind in the distance. He noticed that Amy looked like she was getting cold. "You're shivering," he said as he wrapped his arms around her shoulders. He started to see his own breath.
"How is this possible? It's in the nineties outside and quite warm in the house. Why is it getting so cold?" asked Amy.
"My guess is that you touched Ian's winter coat, triggering us to start undergoing something he would have liked to experience in the winter. Our luck is we don't even have a sweater to wear to keep us warm. Hope this doesn't last too long," replied Dave.
The sound of the wind was becoming closer and along with the wind they thought they could hear a throaty rumbling and then a growl. Snow started to fall around the area which turned the bedroom into a tundra. "What was that?" asked Amy through chattering teeth.
"I think we're about to find out," said Dave pointing toward a shadow in the snow that appeared to be coming closer to them. The rumbling was heard again. Dave held Amy closer to him as they slowly backed away from the sizable figure coming their way. "Ian, this isn't fun. Make it stop," called out Dave to the haunting child. He and Amy continued to slowly back up and were stopped by the wall of the bedroom reminding them that this couldn't possibly be real yet it felt and sounded real.
A small voice was heard to say, "A polar bear," while the young person started to clap with glee. "Father hunted a polar bear," the young apparition whispered.
"Make the polar bear go away Ian. We're not having fun. We are scared and cold. Please make this all go away!" insisted Dave. Just as the white beast of a bear clearly appeared it disappeared. The sound of the wind also stopped as did the snow and cold and suddenly Dave and Amy found themselves back in the bedroom. They still felt quite chilled and hurriedly went downstairs to find Jake and Miri to tell them what had happened.
"I think he went too far this time," said Dave as he and Amy were drinking cups of hot tea, which were helping them to take the chill away as well as calm their nerves.
"I don't think he would have allowed the bear to harm you," said Miri while she was sipping on her iced tea. "I guess we have to be careful of whatever we pick up that may have been his, but getting these items out of the rooms is probably the only way we will clear them of his hauntings and eventually clear the house. "Amy, I'm sorry you had to experience that."
"We weren't harmed, as you say, and we may not have been harmed, but I was scared out of my wits and pretty darned cold. But you might not think this is humorous, but I wish I had my camera. That would have been an awesome picture of the bear coming out of the swirling snow."
Laughing, "I think you would have been too frightened to even think about picking up that camera," said Jake.
Responsible journalism is hard work!
It is also expensive!
If you enjoy reading The Town Line and the good news we bring you each week, would you consider a donation to help us continue the work we're doing?
The Town Line is a 501(c)(3) nonprofit private foundation, and all donations are tax deductible under the Internal Revenue Service code.
To help, please visit our online
donation page
or mail a check payable to
The Town Line, PO Box 89, South China, ME 04358
. Your contribution is appreciated!
https://townline.org/wp-content/uploads/2016/06/TownLineBanner.jpg
0
0
Peg Pellerin
https://townline.org/wp-content/uploads/2016/06/TownLineBanner.jpg
Peg Pellerin
2023-03-01 14:50:44
2023-03-08 13:58:39
FICTION: The House, part 6: There's a chill in the air