GARDEN WORKS: Seeds of your dreams, Part 2 (G-H)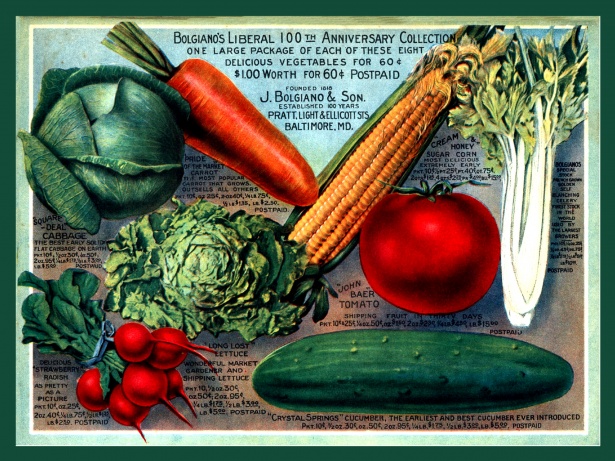 Read part one here: Seeds from your dreams, Part 1 (A-thru-E)
Calling all gardeners! There's treasure hiding among the pages of all those seed catalogs, ready to be highlighted and added to your order form. In our last article, we looked at a few alphabetically and got all the way to "E for eggplant." Now let's move on to "G for garlic" and beyond. Please feel free to share your thoughts for what's on your dream garden wish list in a comment on our website or Facebook, or email me at EmilyCates@townline.org.
Garlic – A staple in my garden, I'd never be without good-old German Extra Hardy. It does best when fall-planted, but it's possible to start it in the spring.
Ginger – While a lot of folks who grow ginger on a market scale in Maine use high tunnels and hoop houses, a simple, well-drained flowerpot with good potting soil can accommodate a plant or two for an occasional treat. I bring mine in before a frost in fall, and outside after a frost in springtime. It looks pretty good as a houseplant, too.
Ginseng – I just found seeds for this in the Johnny's catalog! Though my initial attempt to grow ginseng years ago was not a success, I am determined to try again. Let me know your experiences with ginseng.
Gourds – This is another plant with endless possibilities to fire an artist's imagination. Not only are gourds delightfully ornamental, they can be fashioned into useful objects such as canteens, containers, dippers, birdhouses, children's toys, musical instruments and more.
Grains – These crops are incredibly important from a historic perspective, but are equally important now as food, forage, cover crops, and ornamentals. On a small, garden-scaled plot, try hulless oats, Opopeo amaranth, and Duborskian rice.
Grapes – While many folks think of vineyards when they think of grapes, all that is needed is a well-drained, moderately fertile, sunny spot, preferably with something the grapevine can climb on – such as a fence, gazebo, or trellis of some sort. Brianna, Somerset Seedless, and King of the North are among my favorites.
Greens – I never seem to be able to get enough of them, and I'll probably die trying to plant as many packets of mixed greens as I can get my hands on. The varieties for braising seem to hold up well in my garden. Also, the green known as Good King Henry is a perennial, spinach-like plant that even self-sows. What could be better than that?
Groundnut – As a child, I always wondered about a distinctive fragrance along a meadow near China Lake, until discovering it was actually groundnut. What a wonderful surprise to find out that this useful plant, that nourished native peoples from ancient times, would grow well at my home. This lovely native perennial vine with unusual, highly fragrant maroon/pinkish leguminous flowers yields tasty, protein-filled tubers that are edible and delicious when peeled and cooked. It likes damp, shady places with something to climb on, and will care for itself once established.
Herbs – I've mentioned a few, and though they are more commonly recognized for their culinary properties, herbs also provide medicine, pest control, aromatherapy, dyes, art projects, and more. Why not plant some herbs among garden plants to confuse their pests?
Horseradish – When planted in an area outside of the garden where its invasive-ness can be controlled, horseradish pretty much takes care of itself. Its bold, bold flavor commands respect unsuitable for the fainthearted.
Husk Cherry – These sweet, pineapple-flavored, cherry tomato-resembling fruits are encased in a husk and are ready to eat when they fall from their plant. Oftentimes they will self-sow, to my delight.
Well, looks like we only made it to "H" this time on our whimsical stroll through our seed catalogs. No worries, we'll look at a bunch more next time. Until then, stay tuned and let me know your thoughts.
Read part 3 here: Seeds of your dreams: Find joy in a seed catalog, Part 3 (H-N)
Responsible journalism is hard work!
It is also expensive!
If you enjoy reading The Town Line and the good news we bring you each week, would you consider a donation to help us continue the work we're doing?
The Town Line is a 501(c)(3) nonprofit private foundation, and all donations are tax deductible under the Internal Revenue Service code.
To help, please visit our online
donation page
or mail a check payable to
The Town Line, PO Box 89, South China, ME 04358
. Your contribution is appreciated!
https://townline.org/wp-content/uploads/2016/06/TownLineBanner.jpg
0
0
Website Editor
https://townline.org/wp-content/uploads/2016/06/TownLineBanner.jpg
Website Editor
2020-02-19 17:59:29
2020-02-27 12:40:58
GARDEN WORKS: Seeds of your dreams, Part 2 (G-H)